Template:Stadium Ratings
Yankee Stadium
Location: Bronx, New York

Arena type: Baseball-only

Surface: Grass

Owner(s): George Steinbrenner

Tenant(s): New York Yankees (1923-)

Broke ground: 1921

Opened: April 18, 1923

Cost: $2.5 million

Capacity: 57,545

Dimensions:
Backstop: 84'
Left Field: 318'
Center Field: 408'
Right Field: 314'

Former names:
The Yankee Stadium
Nicknames:
The House that Ruth Built
World Series:
1923, 1926, 1927, 1928, 1932, 1936, 1937, 1938, 1939, 1941, 1942, 1943, 1947, 1949, 1950, 1951, 1952, 1953, 1955, 1956, 1957, 1958, 1960, 1961, 1962, 1963, 1964, 1976, 1977, 1978, 1981, 1996, 1998, 1999, 2000, 2001, 2003
All-Star Games:
1939, 1960, 1977, 2008
Yankee Stadium is the home stadium of the New York Yankees, a major league baseball team. Located at East 161st Street and River Avenue in The Bronx, New York City, it originally opened on April 18, 1923 and reopened on April 15, 1976 after an extensive three year renovation. The first night game was played on May 28, 1946.
Yankee Stadium is often referred to as "The House that Ruth Built", but it is usually referred to as "The Stadium". It was the first baseball park to be labeled a "Stadium" rather than a "Field," a "Park," or a "Grounds," and it conformed to the usage of the term in ancient Greece, where a stadium was a foot-race arena. Yankee Stadium's field was initially surrounded by a (misshapen) quarter-mile running track, which effectively also served as an early "warning track" for fielders, a feature now standard in all major league ballparks.
Outfield distances
1923-36: Left field (LF) pole, 285; center field (CF), 490; right field (RF) pole, 295.
1937-73: LF pole, 301; straightaway LF, 402; left-center, 457; CF, 461; right-center, 407; straightaway RF, 344; RF pole, 296.
1974-75: Renovation of Yankee Stadium
1976-84: LF pole, 312; straightaway left, 387; left-center, 430; CF, 417; right-center, 385; straightaway right, 353; RF pole, 310.
1985-87 (to make Monument Park accessible to fans): LF pole, 312; straightaway left, 379; left-center, 411; CF, 410; right-center, 385; straightaway right, 353; RF pole, 310.
1988–present (to make Monument Park more accessible): LF pole, 318; straightaway left, 379; left-center, 399; CF, 408; right-center, 385; straightaway right, 353; RF pole, 314.
Yankee Stadium favors left-handed batters because of a shorter right-field fence, which was once called "Ruthville" and is now known as "the short porch", although the field has become much more symmetric over the years. In contrast, the park has been less favorable for right-handed batters. Under the original configuration, the outfield distances were 395 feet from home plate to left field, 460 ft to left center, and 490 ft to straightaway center. [1]
Left-center soon came to be called "Death Valley," in reference to the high number of balls hit to that area that would have cleared the wall easily in other parks but resulted in simple fly ball outs in Yankee Stadium. Although the fence has been moved in several times over the years to make it more hitter friendly, the park remains one of the most difficult for right-handed hitters, as evidenced by the fact that in 2005, Alex Rodriguez became the first right-handed Yankee hitter to hit 40 home runs in a season since 1937, when Joe DiMaggio belted 46. Rodriguez set a new team record for right-handed batters with 48. Two lefthanders have done better: Roger Maris with 61 in 1961, and Babe Ruth on four occasions with a peak of 60 in 1927. Switch-hitting Mickey Mantle hit 54 in 1961.
A story that has become somewhat of an urban legend purports that the stadium's design was tailored to fit the left-handed power exhibited by Babe Ruth. However, a look at aerial photographs of the area shows that the stadium is built on a triangular plot of land originally owned by one of the Yankee owners, and that the stadium, like many other parks of that era and many newer "retro" parks, was fit into that plot. Additionally, an elevated train line still runs beyond the right field bleachers, and was present when the stadium was first built. Making the right field area larger would have necessitated eliminating seating and possibly building a high "Green Monster"-like wall.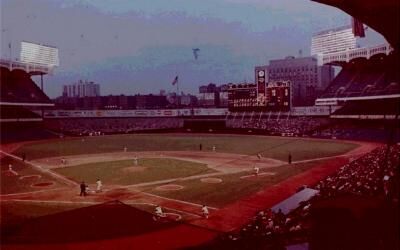 A good depiction of the atmosphere of the pre-renovation stadium can be seen in the latter scenes of the 1959 Mervyn LeRoy film The FBI Story, which starred James Stewart. In these scenes, FBI agents tracked a suspected Soviet espionage courier. These scenes show the arrival of an elevated train at the station near the right field bleachers, football action and crowd scenes and reaction during a New York Giants game, groups of people waiting at a concession stand, and scenes outside the main stadium concourse.
The seats behind center field are painted black and not occupied during baseball games; known as a "batter's eye," this allows batters to track the ball as it is pitched, as the "black bleachers" section is directly in front of them. If fans were allowed to sit in this section, it would create an unfair pitcher's advantage, as it would make it virtually impossible for batters to track the ball if a substantial number of fans were wearing white shirts.
Memorable Moments
Perhaps the best known of all baseball stadiums, Yankee Stadium is the scene of such memorable events as Babe Ruth's then-record 60th home run in 1927; tearful farewell addresses by Lou Gehrig in 1939 and Babe Ruth in 1948; Don Larsen's perfect World Series game in 1956; Roger Maris's then-record 61st home run in 1961; Reggie Jackson's three home runs in a World Series game in 1977; and on-field celebrations of World Series championships. In addition, the 1939 and 1977 Major League Baseball All-Star Games were held there, as well as the second 1960 All-Star Game.
World Series wins clinched at Yankee Stadium
New York Yankees, in

1927

,

1938

,

1947

,

1950

,

1951

,

1953

,

1977

,

1996

and

1999

.
St. Louis Cardinals, in

1926

and

1942

.
Brooklyn Dodgers in

1955

, their only World Championship before moving to Los Angeles.
Milwaukee Braves, in

1957

, through 2005 the only World Series won by a Milwaukee team.
Cincinnati Reds, in 1976.
Los Angeles Dodgers, in

1981

.
Florida Marlins, in 2003.

The Yankees clinched World Series wins on the road at: The Polo Grounds in

1923

,

1936

and

1937

;

Sportsman's Park

in St. Louis in

1928

and

1943

; Wrigley Field in Chicago in

1932

;

Crosley Field

in Cincinnati in

1939

and

1961

;

Ebbets Field

in Brooklyn in 1941,

1949

,

1952

and 1956;

Milwaukee County Stadium

in

1958

;

Candlestick Park

in San Francisco in 1962;

Dodger Stadium

in Los Angeles in 1978;

Qualcomm Stadium

in San Diego in 1998; and Shea Stadium in New York in 2000.
Professional football at Yankee Stadium
The New York Giants football team played at Yankee Stadium from 1956 to 1973. They left the Polo Grounds, where they had played since their founding in 1925, and won the NFL Championship in their first season in the Stadium, defeating the Chicago Bears 47-7 on December 30, 1956. It is accepted by football historians that the chant, "Dee-FENSE!" was first used at Yankee Stadium that year to describe the Giant defense, led by linebacker Sam Huff. Other Giant Hall-of-Famers to play for them in Yankee Stadium include quarterbacks Charley Conerly and Y.A. Tittle, running back Frank Gifford, tackle Roosevelt Brown, defensive end Andy Robustelli and safety Emlen Tunnell.
During these years, the Giants were coached by Jim Lee Howell (1954–60) and Allie Sherman (1961–68). Howell's staff included offensive coordinator Vince Lombardi, who had played for Fordham University at Yankee Stadium, and defensive coordinator Tom Landry, who had been a Giant defensive back. The two men would become head coaches, and Lombardi's Green Bay Packers would face Landry's Dallas Cowboys in two NFL Championship Games in the late 1960s. In addition to the 1956 game, which they won, the Giants hosted two other NFL Championship Games at Yankee Stadium, at a time when host sites were rotated between the league's Eastern and Western Division Champions. The Giants played the Baltimore Colts on December 28, 1958, and, in the first overtime game ever played in the NFL, lost, 23-17, in a game described by many observers as "the greatest game ever played." On December 30, 1962, the Giants lost to Lombardi's Packers, 16-7. Despite reaching the Championship Game six times in eight years between 1956 and 1963 (including the 1959 game in Baltimore, the 1961 game in Green Bay and the 1963 game in Chicago), the Giants only won the first of these, in 1956.
It was also at Yankee Stadium that one of the NFL's "greatest hits" took place. On November 20, 1960, the Giants hosted the Philadelphia Eagles, and just after catching a pass, Gifford was hit by Eagle linebacker Chuck Bednarik, knocking him out and causing him to fumble. The fumble was recovered by the Eagles, who went on to win the game and later the NFL Championship. This was the one season between 1958 and 1963 that the Giants did not win the Eastern Division. Gifford was so badly hurt that he missed the rest of the season and all of the 1961 season. The photograph of Bednarik, pumping his fist in celebration of the recovered fumble, standing over an unconscious Gifford, is one of football's best-known pictures.
By 1964, age and injuries began to catch up with the Giants, and they were largely uncompetitive for the remainder of their tenure in Yankee Stadium. Knowing the Stadium would close in the middle (for football) of the 1973 season, and that the stadium they had arranged to build in New Jersey (to be named Giants Stadium) would not open until 1976,the team secured temporary home fields for the remainder of 1973 and all of 1974 and 1975.
The Stadium was also home to several football teams known as the "New York Yankees," but none of these lasted for more than a few seasons.
College football at Yankee Stadium
The 1930 and 1931 Army-Navy Games were played at Yankee Stadium. Army won both of them, by scores of 6-0 and 17-7.
Army played Notre Dame there 20 times from 1925 to 1946. In the 1928 game, Army led 6-0 at halftime, before Notre Dame coach Knute Rockne inovked the memory of his school's greatest football hero to that point, George Gipp, who had died in 1920. In a story he is now believed to have made up, Rockne told of meeting Gipp on his deathbed, and hearing the great player say, "Sometime, when the team is up against it, and the breaks are beating the boys, tell 'em to go out there with everything they've got, and win just one for the Gipper." Notre Dame came back to win the game, 12-6.
Army and Notre Dame also played at Yankee Stadium in 1946, when Army was ranked number 1 in the nation and had won the last two National Championships, and Notre Dame was ranked number 2. One of several college football games to be known as "The Game of the Century" in the days leading up to it, the game ended in a 0-0 tie, and when both teams remained undefeated at the end of the season, Notre Dame was awarded the National Championship. The two schools would play each other at Yankee Stadium only once more, in 1969, by which point Army was no longer a major football power, and Notre Dame won, 45-0. In games played against each other at Yankee Stadium, Notre Dame won 14, Army won 4, and there were 3 ties.
Notre Dame played 24 games at Yankee Stadium, going 15-6-3. Army played 38, splitting them, 17-17-4. New York University played more games there than any other school, 96, using it as a secondary home field from 1923 to 1948, with a record of 52-40-4. Nearby Fordham University played 19 games there, going 13-5-1.
Eight college football games were played at Yankee Stadium on Thanksgiving Day, the first seven by NYU: Beating Carnegie Tech (now Carnegie Mellon University) in 1931 and 1932, beating Fordham in 1936, losing to Oregon State in 1928, losing to Carnegie Tech in 1929, and losing to Fordham in 1934 and 1935. A game between Notre Dame and Syracuse University, scheduled for November 23, 1963, was postponed to Thanksgiving, November 28, due to the assassination of President John F. Kennedy. Syracuse won, 27-15.
The Gotham Bowl was scheduled to premiere at Yankee Stadium in 1960, but was cancelled when no opponent could be found for Oregon State University. The 1961 game was moved to the Polo Grounds, and when just 6,166 people came to Yankee Stadium for the 1962 game, won by the University of Nebraska over the University of Miami, 36-24, the Gotham Bowl was never played again.
Starting in 1971, the Stadium hosted the Whitney M. Young Urban League Classic, a game between "historically black colleges," often featuring Grambling State University of Louisiana, coached by Eddie Robinson. The Classic helped to spread the fame of Grambling and other similar schools. The Classic was held at Shea Stadium during the 1974-75 renovation of Yankee Stadium, and was last played there in the 1987 season, the last time a football game was played there. Grambling lost to Central State University of Ohio, 37-21.
[2] It has been held at Giants Stadium in New Jersey's Meadowlands Sports Complex ever since.
Other events
Many boxing matches have been held at the Stadium, notably Joe Louis's first-round knockout of Max Schmeling on June 22, 1938. Heavyweight champions Jack Dempsey (after losing the title), Rocky Marciano, Floyd Patterson, Ingemar Johansson and Muhammad Ali all had at least one fight there.
Billy Graham held large gatherings at the Stadium. The New York Cosmos of the North American Soccer League used Yankee Stadium for home games in 1971 and then again in 1976.
On October 4, 1965, Pope Paul VI celebrated a Mass at Yankee Stadium during a visit to the United States in front of a crowd in excess of 80,000. This was the first Papal Mass ever delivered in North America. Fourteen years later, on October 2, 1979, Pope John Paul II also celebrated Mass there. The Stadium was also the site of a memorial service on September 23, 2001 in the aftermath of the September 11, 2001 attacks.
The Facade and the Big Bat
One of its distinguishing features is the white facade that hangs over the outfield bleacher billboards and scoreboard. A similar frieze once hung from the roof over the upper deck before the renovation.
Also notable is the exhaust stack that stands outside the main entrance gate, constructed in the shape of a baseball bat. It is sponsored by Louisville Slugger, and is designed to look like a Babe Ruth model. "The Big Bat" is often used as a meeting place for people who will be sitting at games together but arriving separately.
While some elements of the Stadium are decidedly modern, its asymmetry, monuments in left-center field and exterior arches give fans a reminder of the Stadium during its most golden period. Even the blue YANKEE STADIUM letters over the main gate are longtime features; they're the same letters that first appeared there in white in the early 1960s.
Rules at the stadium
After the September 11, 2001 attacks, the authorities of Yankees Stadium enforced stricter (and more controversial) rules. As of 2005, the following rules are enforced at Yankees Stadium:
No video cameras
No backpacks
No briefcases
No large bags
No coolers
No bottles or cans
The reason given for these strict rules is security, but they have proven unpopular due both to inconvenience caused and to skepticism as to the real motivation behind them (some fans believe the restriction on cans and bottles, for example, is really intended to encourage people to buy beverages from the concession stands, with the "security" rationale simply used for justification). Despite their unpopularity, attempts to get rid of these rules have not been successful.
Monument Park
The following personalities are honored with monuments or plaques in Monument Park, located behind the left-center field fence at Yankee Stadium, between the bullpens. Monuments, rather than plaques, are generally awarded only to the greatest of the great, and then only after their deaths. Many of these figures also had their uniform numbers retired. Such ceremonies often take place either at home openers or on Old Timers' Day. Figures are listed in the order in which their plaques were dedicated:
Miller Huggins

, manager 1918-29, monument dedicated

May 30

,

1932

. This monument was originally placed on the field of play, in front of the center-field flagpole. Huggins never wore a number on his uniform, and so no number is retired for him.

Jacob Ruppert

, owner 1915-39, plaque dedicated

April 19

,

1940

. This plaque was placed on the outfield wall, to the right of the flagpole.
Lou Gehrig, first baseman 1923-39, number 4 retired July 4,

1939

, monument dedicated

July 6

, 1941. This monument was placed to the left of the Huggins monument. Gehrig was the first Major League Baseball player to have his uniform number retired.
Babe Ruth, right fielder 1920-34, number 3 retired

June 13

,

1948

, monument dedicated

April 19

,

1949

. This monument was placed to the right of the Huggins monument. The three monuments together were about 450 feet from home plate, but a ball would occasionally get back there. In the 1992 book The Gospel According to Casey, by

Ira Berkow

and

Jim Kaplan

, it is reported that Yankee manager Casey Stengel was watching his centerfielder fumbling with the ball in the vicinity of the monuments, while the batter-runner circled the bases. Stengel yelled out, "Ruth, Gehrig, Huggins, somebody get that ball back to the infield!"

Ed Barrow

, general manager 1921-46, plaque dedicated

April 15

,

1954

. The plaque was placed on the wall, to the left of the flagpole.
Joe DiMaggio, center fielder 1936-51, number 5 retired

April 18

,

1952

, plaque dedicated

June 8

, 1969, replaced by a monument

April 25

,

1999

.
Mickey Mantle, center fielder 1951-68, number 7 retired and plaque dedicated

June 8

, 1969, replaced by a monument August 25,

1996

. Mantle was awarded his plaque on Mickey Mantle Day, handed to him by DiMaggio. Mantle then handed DiMaggio his plaque, saying, "His oughta be just a little bit higher than mine." Instead, they were placed side-by-side on the wall. These were the last plaques to be placed in play. Following the 1974-75 renovation of Yankee Stadium, the monuments and plaques were moved to the new Monument Park.

Joe McCarthy

, manager 1931-46, plaque dedicated

April 29

, 1976. Although the Yankees adopted uniform numbers in 1929, McCarthy never wore a number as Yankee manager, and so no number has been retired for him.
Casey Stengel, manager 1949-60, number 37 retired

August 8

,

1970

, plaque dedicated

July 30

, 1976.
Thurman Munson, catcher 1969-79, number 15 retired August 2,

1979

, plaque dedicated September 20, 1980.
Elston Howard, outfielder and catcher 1955-67, coach 1969-80, number 32 retired and plaque dedicated

July 21

, 1984.
Roger Maris, outfielder 1960-66, number 9 retired and plaque dedicated

July 21

, 1984, in the same ceremony as Howard's.
Phil Rizzuto, shortstop 1941-56 and broadcaster 1957-96, number 10 retired and plaque dedicated

August 4

,

1985

.
Billy Martin, second baseman 1950-57, manager 1975-78, 1979, 1983, 1985 and 1988, number 1 retired and plaque dedicated

August 10

,

1986

.
Lefty Gomez, pitcher 1930-42, plaque dedicated August 1,

1987

. His number 11 has not been retired.
Whitey Ford, pitcher 1950-67, number 16 retired April 6,

1974

, plaque dedicated August 1,

1987

, in the same ceremony as Gomez's.
Bill Dickey, catcher 1928-46, manager 1946, coach 1949-60, number 8 retired

April 18

,

1972

, plaque dedicated

August 21

,

1988

.
Yogi Berra, catcher and outfielder 1946-63, manager 1964 and 1984–85, coach 1975-83, number 8 retired

April 18

,

1972

, plaque dedicated

August 21

,

1988

-- in each case, in the same ceremony as Dickey's.
Allie Reynolds, pitcher 1947-54, plaque dedicated August 27, 1989. His number 22 has not been retired.
Don Mattingly, first baseman 1982-95, coach since 2004, number 23 retired and plaque dedicated August 31, 1997.

Mel Allen

, broadcaster 1939-64 and 1976–89, plaque dedicated

July 25

, 1998.
Reggie Jackson, right fielder 1977-81, number 44 retired August 14, 1993, plaque dedicated

July 6

, 2002.
Ron Guidry, pitcher 1975-88, coach 2006, number 49 retired and plaque dedicated

August 23

, 2003.
Red Ruffing, pitcher 1930-46, plaque dedicated

July 10

, 2004. His number 15 had already been retired for Munson.
Huggins, Gehrig, Ruth, Barrow, DiMaggio, Mantle, McCarthy, Stengel, Rizzuto, Gomez, Ford, Dickey, Berra, Jackson and Ruffing are also members of the Baseball Hall of Fame. Allen received the Hall's Ford Frick Award, the broadcasters' equivalent of Hall of Fame election.
In addition, the Knights of Columbus donated plaques to the Yankees in honor of the masses delivered at Yankee Stadium by Pope Paul VI on October 4, 1965 (the first papal mass ever delivered in North America) and Pope John Paul II on October 2, 1979. This led to the joke, "Who are the two former Cardinals who have plaques at Yankee Stadium?" It should be noted, however, that Huggins and Maris played for the St. Louis Cardinals, so there is a real answer to the joke's question. Joe Torre also played for (and managed) the Cardinals, and will likely receive a plaque shortly after his retirement, ending the joke.
The Yankees dedicated a plaque to the victims and rescue workers of the 9/11 attacks on September 11, 2001. Although usually referred to as a "monument," it is simply a plaque resting in a corner of Monument Park, rather than a plaque mounted on a granite slab as the "monuments" are.
Although Paul O'Neill (outfielder 1993-2001) has not been honored with the retirement of his number 21 or with the dedication of a Monument Park plaque, the number has not been reissued following his retirement.
The monuments are located more than 450 feet from home plate. It is an achievement for a home run in the "new" Stadium to go into the monuments on the fly. Among those who have done so are Thurman Munson (in Game 3 of the 1978 American League Championship Series) and Alex Rodriguez (in August 2005).
Since the mid-1980s, the rear fence lining the walkway from the grandstand to the monuments—the barrier that was the outfield fence from 1976 to 1984—has borne the Yankees' retired numbers. Under those numbers are small stands with short biographies of the players that were honored.
One hypothesis is that the "Bronx cheer" was so named because of its popularity among Yankees fans.
Yankee Stadium can be reached via the New York City Subway using the B, D, or 4 trains.
New stadium plan ignites a controversy
In the summer of 2005, the New York Yankees, along with New York city and state officials, unveiled plans to tear down the historic Yankee Stadium and build a $1.3 billion stadium on 22 acres of public parkland north of their East 161st Street home. The project, which would require about $450 million in public subsidies, has been given a Bronx cheer by community groups, urban planners, and parks, health, and public transportation advocates. In the fall, Bronx Community Board 4 voted against the project (the board's decisions are nonbinding), which would be the most expensive stadium ever built in the United States.
The transfer of Macombs Dam and John Mullaly parks was passed by the New York State Legislature without a public hearing in the days after the stadium's design was unveiled. Opponents say this violates state and federal laws designed to protect parkland. City officials, including Bronx Borough President Adolfo Carrion, say the parkland will be replaced with better parks. Community groups say the new parklike features would be small and scattered, compared with the 22 acres of central, continuous open space that is now available. Some parklike features would be built on the Harlem River waterfront, which is one mile away from the current parkland and requires walking under an interstate highway and over railroad tracks to access. Ten acres of the replacement parklike features would be built on artificial surface atop new parking garages; these parklike features would be closed to accommodate fans' cars on game days, which make up half of the summer. Other parklike features would be built on the 9-acre site of Yankee Stadium, which would be completely torn down. The city has agreed to pay $103 million for the new parklike features and $27 million to demolish Yankee Stadium, and has also agreed not to charge the Yankees rent and taxes (the city Parks Department would retain ownership of the new stadium's land).
The New York State Legislature agreed to $70 million in subsidies for a $320 million parking garage project. It is not clear who would fund the remaining $250 million and who would reap the parking revenue. This would give the Yankees approximately 3,000 more parking spaces; their new stadium would have about 2,000 fewer seats. For several decades, transportation and community groups have urged the state's Metropolitan Transportation Authority to build a station for the Metro-North commuter railroad's Hudson Line, which runs adjacent to Yankee Stadium. Public transportation has been excluded from this project. Health advocates are concerned about the effect of increasing exhaust fumes and loss of 377 mature trees on this Bronx neighborhood, which has one of the highest childhood asthma rates in the city.
The stadium itself would be paid for with $866 million in tax-free bonds from the city, state, and federal governments; the Yankees would repay those bonds. Major League Baseball's 2002 collective bargaining agreement allows teams to deduct up to 40 percent of new-stadium costs from their revenue-sharing responsibilities. For the Yankees, who consistently boast the league's highest payroll and revenue, this means more than $300 million of their stadium's costs may be shared by the other 29 baseball teams.
For the parking lot of the New Yankee Stadium, the public secured $210 from New York City for parking facilities, which were designed to have park land placed amongst the water front. Over 200 trees were planted into this area of the project.[1]
City officials, including Mayor Michael Bloomberg, say the neighborhood will benefit from the new stadium and parklike features. Yankees President Randy Levine says a new stadium will create thousands of jobs for the community. The city's Economic Development Corporation, whose members are appointed by the mayor, says the stadium would increase the city's tax base by $96 million over a 30-year period.
Community groups want the Yankees to use several available parcels of land south of East 161st Street to build their stadium, or to renovate Yankee Stadium. A plan being discussed in 1998 estimated the cost of stadium renovation at $200 million. Renovating the existing parkland would cost about $25 million.
Also recently, the New York Industrial Development Agency approved more than US$900 million worth of bonds to fund the construction and infrastructure for the new Yankee Stadium.
External links
References

Template:Stadium Media