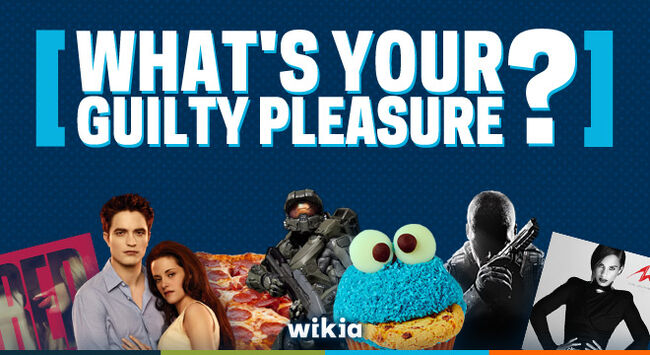 Alright Armchair GMs, today marks the start of Wikia's 12 Days of Guilt! Each day, right here on this Wiki, we will be bringing you a top ten list from various categories of sport's guilty pleasures, and you get to vote for your #1! For the first day, our theme is:


Mario Balotelli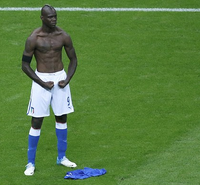 Balotelli is a young Italian primadonna who plays for Manchester City and frequently makes extremely stupid, immature, and/or strange decisions, mostly off the field. For how short his career has been, the amount of hate for this kid is off the charts. When playing for Inter Milan, he appeared on TV wearing an AC Milan jersey. In a later match, he tossed his Inter jersey on the ground in anger after being substituted out in a Champions League semifinal. In Manchester, he is very familiar with the police force, and his manager, despite being his countryman, doesn't always have love (or minutes) for Balotelli. Other antics include crashing cars, blowing up a wing of his rented mansion with fireworks, rubbing elbows with the mafia, using his celebrity to spend the day in an Italian women's prison, and his infamous flexing celebration from Euro 2012.
Sergio Busquets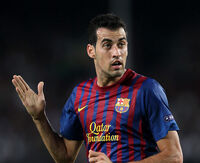 Sergio Busquets is the tough defensive midfielder for Barcelona F.C. and Spain's national team, both of which have won a ridiculous amount of trophies. One might call him the dirtiest player in the world and get little objections, but someone's gotta do it, right? I mean, you can't have teams that good without an enforcer. Busquets loves to complain to the officials and fake injury to win free kicks for his magical buddy Lionel Messi, who usually converts them. Barcelona is loved for their playing style as a team, while Busquets, individually, is not.
John Terry
Englishman John Terry, who plays defense for Chelsea F.C., is considered one of the best old-school defenders to ever play the game. He is also one of the most hated people in sports. Terry's list of expertises includes: using his hands, vicious tackling, getting red carded, being charged in court for being a racist during games, and cheating (in soccer and relationships). Nothing is as "guilty" as his private life. JT has not only cheated on his wife with prostitutes and underage girls, but he also slept with teammate Wayne Bridge's wife, and was stripped of his England captaincy as a result. To make reputation worse for the Terry family, his brother Paul, who also plays professional soccer, also slept with HIS teammate's wife, causing that teammate to commit suicide. What's wrong with these guys?
Luis Suarez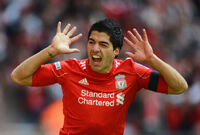 Liverpool's Uruguayan international has been called many things as a result of his behavior on the pitch, including a "racist" and a "Master of the Dark Arts." In the 2010 World Cup, he became a certified villain when his purposeful handball prevented Ghana from advancing in the quarterfinals. When he played for Ajax in the Netherlands, he was suspended once for biting an opponent in a game and again for fighting his own teammate at halftime. He is a great goal scorer, but part of his success comes from what can essentially be labeled as tricking the referee.
Zlatan Ibrahimović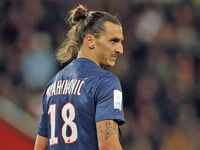 Zlatan, a Swedish footballer who currently plays for PSG and refers to himself in the third person, has played for some of the very best clubs in Europe, but he never lasts too long. Apparently, he is extremely difficult to get along with, and has physically fought some of his own teammates. Often, his owns fans will shout abuse at him, and this is 100% the case from the opposing fans. Zlatan breaks team rules and rarely shows respect for supporters, clubs, officials, and other players, yet he is absolutely mind-blowing when it comes to playing soccer. And when asked who the most beautiful woman in the world is, he replied, ""I haven't met her yet, but when I do, I will date her."
Wayne Rooney
This hair-plugged English bulldog seems to fall over far too easy for such a nasty and aggressive player with a meaty, low center of gravity. Not to mention, he has appeared in the tabloids for extramarital affairs with prostitutes and threatened to leave his club (Manchester United) if they didn't give him a massive raise that made him the third highest-paid player in the world (after Messi and Ronaldo). Yet, Rooney is undeniably an incredible player and a world-class goal-scorer. His trophy cabinet and wins column are both overflowing. His popularity, however, is ever dwindling. 
Emmanuel Adebayor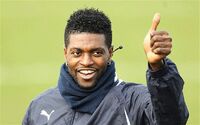 Tottenham's Adebayor, from Togo, angered the fans of his old team Arsenal when he claimed to be too good for the club. He fell victim to his own publicity and was gladly unloaded to Manchester City, who loaned him to Real Madrid and now Arsenal's rival Tottenham. When he scored against Arsenal, he celebrated in front of their fans, taunting them, which almost incited a full blown riot. To make things worse for him, every time he claims to be better than he is in the media, his form takes a major dip. He is a great goal scorer who doesn't always score goals, if that makes sense.
Cristiano Ronaldo
Real Madrid's Portuguese male model/player, known as "CR7", is considered by many to be the second best player in the world after Lionel Messi, but whereas nobody hates the easy-to-love Messi, almost every fan hates Ronaldo. Ladies love his dashing good looks, but he dives, complains, mouths off to his opponents and the refs, changes his hairstyle at halftime, and is one of the most arrogant sports personalities in the world. When asked why fans hate him, he said, ""It's surely because I'm good-looking, rich and a great soccer player. They're jealous of me."
Carlos Tevez
Argentinean Carlos Tevez, who now plays for Manchester City, has always been clouded in controversy. He left Manchester United for their rivals Manchester City, but then stated that he didn't want to play for them ever again, despite having to remain for a season because of his contract. He has refused to come on the pitch when required by the coach and has been suspended numerous times. He is an amazing player who makes millions of dollars for one of the world's top teams, but for whatever reason, he just isn't satisfied.
Arjen Robben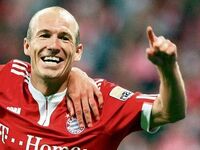 Dutch master Arjen Robben, who currently plays for Bayern Munich, is extremely skilled, but his commitment is often called into question. Sometimes he just gives up playing hard all together, but he is mostly found going to ground too easily and feigning injury to waste time or attract penalties. Despite his amazing success, both Chelsea and Real Madrid were happy to sell him, which is not a good sign. Also, he's made it to many finals, be it the World Cup or Champions League, and choked, more or less. 
Vote for the player you hate to love!
Remember, you are not voting for your favorite player or someone from your favorite team. You are voting for the player whom you hate to love- the guy who you find entertaining and/or amazing, but you would never admit it to your mates!

Community content is available under
CC-BY-SA
unless otherwise noted.