Template:General Managers Box
Biography
General manager of the Boston Red Sox.
Theo Epstein was born Dec. 29, 1973 into a creative and successful family in New York City. His grandfather, Philip and Philip's twin brother, Julius, won a Best Screenwriting Oscar for "Casablanca." His father, Leslie, was a Rhodes Scholar. Theo has a twin brother, Paul, and an older sister, Anya.
At 18, Theo interned with the Baltimore Orioles during the summers of 1992-'94. From there he went with Larry Lucchino, current Red Sox President and CEO, to San Diego. He worked 70-hour weeks with the Padres while he studied full-time at the University of San Diego Law School. After Epstein passed the California bar exam in 1999, a Los Angeles law firm offered him a job that would have paid more than double his salary as Padres' director of baseball operations.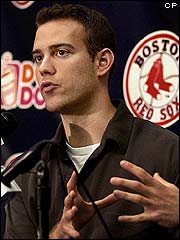 In November 2002, the Red Sox made him the youngest GM in the history of Major League Baseball by hiring him at the age of 28. Epstein resigned in October 2005, and was rehired as GM and also named Executive Vice President on January 24, 2006.
Major Signings
Template:General Managers Bottom