Featured Cardinals Player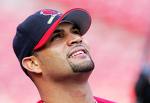 Albert Pujols, First-baseman. He is a phenom when it comes to swinging a bat. How great is it that he can hit 32 home runs, drive in 103 runs, score 99 more times, with 185 hits, have a .327 average, and .429 OBP and it is considered the worst year of his career? Pujols is looking to show that last year's "down year" was simply a fluke.

Template:MLB Team Page Navigation
The 2008 St. Louis Cardinals look to regain their 2006 form and return to the top in the Central Division.
Team History
Retired Numbers
Owners
General Managers
Managers
Awards
MVP
Cy Young
Rookie of the Year
Silver Slugger
Record Per Season
Year
Regular Season
Wins
Losses
Win%
1882
37
43
.463
1883
65
33
.663
1884
67
40
.626
1885
79
33
.705
1886
93
46
.669
1887
95
40
.704
1888
92
43
.681
1889
90
45
.667
1890
78
58
.574
1891
85
51
.625
1892
56
94
.373
1893
57
75
.432
1894
56
76
.424
1895
39
92
.298
1896
40
90
.308
1897
29
102
.221
1898
39
111
.260
1899
84
67
.556
1900
65
75
.464
1901
76
64
.543
1902
56
78
.418
1903
43
94
.314
1904
75
79
.487
1905
58
96
.377
1906
52
98
.347
1907
52
101
.340
1908
49
105
.318
1909
54
98
.355
1910
63
90
.412
1911
75
74
.503
1911
63
90
.412
1913
51
99
.340
1914
81
72
.529
1915
72
81
.471
1916
60
93
.392
1917
82
70
.539
1918
51
78
.395
1919
54
83
.394
1920
75
79
.487
1921
87
66
.569
1922
85
69
.552
1923
79
74
.516
1924
65
89
.422
1925
77
76
.503
1926
89
65
.578
1927
92
61
.601
1928
95
59
.617
1929
78
74
.513
1930
92
62
.597
1931
101
53
.656
1932
72
82
.468
1933
82
71
.536
1934
95
58
.621
1935
96
58
.623
1936
87
67
.565
1937
81
73
.526
1938
71
80
.470
1939
92
61
.601
1940
84
69
.549
1941
97
56
.634
1942
106
48
.688
1943
105
49
.682
1944
105
49
.682
1945
95
59
.617
1946
98
58
.628
1947
89
65
.578
1948
85
69
.552
1949
96
58
.623
1950
78
75
.510
1951
81
73
.526
1952
88
66
.571
1953
83
71
.539
1954
72
82
.468
1955
68
86
.442
1956
76
78
.494
1957
87
67
.565
1958
72
82
.468
1959
71
83
.461
1960
86
68
.558
1961
80
74
.519
1962
84
78
.519
1963
93
69
.574
1964
93
69
.574
1965
80
81
.497
1966
83
79
.512
1967
101
60
.627
1968
97
65
.599
1969
87
75
.537
1970
76
86
.469
1971
90
72
.556
1972
75
81
.481
1973
81
81
.500
1974
86
75
.534
1975
82
80
.506
1976
72
90
.444
1977
83
79
.512
1978
69
93
.426
1979
86
76
.531
1980
74
88
.457
1981
59
43
.578
1982
92
70
.568
1983
79
83
.488
1984
84
78
.519
1985
101
61
.623
1986
79
82
.491
1987
95
67
.586
1988
76
86
.469
1989
86
76
.531
1990
70
92
.432
1991
84
78
.519
1992
83
79
.512
1993
87
75
.537
1994
53
61
.465
1995
62
81
.434
1996
88
74
.543
1997
73
89
.451
1998
83
79
.512
1999
75
86
.466
2000
95
67
.586
2001
93
69
.574
2002
97
65
.599
2003
85
77
.525
2004
105
57
.648
2005
100
62
.617
2006
83
78
.516
2007
78
84
.481
2008
86
76
.531
St. Louis Cardinals Team Records
Record
Regular Season--Individual Game
Date
Opponent
Most Runs--28
7/6/1929 (Game 2)
Philadelphia Phillies
Most Runs in an Inning--12
9/16/1926 (Game 1)
Philadelphia Phillies
Most Hits--30
6/1/1895
New York Giants
Most Home Runs--7
5/7/1940
6/12/1996
Brooklyn Dodgers
Chicago Cubs
Most Total Bases--49
5/7/1940
Brooklyn Dodgers
Most Runs Allowed--28
9/3/1896
Boston Beaneaters
Most Runs Allowed in an Inning--12
9/15/1926
Philadelphia Phillies
Record
Regular Season
Year
Most Runs--1,004
1930
Fewest Runs--372
1908
Most Hits--1,732
1930
Fewest Hits--1,105
1908
Most Singles--1,233
1920
Most Doubles--373
1939
Most Triples--96
1920
Most Home Runs--235
2000
Fewest Home Runs--10
1906
Most Grand Slams--12
2000
Fewest Sacrifice Hits--172
1943
Most Sacrifice Flies--70
2004
Most Stolen Bases--314
1985
Most Caught Stealing--118
1992
Most Bases on Balls--676
1998
Most Strikeouts--1,253
2000
Fewest Strikeouts--414
1925
Most Hit by Pitch--84
2000
Highest Batting Average--.314
1930
Lowest Batting Average--.223
1908
Highest Slugging Percentage--.471
1930
Lowest Slugging Percentage--.288
1908
Most Left on Base--1,251
1939
Fewest Left on Base--957
1995
Fewest Errors--77
2003
Most .300 Hitters--11
1930
Most Stolen Bases--314
1985
Lowest ERA--2.38
1914
Highest ERA--6.21
1897
Most Complete Games--146
1904
Most Shutouts Pitched--30
1968
Most Saves--54
1993
Most Walks Given--701
1911
Most Strikeouts Thrown--1,130
1997
Career Records
Record
Career
Player
Batting Average--.359
Rogers Hornsby
Home Runs--475
Stan Musial
RBIs--1,951
Stan Musial
Runs--1,949
Stan Musial
Hits--3,630
Stan Musial
Doubles--725
Stan Musial
Triples--177
Stan Musial
Extra Base-Hits--1,377
Stan Musial
Games--3,026
Stan Musial
At-Bats--10,972
Stan Musial
Total Bases--6,134
Stan Musial
Total Plate Appearances--12,659
Stan Musial
Walks--1,599
Stan Musial
Intentional Walks--154
Albert Pujols
Strikeouts--1,469
Lou Brock
Hit-By-Pitch--87
Steve Evans
Sacrifice Flies--67
Ted Simmons
Stolen Bases--888
Lou Brock
On-Base Percentage--.427
Mark McGwire
Slugging Percentage--.683
Mark McGwire
OPS--2.500
Mark Worrell
Grounded Into Double Play--243
Stan Musial
Wins--251
Bob Gibson
Losses--174
Bob Gibson
ERA--2.52
John Tudor
Games Pitched--554
Jesse Haines
Starts by a Pitcher--482
Bob Gibson
Innings Pitched--3,884.1
Bob Gibson
Strikeouts Thrown--3,117
Bob Gibson
Strikeouts Per Nine Innings--18.00
Joe Bernard
Base on Balls--1,336
Bob Gibson
Hit Batsmen--102
Bob Gibson
Wild Pitches--111
Jumbo McGinnis
Balks--21
Joe Magrane
Saves--217
Jason Isringhausen
Complete Games--255
Bob Gibson
Shutouts--56
Bob Gibson
Home Runs Allowed--257
Bob Gibson
Opponent's Batting Average--.000
Sid Benton
Harry Camnitz
Bill Earley
Bones Ely
Jack Fournier
Earl Howard
Cody McKay
Terry Moore
Tim Murchison
Stan Musial
Bill O' Hara
Nels Potter
Scott Spiezio
Ed Taylor
Dick Ward
Total Chances—13,888
Jim Bottomley
Put-Outs—13,160
Jim Bottomley
Assists—6,229
Ozzie Smith
Errors--462
Arlie Latham
Double Plays—1,221
Ozzie Smith
Runners Caught Stealing--131
Mike Matheny
Single Season Records
World Series Final Outs
Minor League Teams
See Also