Featured Giants Player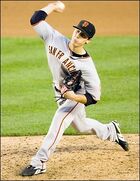 Young pitcher Tim Lincecum is said to be one of the best young hurlers in the game today (as far as talent is concerned). He will look to turn that potential into promise in 2008.
Featured Giants Team
The 1954 Giants were the last team to win a World Series for this franchise.

Template:MLB Team Page Navigation
The San Francisco Giants are finally moving to becoming a younger team. Over the last few years, this has been the oldest franchise in terms of player's ages. With young talents such as Matt Cain and Tim Lincecum, the franchise is moving back to building a young talented team.
Franchise History
1883 - John B. Day and Jim Mutrie, owners of the American Association's New York Metropolitans, form a National League team called the New York Gothams. On May 1, they play their first game at a field once used for polo matches at 110th Street and Sixth Avenue.
1885 - Jim Mutrie becomes the manager of the Gothams, and he and John Day move some of the star players from the pennant-winning Metropolitans over to the National League franchise. The Gothams become known as the Giants during the season. 1888 - After two seasons of .550-plus records that nevertheless result in finishing more than 10 games back, the Giants capture their first National League pennant and then defeat the American Association's St. Louis Browns to claim the world championship.
1889 - Despite three changes of address, the Giants successfully defend both their NL title and the world championship before the upstart Players League (started in 1890) and the ownership of Andrew Freedman decimates the squad for the next decade.
1893 - George Davis' 33-game hitting streak establishes the franchise record as he leads the team with a .355 average and 119 RBIs. His 27 triples also set a team record that still remains. Two years later, at the age of 24, the third baseman becomes the youngest manager in Major League history when he is named skipper for 33 games.
1894 - With the demise of the American Association two years earlier, the National League pits the first-place Baltimore Orioles against the runner-up Giants. The New Yorkers surprise everyone by sweeping the best-of-seven series to win the championship. Pitchers George Meekin and Amos Rusie, who combined for 69 victories in the regular season, each win two games in the championship series.
1895 - Pitcher Cy Seymour pitches both games of a doubleheader (the nightcap called after seven innings because of darkness) -- and wins both. He allows seven hits total. The achievement is especially remarkable because of Seymour's reputation for wildness; he would issue 13 walks in a game two years later and led the league in free passes for three straight years.
Retired Numbers
Owners
Managers
Awards
MVP
Cy Young
Rookie of the Year
Record Per Season
| Year | Team Name | Record | Win % |
| --- | --- | --- | --- |
| 1883 | New York Gothams | 46-50 | .479 |
| 1884 | New York Gothams | 62-50 | .554 |
| 1885 | New York Giants | 85-27 | .759 |
| 1886 | New York Giants | 75-44 | .630 |
| 1887 | New York Giants | 68-55 | .553 |
| 1888 | New York Giants | 84-47 | .641 |
| 1889 | New York Giants | 83-43 | .659 |
| 1890 | New York Giants | 63-68 | .481 |
| 1891 | New York Giants | 71-61 | .538 |
| 1892 | New York Giants | 71-80 | .471 |
| 1893 | New York Giants | 68-64 | .515 |
| 1894 | New York Giants | 88-44 | .667 |
| 1895 | New York Giants | 66-65 | .504 |
| 1896 | New York Giants | 64-67 | .489 |
| 1897 | New York Giants | 83-48 | .634 |
| 1898 | New York Giants | 77-73 | .513 |
| 1899 | New York Giants | 60-90 | .400 |
| 1900 | New York Giants | 60-78 | .435 |
| 1901 | New York Giants | 52-85 | .380 |
| 1902 | New York Giants | 48-88 | .353 |
| 1903 | New York Giants | 84-55 | .604 |
| 1904 | New York Giants | 106-47 | .693 |
| 1905 | New York Giants | 105-48 | .686 |
| 1906 | New York Giants | 96-56 | .632 |
| 1907 | New York Giants | 82-71 | .536 |
| 1908 | New York Giants | 98-56 | .636 |
| 1909 | New York Giants | 92-61 | .601 |
| 1910 | New York Giants | 91-63 | .591 |
| 1911 | New York Giants | 99-54 | .647 |
| 1912 | New York Giants | 103-48 | .682 |
| 1913 | New York Giants | 101-51 | .664 |
| 1914 | New York Giants | 84-70 | .545 |
| 1915 | New York Giants | 69-83 | .454 |
| 1916 | New York Giants | 86-66 | .566 |
| 1917 | New York Giants | 98-56 | .636 |
| 1918 | New York Giants | 71-53 | .573 |
| 1919 | New York Giants | 87-53 | .621 |
| 1920 | New York Giants | 86-68 | .558 |
| 1921 | New York Giants | 94-59 | .614 |
| 1922 | New York Giants | 93-61 | .604 |
| 1923 | New York Giants | 95-58 | .621 |
| 1924 | New York Giants | 93-60 | .608 |
| 1925 | New York Giants | 86-66 | .566 |
| 1926 | New York Giants | 74-77 | .490 |
| 1927 | New York Giants | 92-62 | .597 |
| 1928 | New York Giants | 93-61 | .604 |
| 1929 | New York Giants | 84-67 | .556 |
| 1930 | New York Giants | 87-67 | .565 |
| 1931 | New York Giants | 87-65 | .572 |
| 1932 | New York Giants | 72-82 | .468 |
| 1933 | New York Giants | 91-61 | .599 |
| 1934 | New York Giants | 93-60 | .608 |
| 1935 | New York Giants | 91-62 | .595 |
| 1936 | New York Giants | 92-62 | .597 |
| 1937 | New York Giants | 95-57 | .625 |
| 1938 | New York Giants | 83-67 | .553 |
| 1939 | New York Giants | 77-74 | .510 |
| 1940 | New York Giants | 72-80 | .474 |
| 1941 | New York Giants | 74-79 | .484 |
| 1942 | New York Giants | 85-67 | .559 |
| 1943 | New York Giants | 55-98 | .359 |
| 1944 | New York Giants | 67-87 | .435 |
| 1945 | New York Giants | 78-74 | .513 |
| 1946 | New York Giants | 61-93 | .396 |
| 1947 | New York Giants | 81-73 | .526 |
| 1948 | New York Giants | 78-76 | .506 |
| 1949 | New York Giants | 73-81 | .474 |
| 1950 | New York Giants | 86-68 | .558 |
| 1951 | New York Giants | 98-59 | .624 |
| 1952 | New York Giants | 92-62 | .597 |
| 1953 | New York Giants | 70-84 | .455 |
| 1954 | New York Giants | 97-57 | .630 |
| 1955 | New York Giants | 80-74 | .519 |
| 1956 | New York Giants | 67-87 | .435 |
| 1957 | New York Giants | 69-85 | .448 |
| 1958 | San Francisco Giants | 80-74 | .519 |
| 1959 | San Francisco Giants | 83-71 | .539 |
| 1960 | San Francisco Giants | 79-75 | .513 |
| 1961 | San Francisco Giants | 85-69 | .552 |
| 1962 | San Francisco Giants | 103-62 | .624 |
| 1963 | San Francisco Giants | 88-74 | .543 |
| 1964 | San Francisco Giants | 90-72 | .556 |
| 1965 | San Francisco Giants | 95-67 | .586 |
| 1966 | San Francisco Giants | 93-68 | .578 |
| 1967 | San Francisco Giants | 91-71 | .562 |
| 1968 | San Francisco Giants | 88-74 | .543 |
| 1969 | San Francisco Giants | 90-72 | .556 |
| 1970 | San Francisco Giants | 86-76 | .531 |
| 1971 | San Francisco Giants | 90-72 | .556 |
| 1972 | San Francisco Giants | 69-86 | .445 |
| 1973 | San Francisco Giants | 88-74 | .543 |
| 1974 | San Francisco Giants | 72-90 | .444 |
| 1975 | San Francisco Giants | 80-81 | .497 |
| 1976 | San Francisco Giants | 74-88 | .457 |
| 1977 | San Francisco Giants | 75-87 | .463 |
| 1978 | San Francisco Giants | 89-73 | .549 |
| 1979 | San Francisco Giants | 71-91 | .438 |
| 1980 | San Francisco Giants | 75-86 | .466 |
| 1981 | San Francisco Giants | 56-55 | .505 |
| 1982 | San Francisco Giants | 87-75 | .537 |
| 1983 | San Francisco Giants | 79-83 | .488 |
| 1984 | San Francisco Giants | 66-96 | .407 |
| 1985 | San Francisco Giants | 62-100 | .383 |
| 1986 | San Francisco Giants | 83-79 | .512 |
| 1987 | San Francisco Giants | 90-72 | .556 |
| 1988 | San Francisco Giants | 83-79 | .512 |
| 1989 | San Francisco Giants | 92-70 | .568 |
| 1990 | San Francisco Giants | 85-77 | .525 |
| 1991 | San Francisco Giants | 75-87 | .463 |
| 1992 | San Francisco Giants | 72-90 | .444 |
| 1993 | San Francisco Giants | 103-59 | .636 |
| 1994 | San Francisco Giants | 55-60 | .478 |
| 1995 | San Francisco Giants | 67-77 | .465 |
| 1996 | San Francisco Giants | 68-94 | .420 |
| 1997 | San Francisco Giants | 90-72 | .556 |
| 1998 | San Francisco Giants | 89-74 | .546 |
| 1999 | San Francisco Giants | 86-76 | .531 |
| 2000 | San Francisco Giants | 97-65 | .531 |
| 2001 | San Francisco Giants | 90-72 | .556 |
| 2002 | San Francisco Giants | 95-66 | .590 |
| 2003 | San Francisco Giants | 100-61 | .621 |
| 2004 | San Francisco Giants | 91-71 | .562 |
| 2005 | San Francisco Giants | 75-87 | .463 |
| 2006 | San Francisco Giants | 76-85 | .472 |
| 2007 | San Francisco Giants | 71-91 | .438 |
| 2008 | San Francisco Giants | 72-90 | .444 |
| 2009 | San Francisco Giants | 88-74 | .543 |
Minor League Teams
See Also