Full Name: Randy Moss
Primary Position: WR
Height/Weight: 6' 4"/202
College: Florida State University, Marshall University
Birthdate: February 13, 1977
High School: DuPont (Rand, WV)
Birthplace: Rand, West Virginia
Nickname: The Freak
Pro Experience: 9 years
Biography
Randy Gene Moss (born February 13, 1977 in Rand, West Virginia) is an American football wide receiver for the Oakland Raiders NFL franchise. He was drafted by the Minnesota Vikings in 1998, and played the first stage of his career in Minnesota before a trade in 2005 brought him to Oakland. He is 6 ft 4 in. tall and weighs 213 lb.
Family
His parents are Maxine Moss and Randy Pratt, but Moss does not have much contact with his father. He has a sister named Lutisia and a brother Eric, who had a short stint in the NFL as an offensive lineman with the Minnesota Vikings. Moss has 4 children with his girlfriend, Libby Offutt (two daughters-Sydney and Senali, and two sons-Thaddeus and Montigo).
High school
As a high school sophomore at DuPont High School, a now-defunct institution in Belle, West Virginia (near Charleston), he helped lead his school to the state AAA football title (West Virginia's highest class), starred in basketball alongside friend and current Miami Heat point guard Jason Williams, and also won the state title in the 100 meter and 200 meter dashes. He played center field in baseball, which some argued was his best sport. He played wide receiver, safety, punter, place kicker, kick returner, and punt returner in football. He finished his high school football career with 109 catches, 2,435 receiving yards, and 44 receiving touchdowns, along with rushing the ball 75 times for 843 yards and nine touchdowns. He ended his basketball career at DuPont with 1,713 points scored. He was named the state's Athlete of the Year once in football and twice in basketball.
Along with his State Athlete of the Year awards, Moss was named to USA Today's All-USA high school football team in 1994, and was named to USA Today's 20th anniversary All-USA high school football team.
College years
Moss' dream was to play for Notre Dame, but he also considered going to Ohio State, where his half-brother, Eric, had played offensive tackle.
According to Lou Holtz, Moss was the greatest high school athlete he had ever seen because "he was just a bigger Deion Sanders."
After originally signing a letter of intent to play college football with the Notre Dame Fighting Irish in 1995, Moss took part in a racially-charged fight at his high school that left one person hospitalized. He pled guilty to battery and received probation along with a 30-day suspended jail sentence. Notre Dame revoked his scholarship, but this setback did not stop another high profile college football program from giving him a chance. Notre Dame officials suggested Florida State due to the esteemed reputation of its coach, Bobby Bowden, for handling troubled players. However, because of his signed letter of intent at Notre Dame, the NCAA considered him a transfer student, which made him ineligible to play for the Seminoles in the 1995 football season. He was redshirted in his freshman season. While at Florida State, it was claimed that Moss ran a 4.25 40 yard dash (only Deion Sanders, with a 4.23 40 yard dash, did better).
In 1996, while serving his 30-day jail sentence in a work release program from 1995, Moss tested positive for smoking marijuana, violating his probation, and was let go by Florida State. He served 60 extra days in jail for the probation violation.
Ultimately, Moss transferred to Marshall University, about an hour's drive from his home. Because Marshall was then a Division I-AA school, NCAA rules allowed him to transfer there without losing any further eligibility. In 1996, he set the NCAA Division I-AA records for most games with a touchdown catch in a season (14), most consecutive games with a touchdown catch (13), most touchdown passes caught by a freshman in a season (29), and most receiving yards gained by a freshman in a season (1709 on 78 catches). Those records still stand. Moss was also the leading kickoff returner in Division I-AA on the season, with 484 total yards and a 34.6 yard average. Marshall went undefeated and won the Division I-AA title in its last season before moving to Division I-A.
In the 1997 season, Marshall's first in Division I-A, Moss and current New York Jets quarterback Chad Pennington were the centerpiece of an explosive offense that led the Thundering Herd to the Mid-American Conference title. Moss caught 26 touchdown passes that season, at the time a Division I-A record, and was a first-team All-American. For the season, he had 96 receptions for 1820 yards, and 26 touchdowns. He won the Fred Biletnikoff Award as the nation's leading wide receiver, and was a finalist for the Heisman Trophy (finishing fourth in the balloting, behind Ryan Leaf, Peyton Manning, and Charles Woodson, who won the award).
NFL career
During the 1998 NFL Draft, Moss was projected as a high first-round pick because of his physical skills, but most teams were afraid to take him because of his personal history and fallout from previous drafts where character issues were overlooked, often referred to as the Lawrence Phillips Effect after former Nebraska running back Lawrence Phillips . Ultimately, twenty teams would pass on Moss before the Minnesota Vikings would finally select him with the 21st overall pick. Interesting to note is that of the twenty players drafted ahead of Moss four are currently out of the league, including three of the top ten picks. These players include Ryan Leaf (2nd overall pick), Andre Wadsworth (3rd overall pick), and Curtis Enis (5th overall pick). With the exception of Peyton Manning none of the players drafted ahead of Moss have reached and maintained superstar status.
Instant Impact
In 1998, Moss helped the Vikings to become the number one ranked offense that season while they set a record for total points by a team. They finished with a 15-1 winning record and were poised to represent the NFC in the Super Bowl. However, the Atlanta Falcons stunned the Vikings by winning the NFC Championship Game 30-27 in overtime. At the end of the 1998 regular season, Moss was named a Pro Bowl starter and NFL Offensive Rookie of the Year for his rookie record 17 touchdown receptions and the third highest receiving yard (1,313) total of 1998.
In 1999, Moss had another superb season, catching 80 passes for 1,413 yards and 11 touchdowns. He went on to record 5 receptions for 127 yards and a touchdown in the Vikings 27-10 NFC wildcard playoff win over the Dallas Cowboys. Minnesota lost in the divisional round to the St. Louis Rams 49-37, but Moss had a great performance in that game as well, catching 9 passes for 188 yards and 2 touchdowns.
Controversy
On September 24, 2002 in downtown Minneapolis, Minnesota, Moss was driving in his Lexus and was preparing to do an illegal turn. A city worker saw what Moss was trying to do. She stood in front of his car and was ordering him to stop. However, Moss didn't stop his car until she fell on the ground. Moss was originally charged with Suspicion of Assault with a Deadly Weapon which is a felony and a misdemeanor marijuana possession. Moss pleaded guilty to a misdemeanor traffic violation. He was ordered to pay a $1,200 fine and perform 40 hours of community service.
Final Years as a Viking
Moss's fortunes took a better turn on the football field during the 2003 regular season, where he became the first wide receiver in history to play more than 12 games (he played 16) while averaging over 100 yards and one touchdown per contest. He finished with 111 receptions for 1,632 yards and 17 touchdowns. All three of the numbers either tied or became a new personal best.
The Vikings finished the 2004 season with an 8-8 record, and barely made the playoffs. During the last game of the regular season against the Washington Redskins, Moss was caught walking off the field and into the locker room with 2 seconds left on the clock. Critics criticized Moss for quitting on his team. Moss, however, responded to all the criticism. On January 9, 2005, the Minnesota Vikings traveled to Green Bay to take on the heavily favored division rival Green Bay Packers, in an NFC wildcard playoff game. Moss performed on the field, catching 2 touchdowns, and finished the game with 4 catches for 70 yards. Although the Vikings won 31-17, the game will mostly be remembered for the infamous moon that Moss performed after catching his second touchdown in the 4th quarter. After scoring, Moss trotted to the middle of the endzone and the goalpost. He then pretended to moon the fans at Lambeau Field. Days later, the NFL fined him $10,000 because it found that his end zone celebration was unsportsmanlike during the playoffs. However, Indianapolis Colts head coach Tony Dungy, a respected voice of reason in the NFL, explained (if not completely defended) Moss' action by pointing out that Green Bay Packers fans are infamous for mooning the buses of departing opponents.[1]
According to ESPN, Moss was later caught on video being asked by a reporter if he had wrote the check to pay the fine, which resulted in the following conversation:

Reporter: "Write the check yet, Randy?"
Moss: "When you're rich you don't write checks."
Reporter: "If you don't write checks, how do you pay these guys?"
Moss: "Straight cash, homey."
Reporter: "Randy, are you upset about the fine?"
Moss: "No, cause it ain't [expletive]. Ain't nothing but 10 grand. What's 10 grand to me? Ain't [expletive] … Next time I might shake my [expletive]." [2]
Randy Moss made the Pro Bowl 5 times in his 7-year career with the Minnesota Vikings (1998, 1999, 2000, 2002, and 2003).
Trade to the Raiders
On February 23, 2005, Randy's agent, Dante DiTrapano, reported that Moss was going to be traded to the Oakland Raiders from the Minnesota Vikings for linebacker Napoleon Harris, the 7th overall pick and a 7th round pick. Some have speculated that Quarterback Daunte Culpepper wanted him traded. The trade was officially consummated on March 2, 2005.
Further Controversy
In August 2005, Moss created a public relations faux pas for himself and the Raiders when he told HBO's Bryant Gumbel that he has smoked marijuana during his NFL career "once a blue moon." [3]
The Silver and Black
Injuries derailed Moss in his first season with the Raiders. Over the first four games, he was on pace to break the single season NFL receiving yardage record. In week six however, Randy took a shot in mid-air against the San Diego Chargers that resulted in a pulled groin, bruised pelvis, and several other nagging injuries. Sportswriters, eager to keep Moss and controversy entwined in the headlines, also accepted Moss's excuses that Kerry Collins (the quarterback) couldn't throw deep, that Jerry Porter (another receiver) forced more throws to him than to Moss, and that Norv Turner (the coach) had too complex a playbook for Moss to understand. Despite these excuses, Moss finished with a respectable 60 receptions for 1,005 yards and 8 touchdowns. His 16.8 yards per catch average was more than a yard higher than his yards per catch average during his previous four seasons.
In May 2006, Moss fired agent Dante DiTrapano.[4]
Moss had a new coach in Art Shell for the 2006 season, and a new quarterback to throw him the ball in Aaron Brooks, but Brooks was a complete bust and Moss posted arguably the worst season of his career.
On April 29, 2007, The Raiders sent Moss packing to the New England Patriots in exchange for a 4th round pick.
Years with the Pats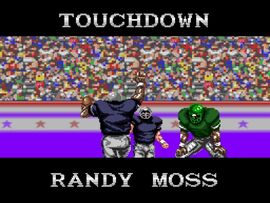 In his opening New England Patriots Debut against the AFC East Rival New York Jets Randy accumulated 9 catches for 183 yards and 1 touchdown. Easily having the best game of any other wide receiver that week. At one point in the game his new quarterback Tom Brady threw into triple coverage downfield to Randy, who caught the 51-yard pass for a touchdown, easily breaking away from three Jets defenders. Moss continues to put up huge numbers through the first 4 weeks of the 2007 season, he has 4 straight 100 yard receiving games, and has caught 7 TDS, to go along with 31 total receptions for 505 yards. He is on pace to set career highs in all statistical categories.
Trivia
Randy wore number 18 with the Minnesota Vikings in his rookie season's training camp. Dennis Green, then the head coach of the Vikings, told Moss to switch to number 84. He is currently wearing number 18 with the Oakland Raiders because he says he had always wanted to wear it ever since he came into the league. Also, Jerry Porter had number 84.
NFL records
Rookie record 17 TD catches
He is third only to Anquan Boldin and Bill Groman for most rookie receiving yards with 1,313.
Moss has caught 98 TD passes in 8 seasons, 8th most in NFL history. He trails Jerry Rice, Terrell Owens, Marvin Harrison, Cris Carter, Tim Brown, Steve Largent, and Don Hutson, all of whom have played more seasons than Moss.
Has caught 13 or more TDs in a season 4 times. He trails only Terrell Owens and Jerry Rice in such seasons.
Is the only player next to Jerry Rice to catch 17 or more TDs in a season twice (Moss accomplished the feat in 1998 and 2003).
Moss has had 3 seasons where he averaged at least one receiving TD a game. 1998 (17 TDs in 16 games), 2003 (17 TDs in 16 games), and 2004 (13 TDs in 13 games). By doing so, he is the only wide receiver in NFL history to accomplish this task.
He had back to back 100 catch seasons, first in 2002 and then in 2003. He joined Sterling Sharpe, Jerry Rice, Herman Moore, Cris Carter, Marvin Harrison, and Rod Smith as the only receivers to do so.
At the end of the 2005 season, Moss is averaging approximately 12.25 receiving TDs per season, which is an NFL record.
Holds the record for most 1,000 yard seasons in his first seasons of the league. In his first 6 seasons in the NFL, he had 1,000+ yards in each seasons, setting an NFL record.
Moss is the only player in NFL history to average 100 yards receiving and a touchdown a game through a 16 NFL game season.
Career notables
In 2007 set the NFL record for most receiving TDs with 23
Is second on the Minnesota Vikings all time receiving TD list with 90. Cris Carter holds the record with 110 receiving scores.
Holds the record for most touchdowns in Minnesota Vikings playoff history(8)
Has a 16.0 YPC for his career
Has completed 4 of 8 passes for 106 yards and 2 touchdowns, with 1 interception, giving him a 95.8 passer rating.
Played on the 1998 Vikings team, which set an NFL record in total points scored with 556
Had a career-high 12 receptions for 204 yards against the Chicago Bears, at Soldier Field, on November 14, 1999 in a 27-24 overtime win.
Holds the Viking record for most 100 yard receiving games with 42
Had a Pro Bowl record nine receptions for 212 yards in the 1999 season's Pro Bowl played on February 6, 2000. NFC won in a shootout, 51-31, marking the highest scoring output in Pro Bowl History.
Caught three touchdowns in five different games:
at Dallas (Nov. 26, 1998), a 46-36 victory; vs. Chicago (Dec. 6, 1998), a 48-22 victory; at Detroit (Oct. 1, 2000), a 31-24 victory; vs New York (November 19, 2001 ) a 28-16 victory. vs. San Francisco (Sep. 28, 2003), a 35-7 victory.
Trivia
Moss played in the first 103 games of his career before injuring his ankle in 2004, and as a result did not play in 3 games during that season.
Moss is a big fan of the Miami Heat, and is often present at the team's big playoff games. His favorite player is Shaquille O'Neal. He also went to the same high school (DuPont) as Heat point guard Jason Williams.
Sega Sports's NFL 2K, 2K1, and 2K2 all featured Moss on their cover.
Moss is the Vice President of Marketing for Inta Juice, a fruit smoothie chain in which he owns a franchise in Charleston, West Virginia.
Moss had his picture on the side of the #66 Best Buy/Inta Juice Chevrolet in a special paint scheme during the All-State 400 at the Brickyard for the juice company.[5]
Scouting Report
Statistics
Receiving Stats
year
team
league
games
REC
YDS
AVG
TD
LNG
1998
MIN
NFL
16
69
1313
19
17
61t
1999
MIN
NFL
16
80
1413
17.7
11
67t
2000
MIN
NFL
16
77
1437
18.7
15
78t
2001
MIN
NFL
16
82
1233
15
10
73t
2002
MIN
NFL
16
106
1347
12.7
7
60
2003
MIN
NFL
16
111
1632
14.7
17
72
2004
MIN
NFL
13
49
767
15.7
13
82t
2005
OAK
NFL
16
60
1005
16.8
8
79
2006
OAK
NFL
13
42
553
13.2
3
51
9 year NFL career
138
676
10700
15.8
101
0
Rushing Stats
year
team
league
games
ATT
YDS
AVG
TD
LNG
1998
MIN
NFL
16
1
4
4
0
4
1999
MIN
NFL
16
4
43
10.8
0
15
2000
MIN
NFL
16
3
5
1.7
0
9
2001
MIN
NFL
16
3
38
12.7
0
18
2002
MIN
NFL
16
6
51
8.5
0
25
2003
MIN
NFL
16
6
18
3
0
11
2004
MIN
NFL
13
0
0
0
0
0
2005
OAK
NFL
16
0
0
0
0
0
2006
OAK
NFL
13
0
0
0
0
0
9 year NFL career
138
23
159
6.9
0
0
Punt Return Stats
year
team
league
games
RET
YDS
AVG
FC
LNG
TD
1998
MIN
NFL
16
1
0
0
2
0
0
1999
MIN
NFL
16
17
162
9.5
4
64t
1
2000
MIN
NFL
16
0
0
0
0
0
0
2001
MIN
NFL
16
0
0
0
0
0
0
2002
MIN
NFL
16
0
0
0
0
0
0
2003
MIN
NFL
16
0
0
0
0
0
0
2004
MIN
NFL
13
0
0
0
1
0
0
2005
OAK
NFL
16
0
0
0
0
0
0
2006
OAK
NFL
13
0
0
0
0
0
0
9 year NFL career
138
18
162
9
7
0
1
Passing Stats
year
team
league
games
ATT
CMP
PCT
YDS
YPA
TD
INT
SKD
SKY
RAT
1998
MIN
NFL
16
0
0
0
0
0
0
0
0
0
0
1999
MIN
NFL
16
1
1
100
27
27
1
0
0
0
158.3
2000
MIN
NFL
16
0
0
0
0
0
0
0
0
0
0
2001
MIN
NFL
16
1
1
100
29
29
0
0
0
0
118.8
2002
MIN
NFL
16
3
1
33.3
13
4.33
1
0
0
0
87.5
2003
MIN
NFL
16
1
0
0
0
0
0
0
0
0
39.6
2004
MIN
NFL
13
2
1
50
37
18.5
0
1
0
0
56.3
2005
OAK
NFL
16
0
0
0
0
0
0
0
0
0
0
2006
OAK
NFL
13
0
0
0
0
0
0
0
0
0
0
9 year NFL career
138
8
4
50
106
13.25
2
1
0
0
95.8
Kick Return Stats
year
team
league
games
RET
YDS
AVG
LNG
TD
1998
MIN
NFL
16
0
0
0
0
0
1999
MIN
NFL
16
0
0
0
0
0
2000
MIN
NFL
16
0
0
0
0
0
2001
MIN
NFL
16
0
0
0
0
0
2002
MIN
NFL
16
1
11
11
11
0
2003
MIN
NFL
16
1
22
22
22
0
2004
MIN
NFL
13
0
0
0
0
0
2005
OAK
NFL
16
0
0
0
0
0
2006
OAK
NFL
13
0
0
0
0
0
9 year NFL career
138
2
33
16.5
0
0
Fumble Recovery Stats
year
team
league
games
TOT
OWR
OPR
YDS
TD
1998
MIN
NFL
16
2
0
0
0
0
1999
MIN
NFL
16
3
0
0
0
0
2000
MIN
NFL
16
2
0
0
0
0
2001
MIN
NFL
16
0
0
0
0
0
2002
MIN
NFL
16
1
2
0
0
0
2003
MIN
NFL
16
1
0
0
0
0
2004
MIN
NFL
13
1
0
0
0
0
2005
OAK
NFL
16
0
0
0
0
0
2006
OAK
NFL
13
0
0
0
0
0
9 year NFL career
138
10
2
0
0
0
Trivia
See also
Awards
Won the AP Offensive Rookie of the Year in 1998
Won the Pro Bowl MVP in 1999
Community content is available under
CC-BY-SA
unless otherwise noted.