by user Pgtiger
Wohoo, College Football Season! Just under five months away until The Gameday Crew kisses Pete Caroll's ASS!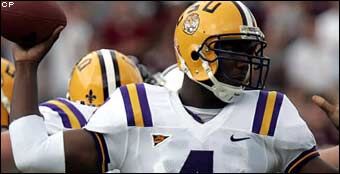 With the loss of some great Quarterbacks this past season, such as Furman's Ingle Martin (just kidding), I'm going to give you the Top 10 QB's for 2006 to let you know who's getting ready for a great season.
1. Brady Quinn, 6-4, 230, Sr. Notre Dame- Brady is actually my Pre-Season Heisman Winner. Quinn should have one hell of a season after one year under the belt of Coach Weis' system.
2. Patrick White, 6-2, 185, Soph. West Virginia- Pat just lit up the Big East last season. He then put a hurtin' on the SEC Champion George Bulldogs in the Sugar Bowl. White is going to kick some major butt again this season in a weak Big East Conference.
3. Drew Stanton, 6-3, 220, Sr. Mich. State- Despite starting only seven games last season, Stanton was named the team's MVP for the year. Even though the Spartans failed to reach a bowl game, Stanton was still outstanding in his seven games.
4. Brian Brohm, 6-4, 224, JR. Louisville- Brohm tore his ACL two games before the season ended but is reportedly recovering as planned. Brohm and the Cardinals should have a good year.

5. Jordan Palmer, 6-5 , 230 , Sr. UTEP- Jordan Palmer, the little brother of Bengal's QB Carson Palmer, has really flown under the radar his 4 seasons at UTEP. Look for him to have an outstanding season, including a couple of broken UTEP records.
6. JaMarcus Russell, 6-5, 252, Jr. LSU- Mr. Big Man. Russell had a huge year, passing for 2,435 yards and 16 TD, before suffering an injured shoulder in the SEC Championship Game. Back-up QB Matt Flynn came in for the rescue as he led the Tigers to a demolishing 40-3 win against Miami in the Peach Bowl. If JaMarcus Russell can stay healthy, he will be the SEC player of the year.
7. Troy Smith, 6-1, 205, Sr. OSU- When Troy Smith is healthy he is one good Mo-Fo. Smith is 13-2 as a starter and should be able to add to that record in 2006.
8. Chad Henne, 6-2, 225, Jr. Michigan- Henne had an outstanding Freshman season, but slowed down a little last year. Don't look for that to be the case this year, Henne and the Wolverines will be back in '06.
9. Chris Leak, 6-0, 210, Sr. Florida- The Gators may have recruited the number one quarterback coming out of High School, but Leak isn't going anywhere. Leak's ability to read defenses and make great decisions on the field is what will have the Gator fans doin' the Gator Chomp come September.
10. Blake Mitchell, 6-3, 196, Jr. South Carolina- This is my sleeper for 2006. "The Ol' Ball Coach" Steve Spurrier had Mitchell playing like a true Qb at the end of the season, including an upset over his old school, the Florida Gators. Blake has the talent to lead his Gamecocks to a possible SEC East Title next season.
Be sure to check out http://thesportspage.blogsome.com for more!
Date
Mon 04/10/06, 3:54 pm EST