Jurassic World: Dominion Dominates Fandom Wikis - The Loop
Play Sound
Featured Halo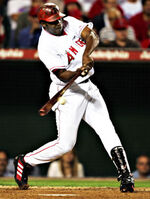 Vlad has one of the most interesting swings in baseball history. He is described as a "free-swinger", yet is able to maintain a .325 career batting average. Depending on personal opinion, the swing has to be either the best or worst swing ever. But all that counts is that the swing works. See more Halos Players
Featured Team
The 2002 team was the only team that has ever yet been able to deliver a World Series Championship for this Southern California franchise.
See more Angels teams

Template:MLB Team Page Navigation

Template:Team Profile Ad
With the off-season additions of Torii Hunter and Jon Garland, the Angels look to solidify their place on top the division by repeating as division champions in 2008.
Team History
Retired Numbers
11 -

Jim Fregosi

Number retired by Angels in 1998.
Became the first popular Angels player.
Holds franchise record with 70 career triples.
Six-time all star
Managed the Angels from 1978-1981
26 -

Gene Autry

Bought the original expansion team.
Moved them to Anaheim in 1963.
Sold the team to Disney in 1995
Passed away in 1998.
Never saw the Angels win a World Series.
29 - Rod Carew

Number retired by Angels in 2005.
Traded to the Angels in 1979 after 12 years with the Twins.
Got his 3,000th hit with the Angels.
Finished career with 3,053 hits and a .328 batting average.
Elected into The Baseball Hall of Fame in 1991.
30 - Nolan Ryan

Number retired by Angels in 1987.
Played for team from 1972-1979.
Led A.L. in strikeouts 7 out of 8 years he was the Angels.
Recorded 7 no-hitters and 12 one-hitters during his career.
Was an eight-time all star.
Elected into The Baseball Hall of Fame in 1999.
42 - Jackie Robinson

In 1947, Jackie Robinson became the first African American man to play in the Major Leagues.
Number retired throughout baseball in 1997.
Played for Brooklyn Dodgers from 1947-56.
From his Baseball Hall of Fame Plaque: "Leading NL batter in 1949. Holds fielding mark for second baseman playing in 150 or more games with .992. Led NL in stolen bases in 1947 and 1949. Most Valuable Player in 1949. Lifetime batting average .311. Joint record holder for most double plays by second baseman, 137 in 1951. Led second baseman in double plays 1949-50-51-52."
50 -

Jimmie Reese

Was a batboy for the PCL's Los Angeles Angels (1919-1923).
Hired in 1972, at age 71, as the Angels conditioning coach.
Led the team during fielding practice.
Died in 1994 at age 92, and was still employed by the Angels
Owners
Arturo Moreno

2003-Present

The Walt Disney Co.

1999-2003

Jackie Autry

1998-1999

Gene Autry

1960-1998
General Managers
Tony Reagins

2007-Present

Bill Stoneman

1999-2007

Bill Bavasi

1994-99

Whitey Herzog

1993-94

Dan O'Brien

1991-93

Mike Port

1984-91

E.J. Buzzie Bavasi

1977-84

Harry Dalton

1971-77

Dick Walsh

1968-71

Fred Haney

1960-68
Managers
Mike Scioscia

2000-Present

Terry Collins

1997-99

Joe Maddon

1996, 1998-99

John McNamara

1983-84, 1996

Marcel Lachemann

1992, 1994-96

Bobby Knoop

1994

John Wathan

1992

Buck Rodgers

1991-94

Doug Rader

1989-91

Cookie Rojas

1988

Moose Stubing

1988

Gene Mauch

1981-82, 1985-87

Jim Fregosi

1978-81

Dave Garcia

1977-78

Norm Sherry

1976-77

Dick Williams

1974-76

Whitey Herzog

1974

Bobby Winkles

1973-74

Del Rice

1972

Lefty Phillips

1969-71

Bill Rigney

1961-69
Awards
MVP
Cy Young
Rookie of the Year
Silver Slugger
All-Time Team Leaders & Stats
Career Records
Single Season Records
Home Runs: Troy Glaus 47, 2000
Runs Batted In: Don Baylor 139, 1979
Batting Average: Darin Erstad .355, 2000
Hits: Darin Erstad 240, 2000
Runs: Vladimir Guerrero 124, 2004
Doubles: Garret Anderson 56, 2002
Triples: Chone Figgins 17, 2004
Stolen Bases:

Mickey Rivers

70, 1975
Hitting Streak: Garret Anderson 28, 1998
Walks:

Tony Phillips

113, 1995
Wins: Nolan Ryan 22, 1974
Saves: Francisco Rodriguez 62, 2008
Strikeouts: Nolan Ryan 383, 1973
Earned Run Average: Dean Chance 1.65, 1964
Record Per Season
Year
Team
Record
Win %
1961
Los Angeles Angels
70-91
.435
1962
Los Angeles Angels
86-76
.531
1963
Los Angeles Angels
70-91
.435
1964
Los Angeles Angels
82-80
.506
1965
Los Angeles Angels
California Angels
75-87
.463
1966
California Angels
80-82
.494
1967
California Angels
84-77
.522
1968
California Angels
67-95
.414
1969
California Angels
71-91
.438
1970
California Angels
86-76
.531
1971
California Angels
76-86
.469
1972
California Angels
75-80
.484
1973
California Angels
79-83
.488
1974
California Angels
68-94
.420
1975
California Angels
72-89
.447
1976
California Angels
76-86
.469
1977
California Angels
74-88
.457
1978
California Angels
87-75
.537
1979
California Angels
88-74
.543
1980
California Angels
65-95
.406
1981
California Angels
51-59
.464
1982
California Angels
93-69
.574
1983
California Angels
70-92
.432
1984
California Angels
81-81
.500
1985
California Angels
90-72
.556
1986
California Angels
92-70
.568
1987
California Angels
75-87
.463
1988
California Angels
75-87
.463
1989
California Angels
91-71
.562
1990
California Angels
80-82
.494
1991
California Angels
81-81
.500
1992
California Angels
72-90
.444
1993
California Angels
71-91
.438
1994
California Angels
47-68
.409
1995
California Angels
78-67
.538
1996
California Angels
70-91
.435
1997
Anaheim Angels
84-78
.519
1998
Anaheim Angels
85-77
.525
1999
Anaheim Angels
70-92
.432
2000
Anaheim Angels
82-80
.506
2001
Anaheim Angels
75-87
.463
2002
Anaheim Angels
99-63
.611
2003
Anaheim Angels
77-85
.475
2004
Anaheim Angels
92-70
.568
2005
Los Angeles Angels Of Anaheim
95-67
.586
2006
Los Angeles Angels Of Anaheim
89-73
.549
2007
Los Angeles Angels Of Anaheim
94-68
.580
2008
Los Angeles Angels Of Anaheim
100-62
.617
2009
Los Angeles Angels of Anaheim
97-65
.599
Minor League Teams
AAA:

Salt Lake Bees

-

Pacific Coast League

AA:

Arkansas Travelers

-

Texas League

Advanced A:

Rancho Cucamonga Quakes

-

California League

A:

Cedar Rapids Kernels

-

Midwest League

Rookie:

Tempe Angels

-

Arizona League

Rookie:

Orem Owlz

-

Pioneer League
See Also