by user Pean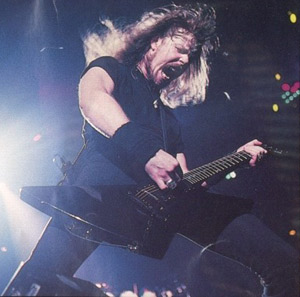 For a team constantly in their cross-town rivals' shadow, they sure have a funny way of trying to create their own identity. On Monday afternoon at Shea Stadium for Mets Opening Day, the Mets clung to a one run lead heading into the 9th against the Washington Nationals. The setting couldn't be more perfect for All-Star closer Billy Wagner, who was signed for $43 million dollars in the offseason. As the Nats got set for their last at-bats, Wagner jogged onto the field from the bullpen to make his Mets debut. What song was blaring through the Shea Stadium speakers? None other than Metallica's "Enter Sandman". Sound familiar? Mariano Rivera has only been coming out of the pen to mail down games while this song played for almost TEN years now. Hearing this song as a baseball fan should immediately make you think of Rivera and a late inning Yankee game AT YANKEE STADIUM. Hearing this song as a Yankee fan in the Stadium is a special thing because everyone is going crazy as Rivera calmly walks to the mound admist a tight contest.
Do Rivera and the Yankees have "Enter Sandman" trademarked? Of course not. Its a free country and there are no MLB rules that specify what songs you can play in your stadium. However, Billy Wagner and whatever Mets official that allowed this should be blasted for this. There are millions of other songs out there he could've used—and don't give me crap about Wagner being a big Metallica fan, I'm not buying it. I guess the Mets really aspire to be like the Yankees afterall. I guess if you wanna be a winner, you should imitate them as much as you can. What's next, the chimes after the Mets score runs?
Date
Mon 04/03/06, 3:20 pm EST
Community content is available under
CC-BY-SA
unless otherwise noted.