Jurassic World: Dominion Dominates Fandom Wikis - The Loop
Play Sound
| | |
| --- | --- |
| Full Name: Dirk Nowitzki | Current Team: Dallas Mavericks |
| Height/Weight: 7'0"/245 | Number: 41 |
| Birthdate: June 19, 1978 | Entry Draft: 1st round (9th) in 1998 |
| Birthplace: Wurzburg, Germany | Drafted By: Milwaukee Bucks |
| Position: PF | College: N/A |
Biography
Dirk Werner Nowitzki (born June 19, 1978 in Würzburg, West Germany) is a German basketball player for the National Basketball Association's (NBA) Dallas Mavericks. Nowitzki is an all-purpose forward, able to play any position in the front court (center, power forward, or small forward).
Nowitzki was selected as the 9th overall pick in the 1998 NBA Draft by the Milwaukee Bucks and was immediately traded to the Dallas Mavericks for their sixth pick, Robert Traylor. The trade ended up being a steal for Dallas, as Nowitzki blossomed into an all-star while Traylor was out of the league after seven seasons. Nowitzki is widely regarded as one of the best players in the NBA today. Although there have been numerous German players in the NBA, in 2006 Nowitzki became just the second German-born player (after Detlef Schrempf) to make it to the NBA Finals.
Early life
A native of Würzburg, Nowitzki came from an athletic family; his father Jörg was a handball player, his mother Helen was a member of the German women's national basketball team, and his older sister Silke played basketball in the United States at Duquesne University. She now works for the NBA in International TV. Nowitzki attended Röntgen Gymnasium (high school), and was sporadically recruited by U.S. colleges as a teenager in Germany, and seriously considered attending Pennsylvania State University, but since he was required to do military service in Germany from September 1, 1997 to June 30, 1998, these plans came to nothing. During his time with the military, he was however allowed to continue playing pro basketball over the weekends.
He was first noticed by the NBA world when a team of American pro stars, including Scottie Pippen, Jason Kidd, Gary Payton and Charles Barkley, came to Germany and played an exhibition game against a German national youth team in September 1997. During the game, Nowitzki dunked over Charles Barkley. Barkley saw a future superstar in the gangly German teenager and later admitted to offering to pay him "any amount of money he wanted if he would come to his alma mater, Auburn."
Nowitzki did not truly gain international attention, however, until the March 1998 Nike Hoop Summit in San Antonio, Texas, where he notched 33 points and 14 rebounds to lead a team of international juniors to a surprise victory over a U.S. junior team.
NBA career
Early Years
Nowitzki decided to declare for the 1998 NBA Draft at the age of 20. He had a promise from Boston Celtics head coach Rick Pitino that his team would take him with the 10th overall selection. However, one other team was interested in the German prospect: the Dallas Mavericks, and they selected him just one pick earlier. Technically, he was drafted by the Milwaukee Bucks, but the Bucks were selecting for the Mavericks; the two teams had a pre-arranged deal. The Mavericks had likewise selected Robert "Tractor" Traylor for the Bucks with the sixth pick. Even though the two teams were selecting for each other, the Nowitzki-for-Traylor deal has gone down as one of the most infamous and lopsided trades ever. The Mavericks also got the draft rights to nineteenth-overall pick Pat Garrity, but that same draft, Garrity was traded (along with other players and future draft considerations) to the Phoenix Suns for young point guard Steve Nash. On that night, the Dallas Mavericks acquired the two pieces on which they would build their franchise for years to come.
Mavs GM Don Nelson touted Nowitzki as the sure-fire 1998-99 Rookie of the Year at the draft, a lofty expectation for a 20-year-old who was in the U.S. for the first time. Dallas fans were understandably upset, then, when Nowitzki looked lost when on the floor in mop-up minutes as a rookie. Determined to prove that he could be a force in the NBA, Nowitzki returned to Germany in the 1999 offseason, working hard on sharpening his total game. The summer of work helped immensely, as Nowitzki emerged as a starter and future star in 1999-2000, when he averaged 17.5 points, 6.5 rebounds, and 2.5 assists, finishing second in voting for the league's Most Improved Player.
The following season (2000-01), he averaged 21.8 points and 9.2 rebounds and became the first Maverick to be named to the All-NBA Team, making the third team.
The All-Star
In 2001-02, Nowitzki averaged 23.4 points and 9.9 rebounds per game. He made his first appearance in the NBA All-Star Game. He was again selected to the All-NBA team, this time on the second team. In the following summer, he played on the German national team that finished third at the FIBA World Championships in Indianapolis and was named the tournament MVP.
Before the 2002-03 season, he was named in a survey of NBA general managers as the league's top international player. He met those expectations; he matched his 2001-02 rebound average and increased his scoring average to a career-high 25.1 points. He was again selected to the All-Star Game and the All-NBA second team.
He suffered through nagging ankle injuries in 2003-04, but still managed to finish in the top 10 in the NBA in scoring, at 21.8 ppg, and added 8.7 rebounds and 2.7 assists. He was again selected for the All-Star Game, and again made the All-NBA team, this time on the third team. Nowitzki was one of the Mavericks' few bright spots in a five-game loss to the Sacramento Kings in the first round of the 2004 playoffs, averaging 26.6 points and 11.8 rebounds for the series.
The Franchise Player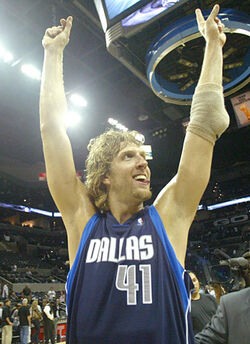 Before the 2004-05 NBA season, Nowitzki's best friend Steve Nash left Dallas and returned to the Phoenix Suns as a free agent. Without Nash, many feared Nowitzki's game would falter, but precisely the opposite occurred. Nowitzki would score 26.1 points a game, a career-high, and net 9.7 rebounds. His 1.5 blocks and 3.1 assists were also career numbers. On December 2, 2004, Nowitzki scored 53 points in an overtime win against the Houston Rockets, a career best.
Nowitzki was voted to the first team All-NBA squad for the 2004-05 season, although the Mavericks were ousted from the playoffs by the Nash-led Suns. That season Nowitzki also placed third in the league's MVP voting, behind Nash and Shaquille O'Neal. By being elected to the first team All-NBA, Nowitzki became the first player who did not attend a United States high school or college to be on the All-NBA first team.
Disappointed in his team's early exit from the playoffs, Nowitzki looked forward to the next season. Teammate Michael Finley was waived over the summer, and now Nowitzki was the last player remaining from the Mavericks' "Big Three" of Nash, Finley, and himself. He was now the unequivocal leader of the team.
Under the tutelage of coach and former teammate Avery Johnson, who acceded to the head coach position when Don Nelson stepped down late in the 2004-05 season, Nowitzki made strides in his inside game. Long considered as a "soft" jump shooter in the mold of many European players, Nowitzki cut back on his three-point attempts and concentrated on his inside game. He went on to have another career year, with averages of 26.6 points, 9.0 rebounds, and 2.8 assists. He improved his shooting percentage, setting personal season records in field goals (48.0%), three-point shots (40.6%) and free throws (90.1%). On January 3, 2006, Nowitzki broke a Mavericks franchise record, previously held by Nash, by making his 50th consecutive free throw. On January 6, his record streak ended at 60. During the 2006 All-Star Weekend in Houston, Nowitzki scored 18 points to defeat Seattle Supersonics guard Ray Allen and Washington Wizards guard Gilbert Arenas in the Three-Point Shootout contest.
Perhaps more importantly, under Johnson, a coach nicknamed "The Little General" for his diminutive height and born leadership, Nowitzki learned to lead his team by example, and he paced the Mavericks to a 60-win season. The team finished with the third-best record in the league, behind the defending champion San Antonio Spurs and defending Eastern Conference champion Detroit Pistons. As in the 2004-05 season, he finished third in the league's MVP voting, this time behind Nash and LeBron James. He was again elected to the first team All-NBA squad.
Nowitzki would confirm his superstar status in earnest during the playoffs as he averaged 27.0 points, 11.7 rebounds, and 2.9 assists. The Mavericks would sweep the Memphis Grizzlies (in Game 3 he would convert a wild three-point attempt to tie the game and force overtime) and defeat the San Antonio Spurs in seven grueling games (in Game 7, with the Mavs down by 3, he converted on a three-point play and forced overtime) to advance to the Western Conference Finals, where they would again meet Steve Nash and the Phoenix Suns. Nowitzki scored 50 points to lead the Mavericks to a victory in the crucial Game 5 with the series tied 2-2; the Mavericks would go on to win in six games and face the Miami Heat in the 2006 NBA Finals. Of Nowitzki's performance, ESPN columnist Bill Simmons would remark, "Dirk is playing at a higher level than any forward since Bird." However Nowitzki only made 20 of his last 55 shots in the final 3 games as the Mavericks lost the Finals series 4-2 to the Heat after leading 2-0.
Nowitzki, the first European player to become an NBA superstar, is thought by some to be leading a revolution in how the game is played. Helped by rule changes meant to discourage contact and increase scoring in response to flagging interest in the league and the poor performance of American players in international competition, the NBA game has gone from a tough, grinding affair to a more finesse-oriented game, as evidenced by the recent success of teams such as the Mavericks and Suns who place a premium on speed and scoring rather than size and physicality. Miami Heat center, 2000 NBA MVP, and three-time NBA Finals MVP Shaquille O'Neal said of Nowitzki, "The game is changing and the rules are changing. The NBA centers are going more toward the European player. I tell my kids you won't be able to play the game your daddy played. It's becoming a different game. He is where the big-man game will be in four or five years. When you talk great big men, it'll be based on whether guys can play like Dirk or not. Stepping out, shooting the three, midrange game and the low-post game. I'm going to actually let my children watch his game." [1]
Nowitzki is tied with Paul Pierce of the Boston Celtics and Zydrunas Ilgauskas of the Cleveland Cavaliers for sixth place among active players who have played their entire NBA career for one team (8 seasons). (Kevin Garnett leads all active players, having played 11 seasons for the Minnesota Timberwolves.
Playing Style
Nowitzki is one of the best shooters in the NBA, and is capable of shooting a high percentage from both medium range and beyond the three-point line, an exceptional skill for a 7-foot forward. His tall frame makes it difficult for defenders to guard and contest his jump shots. Nowitzki utilizes a fadeaway jumper which is difficult to block, and he is outstanding at the free throw line (over 90% in 2006). Some critics note that, for a man of his size, he should be able to score more from the low post, although in recent years his inside game has improved. Dirk also has perhaps the most effective high post game in the NBA today. He often receives a pass near the top of the key and brings the ball down to the low post to score on a turnaround jump shot or a drive. This element of his game has developed mostly in the past year.
Nowitzki was a great complement to former teammate, Steve Nash, on the pick and roll. Though Nowitzki now has to create his own offense more without the benefit of Nash's pinpoint passes, he has been able to adjust to the change fairly easily with a combination of driving and stopping in the lane for jump shots.
Early in his career, Nowitzki had a reputation for lackluster defense; one critic joked that Nowitzki should be referred to as "Irk" because "he had no D." However, Nowitzki's defense has improved under the tutelage of current Dallas coach Avery Johnson. Recently, Nowitzki notched a career high in blocks on January 6, 2006, with 7 against the Denver Nuggets. In comparison to his shooting ability and his improved defense, note that Nowitzki is the only player in NBA history to register at least 150 three-point field goals and 100 blocks in a season (he had 151 three-point field goals and 101 blocks in the 2000-01 season).
Nowitzki is frequently compared to Boston Celtics legend Larry Bird, as both are considered among the best shooters of all-time and both are prolific scorers. Both Bird and Nowitzki are three-point contest champions and excellent free-throw shooters. However, those who make such comparisons acknowledge that Bird had a more developed all-around game and was a better rebounder, defender, and passer. In particular Bird's assist numbers are much higher than Nowitzki's with Bird reaching upwards of 7 assists per game in several seasons and Nowitzki having a career high average of 3.4 per game (2006–07). Also, Bird was an immediate sensation in the league winning the Rookie of the Year honors, while Nowitzki, who entered the league three years younger than Bird, took some time to develop. Nowitzki's scoring pace has now caught up to Bird's, but his rebounding and ball sense still fall somewhat short; Nowitzki has never averaged more than 10 rebounds per game in a season, while Bird, in the first six years of his career, never averaged fewer than 10.
Awards/Achievements
NBA Highlights
6-time NBA All-Star: 2002, 2003, 2004, 2005, 2006, 2007 (Starter)
7-time All-NBA:
First Team: 2005, 2006, 2007
Second Team: 2002, 2003
Third Team: 2001, 2004
Free throw percentage: Fourth in 2006 (90.1), Third in 2007 (90.4)
Points per game: Fourth in 2005 (26.1), Seventh in 2006 (26.6), Tenth in 2007 (24.6)
3-time NBA regular-season leader, Win Shares: 2005 (47), 2006 (52), 2007 (51)
NBA All-Star Foot Locker Three-Point Shootout Champion: 2006
NBA MVP: 2007
Lifetime Stats
Regular season, after the 2006-07 season
Games: 681
PTS: 15,173
PPG: 22.3
RPG: 8.6
APG: 2.6
SPG: 1.0
BPG: 1.0
FG%: .470
3P%: .381
FT%: .869
Postseason, after the 2007 Playoffs
Games: 82
PTS: 2,070
PPG: 25.2
RPG: 11.1
APG: 2.4
SPG: 1.3
BPG: 1.0
FG%: .445
3P%: .376
FT%: .878
Career highs (as of May 10, 2007)
Points: 53 (

December 2

, 2004 vs. Houston Rockets)
Field Goals Made: 16 (2 Times)
Field Goals Attempted: 33 (March 10, 2003 vs. Minnesota Timberwolves)
Three Point Field Goals Made: 8 (

January 27

, 2004 vs.

Seattle Supersonics

)
Three Point Field Goals Attempted: 15 (

January 15

, 2002 vs. Atlanta Hawks)
Free Throws Made: 21 (

December 2

, 2004 vs. Houston Rockets)
Free Throws Attempted: 22 (

December 2

, 2004 vs. Houston Rockets)
Free Throws Made Consecutively: 60 (

January 6

,

2006

)
Offensive Rebounds: 7 (January 18, 2001 vs. Orlando Magic)
Defensive Rebounds: 21 (

February 23

, 2002 vs. Sacramento Kings)
Total Rebounds: 23 (

February 21

, 2002 vs. Boston Celtics)
Assists: 8 (7 Times)
Steals: 9 (

March 7

, 2004, vs. Houston Rockets)
Blocks: 7 (

January 6

,

2006

vs. Denver Nuggets)
Minutes Played: 57 (

March 14

,

2007

vs. Phoenix Suns)
Milestones
Became the only player in NBA history to register 150 three-point field goals and 100 blocks in a season (he had 151 three-point field goals and 101 blocks in the

2000-01 season

)
Became the first player in Dallas Mavericks history to be named to an All-NBA team (2000–01), and is the only Maverick to be named to an All-NBA First Team (2004–05, 2005–06, and 2006–2007)
Became the first player in NBA history who did not attend a United States high school or college to be on the All-NBA first team (2004–05)
Became the first European player in NBA history to be a starter at the NBA All-Star Game (in 2007)
Became the second player in NBA history to lead the league in Win Shares for at least three consecutive seasons (2005–2007). The other is Michael Jordan.
Became the third player in NBA history (after Rick Barry and Larry Bird) to average 26-plus points while shooting 90% or better from the line (

2005-06

)
Became the fifth player in NBA history to shoot better than 50% from the field (50.2), 40% from three-point range (41.6), and 90% from the line (90.4) (2006–07). The others are Larry Bird, Reggie Miller, Mark Price and Steve Nash. Together with Bird, he is the only one of these to average more than 21 PPG.
Surpassed the 10,000 point plateau in his career on January 18, 2005 against the Washington Wizards.
Became the 105th player and the fourth European-born player in NBA history to surpass 15,000 career points on March 30, 2007 with a 30-point performance in a victory over the New York Knicks.
Dallas Mavericks Franchise Records
Most points in a game, season, overtime: 53 (

December 2

, 2004 vs. Houston Rockets)
Most points in a game, season, regulation: 51 (

March 23

,

2006

vs. Golden State Warriors)
Most points in a game, playoffs: 50 (

June 1

,

2006

vs. Phoenix Suns)
Most free throws made, consecutive: 60 (

December 22

, 2005–

January 6

,

2006

)
Most free throws in a game, attempted, playoffs: 24 (May 13,

2006

vs. San Antonio Spurs)
Most free throws in a game, made, playoffs: 21 (May 13,

2006

vs. San Antonio Spurs)
Most free throws in a game, made, none missed: 15 (

December 23

, 2005 vs.

Seattle Supersonics

)
Most defensive rebounds, season: 710 (in the

2002-03 season

)
Most rebounds, franchise leader in total: 7,182 (as of 2009 offseason)
Named NBA Player of the Week, franchise leader in total: 10 (as of

December 8

,

2008

)
Other
Named MVP and was the leading scorer of the 2002 Basketball World Championships in Indianapolis, Indiana, winning the bronze medal with the German national team
Named MVP and was the leading scorer of the 2005 European Championship, winning the silver medal with the German national team
Named FIBA European Basketball Player of the Year in 2005.
Named European Basketball Player of the Year by Italian sports newspaper Gazzetta dello Sport for five years in a row: 2002, 2003, 2004, 2005, 2006
Runner-up in the 2005 edition of Germany's Athlete of the Year Award (Sportler des Jahres)
He is the tallest NBA player to win the 3-point shootout at 7'0".
Dirk chose his number 41 because he wore 14 during his early days; but when he joined the Mavs, the 14 was taken by

Robert Pack

. Nowitzki decided to switch the digits and wore 41 from then.
Personal life
Nowitzki has been lauded throughout his career for his work ethic. In an April 2006 interview with German tabloid Sport-BILD he stated, that he admires Larry Bird for his combination of skills, work ethic and winner's mentality.
Trivia
Nowitzki once jokingly remarked that he hums the tune Looking For Freedom by David Hasselhoff to relax before taking free throws. The song was a big hit in Germany when Nowitzki was a child. During the 2006 NBA finals, a Miami radio station handed out papers with Hasselhoff's face to the fans sitting behind the baskets for Nowitzki. In addition, Miami fans chanted "David Hasselhoff" when Nowitzki visited the free throw line in an attempt to distract his concentration.
External links
Scouting Report
Offense
What can you say about Dirk Nowitzki's game that hasn't already been said? The 7'0" German is perhaps the most dangerous offensive weapon in the NBA, thanks in large part to a tremendous shooting stroke, but also to a burgeoning post-up game and a nose for offensive rebounds. Nowitzki is a matchup nightmare for defenders, as players his own size cannot keep up with him on the outside, and he can simply shoot over smaller defenders. His mid-range game is among the best in the business, and he has a deadly fadeaway that he unleashes on the low blocks. In recent years, Dirk has become exponentially more aggressive, to the point that he was in the Top 10 in the NBA in Usage Rate in 2005-06. Additionally, for a player who creates so many shots, Dirk commits turnovers with a startling lack of frequency, and his dribbling skills are uncanny for a player of his size. When you add it all up, Nowitzki's offensive game ranks among the best in the game today—if not all-time.
Defense & Rebounding
As you can see on the profile sidebar, Dirk has been nicknamed "Irk" for his lack of D(efense). While his height helps somewhat in the post, he still fails to offer much resistance to would-be scorers down low, and he doesn't have the lateral quickness to effectively chase smaller players around on the wings. Combine that with the fact that he's perennially confused at the defensive end, and Dirk certainly lives down to his defensive reputation (although he does show some shot-blocking ability). Dirk is a pretty decent rebounder for a big man, though, especially at the offensive end.
Summary
All of the Larry Bird comparisons you invariably hear about Dirk are perhaps a bit unfair—to Larry Legend, that is. Nowitzki continues to improve, to the point that he was arguably the NBA's best offensive player in 2006. At just 27, he should keep playing at this high a level for years to come, and while his defense is justifiably criticized, it's just nitpicking at this point. Nowitzki's one of the feature attractions of the entire league, and he could sniff the MVP in the near future if he keeps it up.
Vitals
| | |
| --- | --- |
| Will... | Dazzle with his offensive game |
| Can't... | Be a factor at the defensive end |
| Expect... | More fantastic numbers |
| Don't Expect... | Turnovers—from him, or the guy he's guarding |
Transactions
Statistics
Totals
| Season | Team | G | GS | MP | FG | FGA | FG% | 3P | 3PA | 3P% | FT | FTA | FT% | ORB | DRB | TRB | AST | STL | BLK | TOV | PF | PTS |
| --- | --- | --- | --- | --- | --- | --- | --- | --- | --- | --- | --- | --- | --- | --- | --- | --- | --- | --- | --- | --- | --- | --- |
| 1999 | DAL | 47 | 24 | 958 | 136 | 336 | .405 | 14 | 68 | .206 | 99 | 128 | .773 | 41 | 121 | 162 | 47 | 29 | 27 | 73 | 105 | 385 |
| 2000 | DAL | 82 | 81 | 2938 | 515 | 1118 | .461 | 116 | 306 | .379 | 289 | 348 | .830 | 102 | 430 | 532 | 203 | 63 | 68 | 141 | 256 | 1435 |
| 2001 | DAL | 82 | 82 | 3125 | 591 | 1247 | .474 | 151 | 390 | .387 | 451 | 538 | .838 | 119 | 635 | 754 | 173 | 79 | 101 | 156 | 245 | 1784 |
| 2002 | DAL | 76 | 76 | 2891 | 600 | 1258 | .477 | 139 | 350 | .397 | 440 | 516 | .853 | 120 | 635 | 755 | 186 | 83 | 77 | 145 | 222 | 1779 |
| 2003 | DAL | 80 | 80 | 3117 | 690 | 1489 | .463 | 148 | 390 | .379 | 483 | 548 | .881 | 81 | 710 | 791 | 239 | 111 | 82 | 152 | 206 | 2011 |
| 2004 | DAL | 77 | 77 | 2915 | 605 | 1310 | .462 | 99 | 290 | .341 | 371 | 423 | .877 | 90 | 580 | 670 | 207 | 92 | 104 | 135 | 216 | 1680 |
| 2005 | DAL | 78 | 78 | 3020 | 663 | 1445 | .459 | 91 | 228 | .399 | 615 | 708 | .869 | 96 | 661 | 757 | 240 | 97 | 119 | 176 | 219 | 2032 |
| 2006 | DAL | 81 | 81 | 3089 | 751 | 1564 | .480 | 110 | 271 | .406 | 539 | 598 | .901 | 115 | 613 | 728 | 226 | 58 | 83 | 156 | 164 | 2151 |
| 2007 | DAL | 78 | 78 | 2821 | 673 | 1341 | .502 | 72 | 173 | .416 | 498 | 551 | .904 | 122 | 571 | 693 | 263 | 52 | 62 | 167 | 171 | 1916 |
| 2008 | DAL | 77 | 77 | 2769 | 630 | 1314 | .479 | 79 | 220 | .359 | 478 | 544 | .879 | 95 | 564 | 659 | 266 | 51 | 71 | 160 | 198 | 1817 |
| 2009 | DAL | 81 | 81 | 3050 | 774 | 1616 | .479 | 61 | 170 | .359 | 485 | 545 | .890 | 88 | 593 | 681 | 197 | 61 | 63 | 157 | 176 | 2094 |
| Career | | 839 | 815 | 30693 | 6628 | 14038 | .472 | 1080 | 2856 | .378 | 4748 | 5447 | .872 | 1069 | 6113 | 7182 | 2247 | 776 | 857 | 1618 | 2178 | 19084 |
Per Game
| Season | Team | G | GS | MP | FG | FGA | FG% | 3P | 3PA | 3P% | FT | FTA | FT% | ORB | DRB | TRB | AST | STL | BLK | TOV | PF | PTS |
| --- | --- | --- | --- | --- | --- | --- | --- | --- | --- | --- | --- | --- | --- | --- | --- | --- | --- | --- | --- | --- | --- | --- |
| 1999 | DAL | 47 | 24 | 20.4 | 2.9 | 7.1 | .405 | 0.3 | 1.4 | .206 | 2.1 | 2.7 | .773 | 0.9 | 2.6 | 3.4 | 1.0 | 0.6 | 0.6 | 1.6 | 2.2 | 8.2 |
| 2000 | DAL | 82 | 81 | 35.8 | 6.3 | 13.6 | .461 | 1.4 | 3.7 | .379 | 3.5 | 4.2 | .830 | 1.2 | 5.2 | 6.5 | 2.5 | 0.8 | 0.8 | 1.7 | 3.1 | 17.5 |
| 2001 | DAL | 82 | 82 | 38.1 | 7.2 | 15.2 | .474 | 1.8 | 4.8 | .387 | 5.5 | 6.6 | .838 | 1.5 | 7.7 | 9.2 | 2.1 | 1.0 | 1.2 | 1.9 | 3.0 | 21.8 |
| 2002 | DAL | 76 | 76 | 38.0 | 7.9 | 16.6 | .477 | 1.8 | 4.6 | .397 | 5.8 | 6.8 | .853 | 1.6 | 8.4 | 9.9 | 2.4 | 1.1 | 1.0 | 1.9 | 2.9 | 23.4 |
| 2003 | DAL | 80 | 80 | 39.0 | 8.6 | 18.6 | .463 | 1.9 | 4.9 | .379 | 6.0 | 6.9 | .881 | 1.0 | 8.9 | 9.9 | 3.0 | 1.4 | 1.0 | 1.9 | 2.6 | 25.1 |
| 2004 | DAL | 77 | 77 | 37.9 | 7.9 | 17.0 | .462 | 1.3 | 3.8 | .341 | 4.8 | 5.5 | .877 | 1.2 | 7.5 | 8.7 | 2.7 | 1.2 | 1.4 | 1.8 | 2.8 | 21.8 |
| 2005 | DAL | 78 | 78 | 38.7 | 8.5 | 18.5 | .459 | 1.2 | 2.9 | .399 | 7.9 | 9.1 | .869 | 1.2 | 8.5 | 9.7 | 3.1 | 1.2 | 1.5 | 2.3 | 2.8 | 26.1 |
| 2006 | DAL | 81 | 81 | 38.1 | 9.3 | 19.3 | .480 | 1.4 | 3.3 | .406 | 6.7 | 7.4 | .901 | 1.4 | 7.6 | 9.0 | 2.8 | 0.7 | 1.0 | 1.9 | 2.0 | 26.6 |
| 2007 | DAL | 78 | 78 | 36.2 | 8.6 | 17.2 | .502 | 0.9 | 2.2 | .416 | 6.4 | 7.1 | .904 | 1.6 | 7.3 | 8.9 | 3.4 | 0.7 | 0.8 | 2.1 | 2.2 | 24.6 |
| 2008 | DAL | 77 | 77 | 36.0 | 8.2 | 17.1 | .479 | 1.0 | 2.9 | .359 | 6.2 | 7.1 | .879 | 1.2 | 7.3 | 8.6 | 3.5 | 0.7 | 0.9 | 2.1 | 2.6 | 23.6 |
| 2009 | DAL | 81 | 81 | 37.7 | 9.6 | 20.0 | .479 | 0.8 | 2.1 | .359 | 6.0 | 6.7 | .890 | 1.1 | 7.3 | 8.4 | 2.4 | 0.8 | 0.8 | 1.9 | 2.2 | 25.9 |
| Career | | 839 | 815 | 36.6 | 7.9 | 16.7 | .472 | 1.3 | 3.4 | .378 | 5.7 | 6.5 | .872 | 1.3 | 7.3 | 8.6 | 2.7 | 0.9 | 1.0 | 1.9 | 2.6 | 22.7 |
Awards and Accomplishments
See also
Web Directory
Statistics
News, Opinion, and Rumors
Shop