New Face, New Place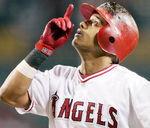 Orlando Cabrera was acquired this off-season to be the Sox 2008 short-stop. He will add defense, speed, and consistency to this team.

Template:MLB Team Page Navigation
The Chicago White Sox came out of nowhere to win the 2005 World Series, only to disappear back near the bottom of the standings over the last few years. But, with big time acquisitions of Orlando Cabrera and Nick Swisher, the Chi-town Sox look to return to their winning ways in 2008.
Team History
Retired Numbers
Owners
Managers
Awards
MVP


Rookie Of The Year


Cy Young

All-Time Team Leaders & Stats
Career Records
Single Season Records
Home Runs: Albert Belle 49, 1998
Runs Batted In: Albert Belle 158, 1998
Batting Average: Luke Appling .388, 1936
Hits: Eddie Collins 224, 1920
Runs: Johnny Mostil 135, 1925
Doubles: Albert Belle 48, 1998
Triples: Joe Jackson 21, 1916
Stolen Bases: Rudy Law 77, 1983
Hitting Streak: Carlos Lee, 28, 2004
Walks: Frank Thomas 138, 1991
Wins: Ed Walsh 40, 1908
Saves: Bobby Thigpen 57, 1990
Strikeouts: Ed Walsh 269, 1908
Earned Run Average: Ed Walsh 1.10, 1910
Record Per Season
2009: 79-83 (.488)
2008: 88-74 (.546)
2007: 72-90 (.444)
2006: 90-72 (.556)
2005: 99-63 (.611)
2004: 83-79 (.512)
2003: 86-76 (.531)
2002: 81-81 (.500)
2001: 83-79 (.512)
2000: 95-67 (.586)
1999: 75-86 (.466)
1998: 80-82 (.494)
1997: 80-81 (.497)
1996: 85-77 (.525)
1995: 68-76 (.472)
1994: 67-46 (.593)
1993: 94-68 (.580)
1992: 86-76 (.531)
1991: 87-75 (.537)
1990: 94-68 (.580)
1989: 69-92 (.429)
1988: 71-90 (.441)
1987: 77-85 (.475)
1986: 72-90 (.444)
1985: 85-77 (.525)
1984: 74-88 (.457)
1983: 99-63 (.611)
1982: 87-75 (.537)
1981: 54-52 (.509)
1980: 70-90 (.438)
1979: 73-87 (.456)
1978: 71-90 (.441)
1977: 90-72 (.556)
1976: 64-97 (.398)
1975: 75-86 (.466)
1974: 80-80 (.500)
1973: 77-85 (.475)
1972: 87-67 (.565)
1971: 79-83 (.488)
1970: 56-106 (.346)
1969: 68-94 (.420)
1968: 67-95 (.414)
1967: 89-73 (.549)
1966: 83-79 (.512)
1965: 95-67 (.586)
1964: 98-64 (.605)
1963: 94-68 (.580)
1962: 85-77 (.525)
1961: 86-76 (.531)
1960: 87-67 (.565)
1959: 94-60 (.610)
1958: 82-72 (.532)
1957: 90-64 (.584)
1956: 85-69 (.552)
1955: 91-63 (.591)
1954: 94-60 (.610)
1953: 89-65 (.578)
1952: 81-73 (.526)
1951: 81-73 (.526)
1950: 60-94 (.390)
1949: 63-91 (.409)
1948: 51-101 (.336)
1947: 70-84 (.455)
1946: 74-80 (.481)
1945: 71-78 (.477)
1944: 71-83 (.461)
1943: 82-72 (.532)
1942: 66-82 (.446)
1941: 77-77 (.500)
1940: 82-72 (.532)
1939: 85-69 (.552)
1938: 65-83 (.439)
1937: 86-68 (.558)
1936: 81-70 (.536)
1935: 74-78 (.487)
1934: 53-99 (.349)
1933: 67-83 (.447)
1932: 49-102 (.325)
1931: 56-97 (.366)
1930: 62-92 (.403)
1929: 59-93 (.388)
1928: 72-82 (.468)
1927: 70-83 (.458)
1926: 81-72 (.529)
1925: 79-75 (.513)
1924: 66-87 (.431)
1923: 69-85 (.448)
1922: 77-77 (.500)
1921: 62-92 (.403)
1920: 96-58 (.623)
1919: 88-52 (.629)
1918: 57-67 (.460)
1917: 100-54 (.649)
1916: 89-65 (.578)
1915: 93-61 (.604)
1914: 70-84 (.455)
1913: 78-74 (.513)
1912: 78-76 (.506)
1911: 77-74 (.510)
1910: 68-85 (.444)
1909: 78-74 (.513)
1908: 88-64 (.579)
1907: 87-64 (.576)
1906: 93-58 (.616)
1905: 92-60 (.605)
1904: 89-65 (.578)
1903: 60-77 (.438)
1902: 74-60 (.552)
1901: 83-53 (.610)
Minor League Teams
See also