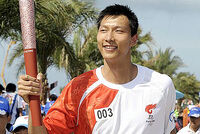 This article is also viewable at my website theroguehour.
Packers. Packers concluded their first mini camp for the rookies last week and by all accounts there was some great talent there. Everybody (meaning the media) is seeming to really like the picks now and lots of people are convinced that Ted Thompson is a genius. . . almost totally opposite from the sentiment the day of the draft. Patrick Lee's play was as advertised, physical coverage with kind of a nose for the ball and good size to boot. Jordy Nelson showed flashes of why he should have received more attention at K-State. But it's tough being a talented receiver in the Big12, not exactly a pass happy league. He's another big body receiver to add to the mix, squeezing out Koren Robinson, who some have compared to Joe Jurevicius or Wes Welker or Ricky Proehl, or Brandon Stokely (why do white receivers always have to be compared to each other?). The two lineman selected look like they have the skills to fit very nicely into the Packers zone blocking scheme. Aaron Rodgers had really better watch his back and he is going to have to play at the top of his game to keep Brian Brohm and Matt Flynn off the field. Who knows maybe it will turn into a situation like when we had Matt Hassellbeck, Mark Brunell, and Aaron Brooks all on the roster. We got a lot of good trades and draft picks out of those guys.
One of the more intriguing free agent rookies at camp who didn't stick was Justin Beaver, star running back from Division III national football champion UW-Whitewater. You could tell he was a real slick and polished player, but just too lacking in size to gain the confidence of a NFL team. I wouldn't be surprised though if some team gives him a real crack after a couple of successful seasons in the Canadian League. Packers.com has the run down on which free agents the Pack wants to stick around and an interesting read on a family connection on the current roster.
Brewers. C- It seems our blind enthusiasm that so happily marked the beginning of this '08 season is beginning to wane a bit. The blooms have definitely fallen off the branch for Ned Yost, D. Turnbow, and our heralded free agent signing Gagne. Just about all of our stars have been in slumps to varying degrees at some point this season. But something tells me that it's not time to give up hope and revert back to the old familiar pessimism just yet. Not any statistical trend that I noticed or obscure numbers that I analyzed (remember I am an extremely casual baseball fan even with the Crew) just a gut feeling. Yost came from an Atlanta Braves organization that had been very successful over a length time. He was there for 12 years. This is his first managerial position so he only has the experience with Atlanta's organization to draw upon. It's a cliche but something of knowing what a real contending MLB baseball team looks like had to rub off on him (or so you might assume). He's been good enough to institute a real change in attitude in the clubhouse and a change in the team's culture (of course an influx of young talented players has really helped that also), and there's one more thing that gives him a few extra points in my eyes: he's a former Brewer, played here most of his short career so I believe somewhere deep inside this isn't just a paycheck for him. He understands the fragile expectations of a scarred fan base. Let's give him just a little more time to figure it all out.
Bucks. Well now that Scott Skiles has made his picks and all is complete but the signing of the contracts the new coaching staff is pretty well solidified. As I noted last week this is a solid bunch of guys, so solid that we shouldn't be surprised to see a couple of them (Kelvin Sampson, Lionel Hollins) move on to other opportunities after putting in a season or two for the rebuilding Bucks. Yes, I think we can officially say that's what mode the Bucks are currently in now. Everyone is up for grabs except for Yi and Bogut. By the end of next season would probably be the prime time to trade Redd. He's our star so whatever pieces we get to start the real rebuilding with are going to come from parting ways with him. And the more seasons he plays for us (and keeps getting exposed as a ballhogging below average defensive player) the more his trade value will fall. Besides the Josh Howard trade scenarios being talked about last week the new popular theoretical trade is Redd to Cleveland for Daniel Gibson and either Wally World's expiring contract or Anderson Varejao. Either one of those trades might represent the peak of what the Bucks might be offered for the aging career overacheiver.
And don't forget the draft is coming up. I won't really have a sense of what we could get until the draft position is finalized. Every once in a while something strange happens. We had the fifth worse record this season but could sneak into the number one pick or at least top three. That means Rose, Beasley, or Mayo. So while I agree with The Bratwurst's sleeper pick when you get a pick that high in a draft this stocked you have to go for it. Speaking of top picks, ours from last season is busy carrying a torch for his country.