East 161st Street and River Avenue.  Bronx, New York.  To many people outside of New York, this location has been housing loud, obnoxious, and cocky baseball fans since 1923.  "Mystique" and "Aura", according to Curt Schilling in 2001, are simply "dancers at a nightclub".   Ask any Yankee fan their feelings about Yankee Stadium, and they will probably tell you it is far from any ordinary baseball stadium.
Well, as everyone is well aware, this is the last season at historic Yankee Stadium.  Starting in 2009, the Yankees will begin to play at "New Yankee Stadium", which is across the street from the current Stadium.
Short History Lesson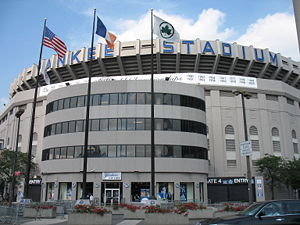 Yankee Stadium has undergone a lot of changes during its 80+ years of existence.  The Stadium opened in 1923, with construction costing $2.3 Million Dollars (New Yankee Stadium by comparison, is $1.3 Billion).  The first game was played on April 18, 1923, fittingly against the
Boston Red Sox
.  Even more fittingly,
Babe Ruth
hit the Stadium's first home run, and helped the Yankees beat Boston 4-1.  The Yankees went on to win the
World Series
(against the New York Giants) that year -- the team's fist ever. 
By the 1970's, Yankee Stadium was starting to deteriote, and needed to be renovated.  The Stadium closed on September 23rd, 1973, forcing the Yanks to play at Shea Stadium in 1974 and 1975.  A signficant portion of the Stadium was demolished and rebuilt.  The changes included removal of over a hundred colunms used for reinforcement of the teirs, a new upper shell of the roof, and lights.  The total cost of the renovation was $167 million.  Since much of the original structure was kept and used, most people would consider "The House That Ruth Built" the same as the current Yankee Stadium as we know it today. 
So what does the Stadium mean to me?
Yankee Stadium is more than just a place where my favorite team plays my favorite game.  It's a place where my Grandfather once took my Mom as a kid, in order to see her favorite player, Mickey Mantle.  Thankfully, I followed in her footsteps as my parents took me to the Stadium to see my favorite players, Don Mattingly and Dave Winfield.  Unfortunately, I can't say the same for my older brother (who wasn't much of a baseball fan back then, and still isn't really to this day), who got caught up in the '86 Mets hoopla (which THANKULLY I somehow avoided).
I head into Yankee Stadium's final year with some great memories with my friends and family.  In no particular order, here are some of my favorite moments.
A Sunny Day in the Summer of '01
Right before my Junior year of college ended in May of 2001, I met a cute girl from New York.  I had to go back to Jersey for the Summer, but we still kept in touch.  We decided to get together one weekend, and chose to get tickets for a Yankee Game.  It was just a perfect summer day.  I kept my fantasy baseball talk at bay, and she thought I was actually normal.  I honestly can't remember who won the game, but that really isn't important.  Six years later, I married that girl.  So yeah, our first official date was at Yankee Stadium.  If only she could now warn her 2001 self about fantasy baseball...so tragic.
Any Time My Dad Drove Us to the Stadium
One trait I inherited from my Dad is severe and uncontrollable road rage.  Looking back all those years, I could really tell how much he loved us, because he agreed to drive us to the Bronx.  Distance-wise, the trip from North Jersey is not far at all.  However, the gameday Turnpike and George Washington Bridge traffic was just always awful.   Every year, we would leave earlier and earlier.  One year I think we were driving in for an afternoon game just as the previous night's game was ending.  Another memory that sticks out in my mind, was a game he took me to in the early nineties.   I think my Dad was a LA Dodger fan at heart, because he would rather leave in the 7th inning to beat the traffic.  Well, as a young boy, I wanted to see every pitch of course.   After the game we were unable to leave the parking lot the traffic was so bad.  I'm pretty sure we sat there for almost 2 hours.  I could just see the steam rising from my Dad's head.   I was happy as a pig in shit though, because I was rifling through my Yankee yearbook that my parents would buy me at the Stadium every year.  Nowadays, I always take the subway to the Stadium -- but I know my Dad will be looking down at me and laughing if I have to drive my kids to the Bronx.
Rain Delay Against the Sox
The summer after our graduation, my then-girlfriend (now wife) got Yankees-Red Sox tickets for my birthday (she really knew a way to my heart).   At the start of the game, it started to rain horrendously.  We were not under the shelter of the teir, and did not have umbrellas.  A 2 hour rain delay ensued and we headed for the inside.  We signed up for a credit card application at a nerby table, getting a crappy Yankee towel as a sign up gift.  We ploped our towels down right next to the beer guy, sat down, and enjoyed a nice meal of peanuts and 8 dollar beers.  About 100+ dollars later, we were best friends with the beer stand guy, and the game had finally re-started.  I *think* we watched the rest of the game.  Which brings me to something -- If there is a rain delay, beer should really be half price or something.  George must've LOVED rain delays.
Opening Day in 1992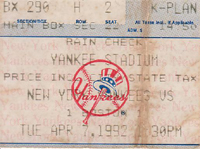 On April 7th, 1992, my parents pulled off an act of coolness that I never thought they were capable of.  They took me to the Yankees Opening Day against the Red Sox, which was an afternoon game ON A SCHOOLDAY.   I thought I was the coolest kid in town.  I think Mom even called my 6th grade teacher and told her I was sick or something.  Baseball Fever baby!  I don't remember the exact details of the game, but I do remember the Yankees winning and Donnie Baseball getting 3 hits.  That was all I remember caring about.  I had to look up the box score to see what else happened.  The Yankees beat the Sox and
Roger Clemens
4-3, with my boy
Scott Sanderson
getting the W. 
Roberto Kelly
provided the run production with 3 RBI.
The Neverending Game on July 20th, 1998
One of my friends won Yankee tickets in some High School gradution contest.  Patrickburke1980, Jwhalen, and myself went to the game on what seemed to be one of the hottest days in the history of the universe.   I can't remember why, but there was a double header that night, and our tickets allowed us to go to the first game if we wanted to.  Well, we decided to get to the Stadium late, and hopefully catch the end of the 1st game.  While we are walking to our seats, the Yankees and Tigers are tied 3-3 in the bottom of the 9th, with the Yanks threatening to score.  Perfect timing!  We will see the end of an awesome game, then get to watch another full game.  That could not have been further from the truth.  We did get to watch another full game, unfortunately it was another 9 scoreless extra innings for the first game!  I am pretty sure we saw Chuck Knoblauch ground out 13 times that night.  The Tigers ended up winning in 17 innings.  It was crushing.  Plus, we had another FULL game coming our way.  We were delerious from the heat.  It became funnier and funnier each time Knoblauch grounded out.  Without alcohol or much money, we made it through the first few innings of the second game and decided to head home.  It was very weird getting home, turning on MSG and seeing the rest of the game after just being there.
The Final Season
Hopefully I'm going to make it to a lot of Yankee games this year.   I am going to Opening Day tomorrow, and can't wait to be there. As MLB.com writes in their "Baseball is Back" article [1], "How many dry eyes will there be in the house when the last Opening Day at The House That Ruth Built gets under way at 1:05 p.m. ET on Monday?"  Without a doubt, its going to be an emotional season -- no matter how it ends.
Community content is available under
CC-BY-SA
unless otherwise noted.