Sport can be a beautiful thing, some venues are not. What fallows is a salute to the worst venues in sports.

Three words describe the Hubert H. Humphrey Metrodome..."Too much plastic"...or, "I'm in hell!"...or, "Need fresh air!". I say we start a contest to rename this monstrosity. My initial proposal is to call it "The Diaphragm"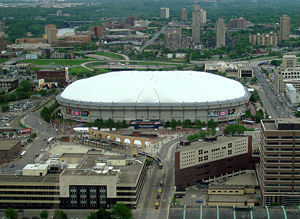 Attending a baseball game, or any other event for that matter, in Tropicana Field in St. Petersburg, Florida, is akin to setting up bleachers in the world's largest Tupperware bowl. Don't forget to burp the lid. Then for your added enjoyment you get to sit through three hours of bad baseball. Enjoy!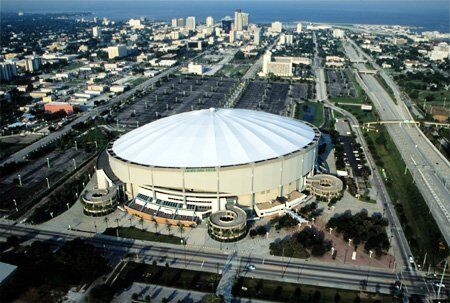 Yes Detroit is Hockeytown, U.S.A., and yes the Detroit Red Wings are a great franchise, and yes their fans are among the best around. But Joe Louis Arena has all the ambience of an unfinished basement.


Oakland-Alameda County Coliseum, now McAfee, has undergone a facelift yet still remains ugly, symmetrical, and nearly devoid of any aesthetic appeal.


Candlestick Park/3Com Park in San Francisco has more moving parts than the space shuttle and features more bad sight lines than a balcony view of the FLDS compound in Eldorado, Texas. It's a shame that one of the most storied franchises in the NFL has to languish in a glorified landfill.


Arthur Ashe Stadium, home to the U.S. Open, has upper tier seats that are 120 feet off the ground, higher than the nose bleed seats at most baseball stadiums. Add to this the fact 13,000 fans have to shoehorn into the decks above the luxury boxes, far enough away from the action to make one envious of the blimp pilot high above this wretched venue.


A good friend took a trip to Mexico and had the privilege of seeing a soccer game at the legendary Estadio Azteca in Mexico City. When asked about the experience he said the fans were passionate to the point of insanity but the stadium made one feel the necessity to seek immediate inoculation to at least six known diseases.


Fortunately for Giants & Jets fans, the Meadowlands is on its last leg. But it is way too similar to another infamous New York landmark, Sing Sing Correctional Facility. I wonder if Jimmy Hoffa is interred beneath all that cement, according to Playboy.


Olympic Stadium in Montreal is a striking architectural achievement and a main reason why the Expos are no the Washington Nationals. Plus it looks eerily similar to the sunken spaceship Dustin Hoffman visited in that movie Sphere.


God knows I love hockey and all fans thereof but honestly, is there a venue more outdated than The Igloo/Mellon Arena in Pittsburgh? Give the Pittsburgh Penguins a better arena, or at least one that doesn't look like an overturned soup tureen.


If you're gonna take the roof off, or put one on, at least have the conviction to go all the way. Are you listening, caretakers of Texas Stadium in Irving?


Shea Stadium looks like a partially eaten doughnut.


Qualcomm/Jack Murphy Stadium is so bland, so sterile, it leads on to believe it was designed by IKEA, or your garden variety strip mall architect.


Designed as a commemorative to WWI veterans Los Angeles Memorial Coliseum was apparently conceived before sight lines and ergonomics were even contemplated. Even the Oakland Raiders realized what a money pit the place is.


Let's play word association…RFK Stadium…dump, crap, waste, *bleep*, desecration, eyesore, blight, ruin, destroy. Ahhhhhhhhh, that feels much better.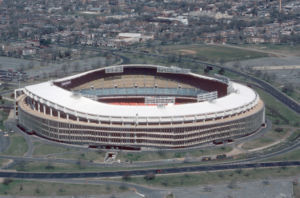 My beloved mother went to an Auburn-Alabama game at Legion Field once when she was working in Birmingham. She said the stadium made her, "Want a tetanus shot" (direct quote). As she ranted I distinctly remember her comparing the place to a garage and that Legion had as much appeal as a root canal. God love her and those rants.
Community content is available under
CC-BY-SA
unless otherwise noted.