Sandwiched between games on the north and south sides this week, we at Whatifsports try to answer the question, "Which has been the greater franchise, the Chicago Cubs or Chicago White Sox?". To answer this question, we have taken a unique approach that perfectly meshes our SimLeague Baseball and SimMatchup technologies: we built the rosters based on player salaries from SimLeague Baseball and then simulated a seven game series between the two teams 1,000 times in SimMatchup (more on this a little later).
Disagree with our ultimate result? Want to make your own all-time teams? Check out our free Dream Teams functionality to build a team of your own or play SimLeague Baseball to compete against others to see who can create and manage the best team of historical baseball players.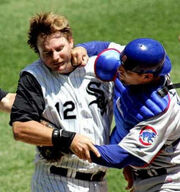 While the teams have not had a great deal of success over the last, oh, 100 years, both franchises are rich in history, playing in a combined 15 World Series including one against each other in 1906, and winning six. Both teams have Hall of Fame players at just about every position. Great names from baseball dating back to the late 1800s - like Cap Anson, John Clarkson, King Kelly and Adonis Terry - and continuing on to recent years - like Frank Thomas, Sammy Sosa, Greg Maddux], Jim Thome] and Carlton Fisk] have all played in the second city.
Perhaps no time period was better for Chicago baseball than the first twenty years of the twentieth century. In 1901, the Chicago White Sox were formed to join the newly-created American League. At that time, the Chicago Cubs had been around for 25 years, playing as the Chicago Orphans, Colts and even White Stockings before settling on the "Cubs". From 1901-1920, the teams combined for 29 winning seasons and four championships. Over the three seasons spanning 1906-1908, Chicago baseball teams went 590-322, winning all three World Series. So it is not surprising to see several players from those teams appear on the "all-time, all-franchise" teams, including Hall of Fame players Eddie Collins, Ed Walsh, Mordecai "Three-Finger" Brown and Pete "Grover Cleveland" Alexander, and other greats like "Shoeless" Joe Jackson, Hippo Vaughn, Ed Reulbach and Doc White.
To (attempt to) answer the debate at hand, we tried to build the rosters in the most deterministic way possible. Looking at our SimLeague Baseball salaries, we built rosters from the top 14 "everyday" position player seasons (i.e. more than 500 plate appearances) with the highest cost per plate appearance and the 11 pitchers with the highest cost per inning pitched from throughout the history of each franchise. We went with cost per plate appearance or inning pitched because we did not need a pitching staff full of 900 inning John Clarksons, etc. No individual player was used twice on either team. Click on a player's name to view his stats from that season.
The Rosters
All-Time Chicago Cubs/Orphans/Colts/White Stockings: Starting Lineup
Catcher - 1930 Gabby Hartnett
2B - 1929 Rogers Hornsby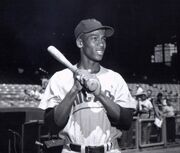 SS - 1959 Ernie Banks
LF - 1886 King Kelly
CF - 1930 Hack Wilson
RF = 2001 Sammy Sosa
Pitchers
1918 Hippo Vaughn, 1908 Mordecai Brown, 1909 Orval Overall, 1905 Ed Reulbach, 1919 Pete Alexander, 1906 Jack Pfiester, 1992 Greg Maddux, 1977 Bruce Sutter, 1983 Lee Smith, 1952 Willie Ramsdell and 2001 Tom Gordon
Bench
1895 Bill Lange (OF), 2005 Derrek Lee (1B), 1984 Ryne Sandberg (2B), 1912 Heinie Zimmerman (3B), 1896 Bill Dahlen (SS) and 1930 Kiki Cuyler (OF)
All-Time Chicago White Sox:
Starting Lineup
Catcher - 1959 Sherm Lollar
1B - 1994 Frank Thomas
2B - 1920 Eddie Collins
SS - 1936 Luke Appling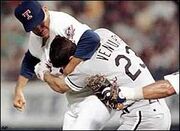 3B - 1992 Robin Ventura
LF - 1920 Joe Jackson
CF - 1954 Minnie Minoso
RF - 1998 Albert Belle
Pitchers
1910 Ed Walsh, 1917 Eddie Cicotte, 1972 Wilbur Wood, 1908 Frank Smith, 1906 Doc White, 1964 Joe Horlen, 1967 Gary Peters, 1965 Hoyt Wilhelm, 1999 Keith Foulke, 1967 Don McMahon and 1958 Barry Latman
Bench
1930 Carl Reynolds (OF), 1972 Dick Allen (1B), 1957 Nellie Fox (2B), 1920 Buck Weaver (3B), 1983 Carlton Fisk (C) and 1926 Johnny Mostil (OF)
The Results
So which is the greater Chicago baseball franchise of all-time? According to 1,000 simulations of these two teams, it's the Chicago White Sox - barely. The White Sox win 53.5% of the series. Their stellar bullpen and superior defense make the biggest difference. The most common series result is a White Sox win in seven games.
What follows is an example series based on the most common result of those simulations. It includes boxscores, play-by-play and stats for each game in the series. Click on the links to see the entire breakdown of the game.
Game 1 Cubs 0 @ White Sox 1:
Game 2 Cubs 4 @ White Sox 2:
Game 3 White Sox 1 @ Cubs 4:
Game 4 White Sox 9 @ Cubs 3:
Game 5 White Sox 6 @ Cubs 5:
Game 6 Cubs 9 @ White Sox 1:
Game 7 Cubs 7 @ White Sox 8:
Whatifsports.com specializes in answering the great "What if?" questions in sports by simulating games between historical teams and has exciting simulation games for MLB, NBA, NFL, NHL, college basketball and college football.
For more of Whatifsports.com's content, please visit Beyond the Box Score.
Community content is available under
CC-BY-SA
unless otherwise noted.