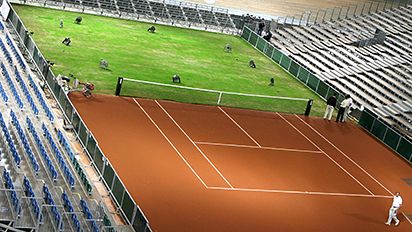 For the 1996 model year, Chevrolet introduced the world to the third door on their extended cab trucks. When I first saw it, I thought it was so simple and yet so genius. My second thought was 'why didn't I think of that?'
I had the same thought yesterday when I heard about the Roger Federer/Rafael Nadal match on a half-grass, half-clay tennis court. This is going to be a great event. One dominates grass, the other clay. On this specially created, $1.63 million court, we'll finally get a fair and balanced compromise between the two best players in the game.
In fact, this reminds me of the sprint that Michael Johnson and Donovan Bailey ran in 1997. Johnson was a 200m specialist, while Bailey was the 100m record holder, so they split the difference and ran 150m. Hopefully, the tennis matchftgrrrrr will have a better ending: Johnson pulled up lame during the race. (Or did he? Conspiracy theory, anyone?) If either tennis player happens to be down in the third set and suddenly clutches his quad, you know where he got the idea.
So what other level-the-playing-field type sports compromises can we rig? How about Dale Earnhardt, Jr. and Danica Patrick racing standardized, identical cars? And while we're at it, why not make it a little common man and have them drive Honda Civics? Or maybe have Tiger Woods compete in a golf tournament with nothing longer than a 3-iron.
Or how about this for a wacky idea: have all major league baseball teams compete with equal payrolls. Crazy, I know.
What dream sports exhibitions can you think of that would make me say yet again 'why didn't I think of that?'
Also published at 110 Percent.