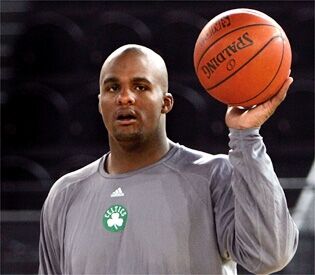 Only two days after giving Doc Rivers potentially the most credit of his coaching career, believing that he actually went small against the Spurs stirring the comeback so he could keep Leon Powe and Big Baby fresh for the size depleted Rockets, I am left completely dumbfounded after watching the Celtics complete the Texas Triangle last night.  Watching Kendrick Perkins continually not be guarded, fumble with the ball, miss easy shots, and play poor defense with Big Baby registering the Did Not Play – Coach's Decision was practically unbearable.
Perkins often matched up against Erick Dampier, who is not exactly known for his strong offensive play.  Big Baby is strong enough where he could have bodied up against Dampier without issue, Leon Powe certainly handled him just fine.  Often however Perkins was covering Dirk Nowitzki, a match up Dallas looked to exploit whenever possible. 
What is even more mind boggling is that PJ Brown registered 10 minutes of play, scoring zero points.  I believe the Celtics signed PJ Brown essentially so other teams couldn't gain his size, but the only thing PJ Brown brings to the table is 6 fouls per game, 6 fouls that should not be used on anyone not named LeBron James, Dwight Howard, or Rasheed Wallace.  Brown registered a block and steal with 4 rebounds, and I think that's pretty much his ceiling, I don't expect anything more out him as he has looked nothing short of rusty on offense.  Big Baby might not have the size to match up on Dwight Howard, but we were playing against Erick Dampier, and Baby brings a lot more offensively to the table than either Perkins or Brown.
The Celtics biggest issue this season has slowly morphed from "Is there enough depth?" to "How will Doc handle a full bench?" and although this a problem any team would take in a second, I just hope I'm not cursing Doc in June for mismanaging the best Celtics team in nearly 20 years.