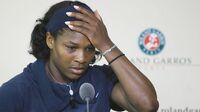 A picture says a thousand words....
Thoughts race through my head as I sadly look upon the above photograph and slowly shake my head.   This is the picture of defeat, submission and just plain agony.  This same body language was on display at the French Open today during her 6-4, 6-4 straight set loss to Katarina Srebotnik.  The Serena Williams that used to attack every forehand, backhand and lob with unbridled and unparalled passion and fire was nonexistent.  The Serena Williams that used to leave a sense of wonder and awe as she would chase every last shot has simply disappeared.   It was her passion that gave her mass appeal and a sense of aura and invincibility, not to mention success in majors as well as a GRAND SLAM.
The Serena that I saw today and have seen lately is the complete opposite, anti and dare I say Diet Coke of the Serena I love.  She has managed to turn her forehand, formerly her strength into an absolute chore and liability.  Her forehand shots went everywhere but in the field of play.  She noticeably only used her arms to hit her forehand as well as most of her shots as opposed to putting her entire body into every shot.   This also shows that her fundamentals have taken a hit as well.   As I was watching, I can nearly point out when an unforced error on her part was going to occur.   
It was just as depressing to watch her press conference.   The Serena Williams that I knew and love would be damn near seething after a loss.  And it would be clearly understandable after all of the effort she used to put into every match.   
But along with the poor effort, unforced errors and flawed fundamentals, now we see a Serena Williams that has resigned and accepted losing with the simple shrug of a shoulder.   
http://www.youtube.com/watch?v=hPC989dX_xg
One can easily point to her second pastime in the world of fashion as a scapegoat for this contrast in her game.  It was a point of emphasis for former female tennis great Chris Evert a few years back when asked about Serena William's play.  I have disagreed with that sentiment vehemently in the past.   And while there's no way I'll submit to that excuse entirely for her play falling off,  I can't help but wonder that as she gets older if it's having more of an impact with each passing year.
Apparently Serena's play gave a hard slam in morale to Venus Williams as she would lose 7-5 6-3 to unknown Falvia Pennetta of Italy.  It was reported that Venus had a very "sad look" before her match. 
There is no question that this is a career defining victory for Srebotnik which will boost her rankings tremondously. But I think it's safe to say who really beat Serena today.  As a diehard fan of hers, I hope she finds her game as well as her love for it again because it's lost right now.
It may be too late.