The New York Mets suffered their fourth consecutive loss. The Mets found themselves losing 10-6 against the Milwaukee Brewers.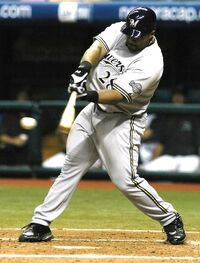 Fernando Nieve, Mets starting pitcher, allowed 11 hits and three earned runs with one strike out. He received his first loss on the season.
The Mets tried to make a late game comeback, but it was too late.
First baseman Daniel Murphy, third baseman David Wright, left fielder Gary Sheffield, right fielder Ryan Church, and center fielder Fernando Martinez all had one run each.
Braden Looper, the Brewers' starting pitcher, pitched six innings, allowing seven hits with only one earned run. He received the victory and is 6-4 on the season.
Casey McGehee, the Brewers' third baseman, was excited to provide a grand slam for the Brewers.
"Prince had to tell me to get out there and I didn't even know what he said. I didn't really know what was going on," McGehee said. "If somebody would have told me this time last year I'd have 40,000 people calling me out of a dugout for a curtain call, I would've told you you were lying."
McGehee had one run with four RBI's and Fielder went 2-for-4 with two runs. J.J. Hardy, the Brewers' shortstop, was a triple away from hitting for the cycle. He went 2-4, with one RBI and one home run. Second baseman Craig Counsell, center fielder Mike Cameron, right fielder Frank Catalanotto, catcher Jason Kendall, and pinch hitter Corey Hart all had one run each.
Yahoo Quotes