The Eastern Conference Playoff Preview may have been boring because… well, it's the Eastern Conference. However, the West is looking very strong and a lot of great match ups look to make this year's playoffs very interesting. So, with that said, here is a look at the match ups in the West.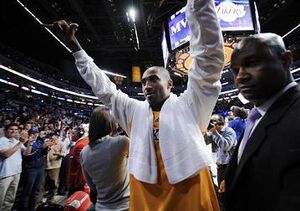 Both of these teams have two things in common: they both consist of stars. The team that has proven that they can use them right is the Lakers. Lakers coach Phil Jackson has had star powered teams like the Lakers, so he knows how to coach them. On the other hand, Denver coach George Karl just doesn't have the same resume as Jackson does. He may have made a lot of playoff appearances with some really good teams, but his coaching criteria doesn't stand up to what Jackson has done.
Let's take a look at the teams in terms of how they got to where they are now. The Lakers have really made an unexpected run into the No. 1 seed in the West. The Kobe Bryant drama was the main focus going into this season, but all that has been buried and they've made a tremendous run. The explosion of Andrew Bynum has probably been a tremendous amount in Kobe urging to stay put in L.A. and try to succeed there. When he went down, Pau Gasol became a Laker and it seems like all they've done is just win. Gasol was the best thing to happen to this team since Kobe, and the two together just make opponents look weak in every aspect of the floor. They can dominate inside with Gasol, who is putting up almost 19 points a game and shooting 58% from the floor since he became a Laker. They have a terrific outside game, as they rank amongst the top 10 in three point shooting (37%). And who else but Kobe would you love to have on your playoff roster? The way Bryant has played this season, it's not hard to tell that he is hungry for that championship ring. He is in the running for the MVP award and has put up staggering numbers this season. He is well deserving of the award.
On the other hand, Denver has not showed the consistency that you're typically looking for in a championship caliber team. Their losses that they suffer are sometimes questionable and it's hard to tell if this team deserved a playoff spot over the high energy Golden State Warriors. But that won't stop them from competing. Denver is a high scoring team with superstars like Carmelo Anthony and Allen Iverson. They are second in the league in overall scoring with 111 points a game, and they will be going against a team that gives up a significant 101.3 points a game. The problem is that Denver is ranked at the bottom of the list when it comes to the opposition scoring (2nd to last to be exact). Plus, the Lakers rank among the top of the NBA in scoring. It is obvious that defense has been an issue for the Nuggets, and it would be hard to pick them over the Lakers. Denver does have the potential to give Los Angeles a fight, but their season play has yet to prove that they are a legitimate playoff contender, rather than a playoff appearance. L.A. is just too powerful for Denver, from the starters to the bench. It will take defense for Denver to pull off an upset but that is not their game. Locking down the big man Gasol can give them a chance. A potential Defensive Player of the Year winner, Marcus Camby may have to complete that task. We've seen Kobe by himself and that makes the Lakers nothing but an average (Western) team. If you shut down one of the weapons like Gasol, that's what they'll become. One problem is that the Nuggets are just an average Western team. So that still wouldn't give them an automatic series win. The Lakers look to take this one.
The Hornets have made an improbable run to become one of the elite teams out in the West, thanks to MVP candidate Chris Paul. What he has done for this franchise is give it hope for years to come. The Hornets are really a good team when you compare them to other teams out in the West. They pretty much have all of the weapons to be an all around good team. Paul is just the dream point guard to have. He is able to do so many things with his skills: drive the ball to the basket, shoot the three pointer, set up and create plays, distribute the ball, and play superb defense. Tyson Chandler is Paul's right hand man. Chandler lurks in the paint, waiting for somebody to drive the ball in on him as he has the ability to intimidate people. He is the go-to guy in the paint who really helps Paul's assist total by being able to score easy baskets. Peja Stojakovic is one of the best three point shooters in the NBA, shooting a stellar 44% from outside. With Paul creating open looks on a nightly basis, Stojakovic can sit all day from beyond the arch and knock down the three. David West is sort of like the professional version of Michael Beasley (note: I said "sort of"). He really is an underrated player and he has all type of skills that is significant to the Hornets' success this year. His 20 points and 9 rebounds a game really goes under the radar. This is almost like an all fantasy team. You won't be finding it difficult to lose your weekly match ups with this squad. The Dallas Mavericks have struggled with the addition of Jason Kidd, but they seemed to have turned it around towards the end of the season.
It all looked bad when Dirk Nowitzki went down and they were in danger of missing the playoffs. Dallas went 5-3 in his return and it helped them motor themselves to a 7th seed. Only to face the Hornets really look like they have the better team. The experience is one thing that will DEFINITELY play a role in this one. The Mavs really have the edge in that category, and so does Dallas coach, Avery Johnson. This may not have been the type of season that he pictured, but it still is a respectable one. The Mavs are itching to make it deep into the playoffs this year, especially after and early exit last season in favor of the Golden State Warriors. The Hornets are a much better team than last year's Golden State team, but the Mavericks team has changed within the past year. Johnson has a nag in turning up the intensity level in the playoffs. So when it comes down to it, the Mavs have the mental edge over New Orleans. That is not a reason that they will win though. This series will go tight and both teams will play hard. Even though Jason Kidd hasn't looked is sharpest in a Dallas uniform, he is eager to get to the championship this year. The match up between both teams may delay Kidd and co. eagerness until next year. This will be a great match up that could possibly go all seven games, but New Orleans is physically too strong on the floor. Maybe the story would be different if the Mavs still had Devon Harris.
This is one of the greater match ups in the Western Conference playoffs. Both teams went strong to finish the season and strengthened their seeding. San Antonio ended the season winning 12 of their last 14 games. Phoenix turned around their dreadful slump winning 5 of their last 8. After making the trade which brought Shaquille O'Neal to Phoenix, the Suns looked pretty good. The problem was that they played pretty weak.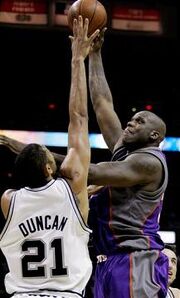 But Phoenix coach, Mike D'Antoni looks like a genius because he was able to take the slow moving Shaq, and incorporate him into a fast, running team. How he was able to do that is beyond many, but he did it. Instead of making Shaq play with the type of offense that he isn't really used to running with, D'Antoni has basically turned him into a role player to play in the paint. He is now relied upon for defense, rebounding and easy baskets. He has been shooting better from the floor at 61% and has become a better rebounder with 10.6 a game. Despite their record with Shaq in the lineup, they've really become better than what the numbers say. They now look like a team that can contend with all of the other Western Conference teams again.
The San Antonio Spurs are coming off of a championship win and they still have the mindset in getting another one. As much as it has been said, we all know that experience plays a humongous role in a team's ability to perform come playoff time. That's why the Spurs are heavily favored in this first round match up. They have the most experience in winning, which is something that they can take into this series against Phoenix. But what does Phoenix have that San Antonio doesn't? They have experience in losing. Unlike the Spurs, the Suns have yet to exceed their expectations in the playoffs. And unlike the Suns, the Spurs have exceeded people expectations. This seems to be the year where nobody is expecting the Suns to make a run deep into these playoffs. With the tough playoff losses that they've suffered over the past couple of years, D'Antoni should have finally learned the thing he needs to do in order to accomplish what he needs done. And the magic piece is really Shaq; he has the most playoff experience, and he can really get this team mentally prepared for this match up against San Antonio. With him finally able to play better with his new team, their new look can get them past the Spurs this year. Let's not call it an upset though. These two teams are basically evenly matched. If anything, Phoenix has the better all around performers. Experience plays a role on San Antonio's side, but the experience from losing with the same team (in Phoenix's case) has enabled them to learn from their mistakes in the past couple of years, and this is the time that they can capitalize on them. The Suns should be able to knock off the defending champs. (BTW: Suns took season series 3-1)
With all the hype surrounding the Western Conference playoffs, this will probably be the one that goes under the radar. It's hard to tell if this will end up being a boring series, or an intriguing one. Houston really has the storyline in this one due to all of the ups and downs to their season. The bad start, the Yao Ming injury, the 2nd longest winning streak in NBA history, the struggles after that, then the clinching of the 5th seed. Then you have the Utah Jazz who started off the season hot, then played mediocre ball, then got hot again, and so on and so forth. So both teams tended to show inconsistency this season (more from the Rockets). Houston really hasn't been shown any respect from their great season, but that gives reason why they can be make their opponents eat it in the playoffs. When it comes to Tracy McGrady, he has yet to win a playoff series in his NBA career. As much as it would be a sight to see him cry again, he won't allow that to happen again. The Rockets proved that they didn't need Yao Ming to compete in the West. When everybody wrote them off after the injury to Ming, they decided to not let that bother them and they wound up becoming playoff contenders. They were able to knock off tough opponents during their improbable 22 game win streak. They now have that on their resume but the Jazz have gone under the radar in the several weeks. They are one of the best home teams in the NBA (37-4), but their road record is pitiful (17-24). So that goes to show that home-court advantage will play a part in this series. Luckily for the Jazz, they have home court advantage in this one. As much as the Houston story may touch a lot of people, the Jazz really have a terrific team; they just tend to underachieve sometimes. That is no reason to count them out of this one because if you look at all of the match ups in this series from position to position, Houston really can't touch Utah. Utah is sort of like New Orleans when it comes to depth and weapons. They have the watered down version of Chris Paul in Deron Williams, their outside game constantly remains a threat with shooters like Mehmet Okur, Andrei Kirilenko, Deron Williams, and Kyle Korver, and their inside man, Carlos Boozer, just knows how to dominate as an undersized power forward. Will Houston make this one close though? Most definitely. Houston has the mental game down pact, but Utah coach Jerry Sloan is the veteran in this one. Going up against the first year coach, Rick Adelman of the Rockets gives the Jazz an advantage going into this series. We might be blessed to see another emotional press conference from T-Mac this year.