The 2008 MLB season couldn't get underway any sooner, so we're going to have to look forward to Spring Training so it can hold us over until March 31st gets here. With that said, the Detroit Tigers regular season doesn't start until March 31st and they are already down in Lakeland, Florida preparing for opening day. Now even though everything looks set in place for the Tigers because of their major acquisitions over the off season, but there is always room for improvement. That is what the Tigers hope to accomplish while they are in Lakeland. As much as it's tempting to call Detroit a championship built team, you can't because we haven't even seen them play yet. Regardless, we still know that Detroit has the potential to be one of the most dangerous offensive teams in the MLB. So offense is the least of the Tigers' worries. The only improvements that can be made on offense only come from the players, and hopefully those improvements will be made over Spring Training. Everything that is/will be going on in Lakeland is what will be a part of the Spring Training preview. What needs to be done in ST, what can we look forward to, so on and so forth.
The state of the new guys
Bringing a superstar to a new team can sometimes be troubling because we don't know how comfortable he'll be in a new environment. But according to the Detroit Free Press, Cabrera thrilled to be a Detroit Tiger. With a locker in the same row of Gary Sheffield, Magglio Ordonez, Edgar Renteria and Carlos Guillen, Cabrera feels like this is a dream.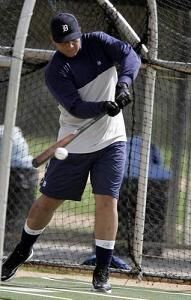 "I'm very excited to see those names. It's like it's my first day in the big leagues," Cabrera said.
But not only is Cabrera impressed with his team; they are impressed with him as well. Many people were expecting him shave of some of that weight before the season started, and he has done more than that. He looks tremendous and all of his off season work has gotten him in shape for the 2008 season. He may still look a little big people, but don't confuse that with muscle. Cabrera is killing two birds with one stone by shaving off all of the weight and building up his muscle. Miggy has performed consistently throughout his whole career so at the moment, there aren't any worries about how Cabrera will perform this season. He will most likely be focused on getting comfortable with his new teammates and try not to do more than what he's been doing. Cabrera is arguably the best hitter on this team but Cabrera won't let the aspects of his star-power conflict with the way he fits in with the team. Detroit has already accepted him, so there is no reason to panic about chemistry problems. The 24 year old is still young when it comes to baseball even though his statistics show otherwise, so he'll be looking at veterans like Magglio Ordonez, Gary Sheffield, Carlos Guillen and Ivan Rodriguez to understand the American League. Cabrera hasn't faced many AL pitchers, nor has he played in many of the AL parks. So in order for Cabrera to be successful this season, he will be taking notes from the old heads that have already learned the AL pitchers.
Word on the street is that Willis has already made his presence felt in the clubhouse. Different statements made by different players expressed their liking of having Willis on the team. So there is no doubt that the chemistry is already working between everybody on the pitching rotation. Everybody knows that Willis is a terrific pitcher, but his numbers didn't show it last season. Regardless, the previous seasons give you reason to believe that Willis just ran into a bad season in 2007. And many Tigers fans are really hoping that the '07 season was a fluke for Willis because of everything that was invested in the deal that brought Cabrera and Willis here to Detroit. Don't trip though because this Spring Training will give Willis the opportunity to brush off his bad season and prepare to be the 2nd man in the rotation that can give Jim Leyland some quality starts and some quality wins. There's no need for him to focus on being "the man" anymore because of the strong pitching rotation that the Tigers already possess. Right now, Willis just needs to relax and not worry about have to perform under pressure in all of his starts because as soon as he has a bad start, somebody else from the strong rotation should be able to pick up his slack. Building up his arm for the season is all that Willis has to do, for now. Leyland stated that he didn't want to draw a lot of attention to him just because he's a new guy. His role isn't any different from any of the other pitchers on the squad. Willis is sliding into his comfort zone right now and as always, he is just showing himself down in Florida. The team is very excited to have Willis on the team, as is Leyland.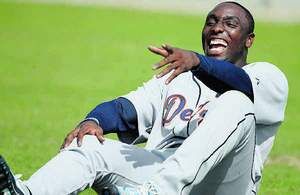 "The guy's got energy. I think he's really worked hard to accomplish the things he's accomplished and I think he wants to accomplish more. I mean, he's a treat to be around," Leyland said on Willis.
For Willis, there is nothing better than having your whole team enjoy your presence in the ball club before they've even seen you pitch a game. That just shows that Willis has respect from these guys and this bring Willis closer and closer to his comfort zone.
Renteria coming to the Tigers organization was a big deal, but not after the big Willis-Cabrera trade occurred. His acquisition has been slightly covered up by that but that's no reason to forget about him. It won't be hard for Renteria to adjust back to the AL on a count of two things. He used to play in the AL so he's familiar with the playing style. And the second thing is that he already has played under Jim Leyland back when they were both in the Florida Marlins organization. So there won't be a problem with Renteria gelling with the team. Just like Cabrera and Willis, Renteria is a player that the team is super-excited to have on the ball club because of his experience in the league and the extra threat that he brings to the already dangerous lineup. He's the perfect guy to have in a hit-and-run situation; something that Leyland called a multiple number of times last season. The .300 hitter also has the heart of Carlos Guillen. Earlier in the off season, Guillen stated that if the Tigers were going to move him to first base, then he wants a shortstop that is better than him. And look who they got! Renteria is a solid defender with a solid and consistent bat. He doesn't have a lot of "pop" in his swing, but he does have a lot of plate coverage giving him the ability to make contact with the ball when he needs too. Renteria did have problems with injuries last season but hopefully he won't be haunted by them this season. There is no need to work him more than he needs to be worked in Spring Training; they just need to be careful with him and let him fall into his place.
The same goes for Jones when it comes to the popular moves over the off season. Jones was a small pickup for the Tigers when they traded away their go to utility man, Omar Infante. The expectations for Jones are to platoon out in left field along with Marcus Thames who has basically been a platoon his whole career. He seems to be the guy that everybody is writing off but there is no need to do that. People forget that he hit 28 homers two seasons ago and he is a career .282 hitter. His numbers weren't big last season but he does have the potential to compliment this dangerous lineup. And he could definitely compliment Curtis Granderson is some games. Granderson has emerged into such a tremendous hitter and there were talks about moving him further down in the lineup to boost his numbers, but that was said when Cameron Maybin was supposed to develop as a Tiger. But with Jones, he could possibly leadoff in a couple of games and have Granderson somewhere in the middle of the lineup. Spring Training will be a help for Jones because this will give him time to learn his role on the team, unlike when he was in Chicago getting tossed around.
What's with Inge?
After the acquisition of Miguel Cabrera over the off season, the former third baseman Brandon Inge was the odd man out. There were talks about him being traded for the prospects that the Tigers gave up for Cabrera and Willis. He didn't want to be the backup of an all star third baseman when he felt that he could be an al star himself. So the rumors were going around to plenty of teams that Inge would be available to be traded if a team was looking for a decent man at third. Things started cooling down eventually and there weren't any trade talks involving Inge for a while. Sooner or later, Inge would accept his role as a super utility man; playing third and catcher. So Inge is down in Lakeland suited up in his catcher gear, but he still is upset about his new role. He has accepted it, but he's accepted it bitterly. Many benefits could come for Inge if he were to stay at the catcher position and not complain about it, but that seems like that's what he's been whining about since he got down to Florida. Inge continues to tell reporters that he is upset but he won't make a big deal of it. But the more he talks about it, the bigger deal it's becoming.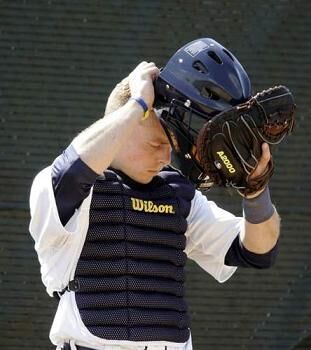 Most would call him selfish for stating how he wants to be an everyday player, but it's not really selfish more than it is truthful. Everybody wants to be an everyday player and being in Inge's position, it's hard to go from being a starting everyday third baseman to a utility backing up almost every position on the field. With the attitude of Inge right now, there is talk about him being traded again. But the Tigers have been trying ever since they acquired Cabrera and they've had no success. It's hard to trade a .241 hitter who only hit 14 homeruns last season. So while he's in Spring Training, he'll be doing what he's supposed to do and wait for something good to pop up. He is thankful for still having a role in the Tigers organization, but he's still bitter about it. Regardless of all of the negativity surrounding Inge, he stated that he's been working on his swing over the off season and he will strive to have a better season by cutting down his strikeouts and make better contact with the ball. That shows that Inge isn't stopping from bettering himself. More word on Inge will be reported soon.
Coming from injuries
The biggest injury on this team has already occurred before the season began. Joel Zumaya "supposively" hurt himself moving boxes from his parent's house in California during the wildfires. So the bullpen doesn't look to be any better than it was last season, especially since there weren't any big off season moves made in order to establish some strength in the pen.
Gary Sheffield started off last season slow, but then he went on a tear between the months of May and mid-September and at one point he was hitting around .320. Then while he was logging some time out in the outfield, he collided with second baseman Placido Polanco causing him to hurt his shoulder. That led to him ending off the season with just a .265 average. So there is no question that his shoulder affected the way he swung the bat, forcing him to bypass the cortisone shots and go into surgery over the off season. [According to the Detroit Free Press,] Sheffield isn't expected to do much over the next couple of days. The Tigers want to take it easy with Sheffield and hope for him not to bring last season's slump to Spring Training. But Gary has stated that he feels fully recovered now and he is ready to get the season starter.
Pitcher, Jeremy Bonderman is also coming off of the off season with an injury to his elbow. It is believed that he had an elbow injury after the all star break and he tried to play through it. This caused the injury to get worse and allow him to have a terrible stretch in his last several starts finishing off at 11-9 after starting the season with a tremendous 10-1 record. Bonderman was a key to where Tigers would have been able to go last season, but he didn't work. This season, the Tigers hope to have him return to his form from the beginning of last season. He won't rush things for the first couple of weeks in Florida but when camp breaks, he'll be ready to go. Bonderman just needs to get back into the feel of the game after missing a significant amount of time at the end of last season. Hopefully, Spring Training will allow him to accomplish that.
Vance Wilson is the backup catcher for the Tigers who didn't play a game last season due to an injury to the elbow, forcing him to undergo Tommy John surgery. There is no telling whether or not he'll be fully recovered for opening day, but he will keep working over Spring Training to prepare him for a comeback. Reports at came claim that he's throwing the ball okay, but not like he really needs to be. Wilson is a solid catcher behind Pudge, but with Inge revolving around the field in almost every position, there is no telling if this year will promise Wilson a couple more years in Detroit. He is now 35 and his career is on the downside. So Detroit can only expect a little from him, especially after coming off of such a crucial injury.

The Tigers Spring Training is full of stories right now, but they won't allow the pressure to affect the way that they prepare for the season. This is just a ST preview so that means that there will be more to come before the season begins.
In need of more sports from a fly guy's perspective? Visit Fly Guy Sports