Yesterday, Major League Baseball announced their All-Star rosters for 2009, and to my surprise, Texas Rangers outfielder Josh Hamilton was named a starter.  Now, if you happened to be living under a rock for the past year or so, you may not think there is anything wrong with this.  But, if you happened to be following the MLB all season long, like myself, you would know that this is an outrage.  Personally, I would really like to know what is wrong with these fans.  He got his deserving attention last season when he surprised everyone with his sweet, powerful swing.  But come on.
Hamilton, hitting just .240 in his 35 games played thus far, is just coming off the disabled list today and has struck out 31 times with just six home runs.  Does anyone else think that Adam Lind was much more deserving of an all-star vote than Hamilton?  Lind has a nice story as well.  Lind quickly stole the spotlight in Toronto this year, alongside teammate Aaron Hill.  Lind has already doubled his career-high in HR's (18) and is hitting .310 as of today.  Adam is putting up career numbers while leading his Blue Jays to a 42-41 first half, eight games behind the first place Red Sox.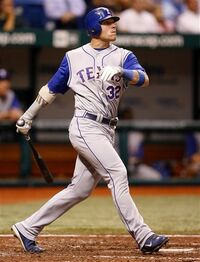 It wouldn't be quite as bad if Hamilton was an All-Star reserve instead of the starter.  Carl Crawford and Curtis Granderson, two of the American League's five outfield reserves, have had fantastic seasons with their respective team (Crawford: .318 BA, 41 SB; Granderson: 18 HR's, 43 RBI's, 15 SB) and were much more deserving than Hamilton.  Fans nowadays seem to latch on to someone, and after hearing Hamilton's story at last year's All-Star game in New York, fans just couldn't let go of him, which is really a shame.  The All-Star game is supposed to give players who have had a great first half some recognition and the chance to shine in front of millions (plus the media), especially for those small-market cities.  It gives them exposure while they compete for the World Series home field advantage for their league.
The American League got screwed.  Here they are attempting to win home-field in this year's World Series and one of their starters is just returning from injury and played just 35 games in the first half of the season.  Jermaine Dye and Nelson Cruz were notable outfielders who did not get the nod, both with 20+ HR's and close to a .300 batting average.  Other than this big screw-up on the fans' part and Michael Young getting the nod as the third base reserve over Brandon Inge, there really wasn't any other obvious mistakes with the rosters this year, although I wouldn't have been surprised had Manny Ramirez ended up on the NL roster, but luckily he is not.
On a brighter note, 22 players on the AL and NL rosters will be making their first career ASG appearance this year in St. Louis.  Most notable for this feat include Yadier Molina, Raul Ibanez, Matt Cain, Jonathan Broxton and Ryan Zimmerman for the NL; Zach Greinke, Tim Wakefield, Aaron Hill, Curtis Granderson, and Adam Jones for the AL.
I really don't have much more to say on this issue other than the fans need to start voting properly.  Lets start actually watching baseball and giving it to the hardworking, deserving players.