After much debate, discussion and witty comments in the presentation portion of the article, I finally had enough information to pick a victor. For a full list of the awards and nominees click here.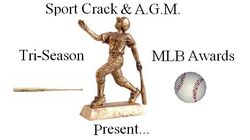 If your too lazy to go and read part one, these are awards for the first third of the season. Why, you ask? Well, why not?

The better off without them award goes to...
Barry Zito of the San Francisco Giants! Along with this prestigious award, Barry is also being heard in conversations about the worst contract signings ever made. Hey, at least the Giants have Tim Lincecum.

The flashback to draft day hitting award goes to...
Chipper Jones of the Atlanta Braves! Chipper is on base pace to finish the season with a batting average roughly two and a half times his own weight! Nicely done!

The flashback to draft day pitching award goes to...
Brandon Webb of the Arizona Diamondbacks! Luckily for me, I originally drafted the last two people on my team. Unluckily for me, I traded both of them and have since been frustratingly mediocre.

The failure to live up to expectations team award goes to...
The Detroit Tigers! Detroit's hitting has lived up to expectations, but it's pitching hasn't even lived up to AAA expectations.
The speculative, steroid blues award goes to...
Eric Gagne of the Milwaukee Brewers! Eric might be better off actually trying to sing blues for a living with the way things have been going.

The MVP award goes to...
Chase Utley of the Philadelphia Phillies! He's been playing out of his mind, that's all that needs to be said.

The ace award goes to...
Edinson Volquez of the Cincinnati Reds! Edinson could have also won the "Who is this guy, exactly?" award, had it existed.

The shutdown award goes to...
Francisco Rodriguez of the Los Angeles Angels of Anaheim. Yes, I'm aware I left Brad Lidge of the nominee list. My fault. If there were a silver and bronze medal, he would have gotten the bronze. But there isn't, so…
The fantasy team killer award goes to...
Erik Bedard of the Seattle Mariners! Not only has Erik killed many fantasy teams, but he's also helped killed the hopes and dreams of Seattle fans.

The packed bandwagon award goes to...
The Tampa Bay Rays! The Rays also would have received the "Team with the most players willing to throw down (and win)" award, had it existed.

The soon to be a sporting household name award goes to...
Jay Bruce of the Cincinnati Reds! Is it too early to assume he's going to be great? I mean, we've seen enough, right?
With that, the awards ceremony must now come to a close. Thank you to all who participated and apologies to all those who didn't get an award. They're not even real, so your good!