The end of the road starts here--the Super Bowl.  Tampa Bay, Florida is the site of the 43rd Super Bowl and the winner?  The Vince Lombardi trophy, of course.  Kurt Warner's Arizona Cardinals are playing in their first-ever Super Bowl while the Pittsburgh Steelers are going for a record sixth SB championship in NFL history.  Pittsburgh QB Ben Roethlisberger is one for one when it comes to the big game, Warner is one for two.
So, it's pretty obvious they both can get it done.  One old, one a little younger.  One has great protection from his offensive line and a duo of Pro Bowl-caliber receivers at his fingertips.  The other..the League's number one defense on his side.  Both team's running games have been thriving lately, Willie Parker and Edgerrin James will need to have big games to take the pressure off their respective QB's.  At this point, it's anyone's game.
Media week is well underway, and we are just five short days away from kickoff.  So, here goes my weekly take on "the big one."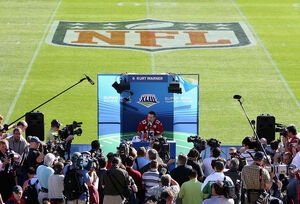 What Madden 09 (for XBOX 360) says.
and, of course...
What 'Whatifsports.com' says (FYI: WIS just recently released the 2008 rosters).
Sunday February 1st, 2009 at 6:28 PM ET
ME: PIT 24, ARI 17
Kurt Warner survived Philly's blitzing defense, but with many cuts and bruises.  They only sacked him twice, but knocked him on his rear many more times.  If Pittsburgh is able to keep a balance between their front seven and secondary, they have a better chance at stopping the Kurt Warner to Larry Fitzgerald combo.  Warner is not a mobile QB, if Aaron Smith and Brett Keisel can force him out of the pocket they will be much better off.  The reason the Baltimore Ravens QB Joe Flacco was sacked and intercepted so many times is because of great coverage by the Pittsburgh secondary.  They were able to force off-balance throws into coverage by Flacco.  That's how Pittsburgh will win this game.  All Ben Roethlisberger will have to do is manage the game, maybe throw a TD or two, but that's it. MVP: Troy Polamalu
Madden '09: PIT 10, ARI 28
This is the kind of game that Pittsburgh, and their fans, are fearing. Kurt Warner went 28 of 32, 286 yards and three TD passes (0 INT's). Two of those three TD passes went to Larry Fitzgerald, the most feared player on Arizona's offense, while the third was to rookie RB Tim Hightower, Arizona's red zone weapon. Fitzgerald caught seven passes for 134 yards and the two TD's. Ben Roethlisberger had a decent game--14 of 21, 213 yards, 1 TD, 1 INT--but, Willie Parker's off-game (66 yards on 17 carries) game back to hurt the Steelers, and Jeff Reed missed two huge FG's in this game. Arizona wins big, Fitzgerald being the MVP.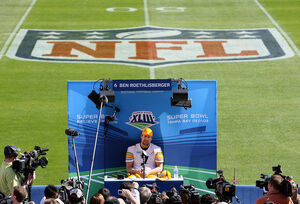 WIS: PIT 31, ARI 3
Not quite what I was expecting, but it will have to do.  In this game, Pittsburgh got to Warner four times (two sacks recorded by young LB LaMarr Woodley), and Ben Roethlisberger threw for two TD's--one to Hines Ward and the other to rookie WR Limas Sweed.  Ben Roethlisberger (15 for 22, 188 yards, 2 TD, 0 INT) was named the game's MVP.  Kicker Jeff Reed added a 50-yard Field goal.  But, the amazing thing about all this: Larry Fitzgerald caught just two passes for 19 yards and Kurt Warner went 16 for 31, 171 passing yards, 0 TD and 0 INT.  The running game for Pittsburgh was great--Willie Parker: 21 attempts, 91 yards, 1 TD, Mewelde Moore: 12 attempts, 101 yards, 1 TD.  Edgerrin James did not show up to play, just nine attempts for 12 yards (.7 YPC), which really hurt the Cards' passing game and ultimately their chances.
Overall: PIT (2-1)
Community content is available under
CC-BY-SA
unless otherwise noted.