Friday… a day of finishing up those excess jobs, tying up loose ends and then closing up the doors for the weekend. It should also be the day that you are able to have a little fun as you show up to work in your t-shirt and tennis shoes.
We here at The Hoch love Fridays, and even though we have a hard time keeping your favorite sports news up to date on Fridays, we are always here with an ear to the ground and our heads in the clouds.
Wow… how poetic. Well, either way, I was sitting here on my lunch break wondering about what I should give you on one of the nicest days Seattle has seen. (This has nothing to do with the NBA Draft…) I came up with my sort of a "Baseball Midseason Fun" article.
We all know that the large bulk of the votes come from "Homers" who just want to see their favorite player in the game; it isn't all merit based. So, here is what I think the MLB All-Star game rosters should look like based on performance not popularity (sorry Red Sox fans). This will be in two parts. I am doing these mainly the following offensive stats (since that's what most fans look at). Runs Batted In (RBI), Home Runs (HR), On-Base Percentage (OBP) and Batting Average (BA). Not all will be use to find the player, because if a guy leads in two of the stats, he should be in no matter what.  
Part one -
American League or: How I Learned to Stop Worrying and Love the Designated Hitter  
1st Base
Justin Morneau – Minnesota Twins
Morneau leads all AL 1st basemen with a batting average of .310, and is third in HRs with 12. But where he really stands out are his RBI numbers. He is currently CRUSHING the other 1st basemen with 62. Kevin Youkilis is the next in line with 47.
2nd Base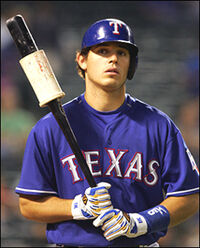 Kinsler needs to be in the All-star game this season. He is second among AL 2nd basemen with an average of .308, but is leading with 48 RBIs and has 12 HRs - 4 more then the next guy.
3rd Base
The sad thing is that he has no chance to go to the game with the Yankees and Alex Rodriguez or the Red Sox and Mike Lowell. The two of them lead his .270 batting average, yet trail him in RBIs and HRs. Where he fails (even though no one looks at this) is fielding. He is last in Errors (14).
Shortstop
He is going to lose out to Derek Jeter, but when I ranked players based on RBI, HR, BA and OBP, he came out as the best in the AL. Young is 1st in RBI (39), 2nd in HR (6), 3rd in BA(.274) and 2nd in OBP (.331). That, to me, says that he is the most deserving of the vote.
Left Field
Carlos Quentin - Chicago White Sox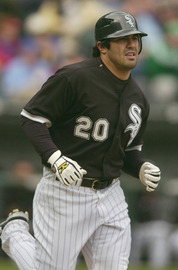 This may not happen because he was left off of the ballot. WRITE HIM IN. He has 57 RBI (9th in the MLB!), 17 HRs (11th in the MLB!), a .280 BA (4th among AL LF) and an OBP of .395 (19th in the MLB!). This guy, after what he has become, he really deserves this.
Center Field
As a Mariners fan, I am tired of typing the word Texas, but the AL roster really should be a who's who of people getting their lives together. Hamilton was a Triple-Crown leader for a while. Now he is just 2 average points back on his average. Yet, he is still leading all of the MLB in RBIs with a whopping 76 (on pace for 153.9).
Right Field
Wow… this is so painful. I ran the same formula as with the shortstops and it told me that Drew was the most deserving (followed by Magglio Ordonez and Jermaine Dye respectively). Drew was 5th in RBI (45), 2nd in HRs (14), 1st in BA (.308), and 1st in OBP (.414) of all AL RF. Did you think we would be saying this at this point last season?
Catcher
Enough said. He is still hitting lights out: OBP of .407, BA of .323 and 31 RBI. No he isn't hitting HRs, but he is the best hitting catcher right now.
Designated Hitter
Milton Bradley – Texas Rangers
Leading Designated Hitters in HRs (15), RBI (48), BA (.330), and OBP (.449). I guess he found his position.
Starting Pitcher
Roy Halladay – Toronto
This fella just keeps hurling and may be the brightest, shining area on the Toronto team. 6th in ERA (3.12), 6th in Wins (8), 1st in innings pitched (121.1), and 2nd in strikeouts (100). As much as I feel that Felix Hernandez deserves the nod, but based on Wins (he plays for the Mariners…) he gets bumped WAYYYYY down.
Closer
Francisco Rodriguez – Los Angeles Angels of Anaheim
You have to pick a closer by saves and ERA…but what about Innings Pitched, Strike Outs, Etc? This is why it is hard to choose between Rodriguez and George Sherrill. K-Rod wins with saves (31-26) and ERA (2.06-3.09), but they have both pitched 35.0 Innings and Sherrill has 2 more K's (Strike Outs). Yes, K-Rod wins, but you have to take into account Sherrill's playing for Baltimore (See: Felix Hernandez).
That is that. I will get you the National League as soon as I can as well.
From: Afraidofedhochuli
Cateogry: Chicago White Sox Opinions