The rain couldn't save the New York Mets as they suffer another defeat against the Tampa Bay Rays, 10-6.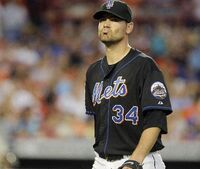 Mets manager Jerry Manuel believed his team could score against the Rays bullpen, but he was proven wrong.
"I felt that offensively we could still score on their bullpen," Manuel said. "I was obviously wrong about that."
Mets starting pitcher Mike Pelfrey pitched five innings with four earned runs and four strike outs.
"If you don't execute your pitches, they're going to hurt you," Pelfrey said.
Mets first baseman Daniel Murphy had one hit and one run. Third baseman, David Wright finished with two runs and three hits. Left fielder Gary Sheffield, right fielder Ryan Church and catcher Brian Schneider, had one hit each.
"It was good to get a little redemption for myself," Schneider said. "But what I I'm really trying to do is just have a good at-bat."
Rays center fielder B.J. Upton finished with three runs and four hits. Carl Crawford, the left fielder, had two runs and three hits. Rays manager, Joe Maddon, was happy with Upton's home run and he believed that was the turning point during the game.
"B.J.'s home run was magnificent," Maddon said. "Again, you get that momentum coming back your way and we just worked our way through it after that."
Jeff Niemann, Rays starting pitcher, allowed two earned runs, four walks and no strike outs in four innings pitched.
Third baseman Evan Longoria, shortstop Jason Bartlett, catcher Dioner Navarro, and pinch hitters Willy Aybar and Pat Burrell all had one run each.
Yahoo Quotes