Stiles Photo Journal: My Son's First NFL Game
That's my son's first NFL Game attended not played... give him 20 or so years and we'll see. Even though I promised Tampa Bay Rays manager Joe Maddon that he's gonna be a middle reliever...
And by "Photo Journal", I mean 3,000 word article wrapped around a bunch of pictures... (All photos by Manny Stiles for ArmchairGM)
The Event: Rams at Cardinals
On Sunday, December 30, 2007 the Arizona Cardinals hosted the St Louis Rams in a completely meaningless NFC West showdown. There was nothing of relevance to be accomplished in the outcome of the game except for the Cardinals. They had a chance to reach the .500 plateau for their second time since moving to the Valley of the Sun in 1988. I guess there was some bragging rights up for stake as well - at least in the Holt household as brothers Torry Holt and Terrence Holt were facing each other for the 4th time.
For the Cardinals, achieving a .500 season would be a miraculous achievement. It would mean they won an amazing 6 games in their newer home digs, University of Phoenix Stadium or as I call it, 'the Alien Spaceship in the rock field in Glendale'. What would be an even MORE amazing achievement would be if people of the world would realize that:
1) Yes, there ARE Cardinals in the Sonoran Desert, and
2) The Cardinals got their name early on from the color of their cardinal red socks, not a bird. Good thing they didn't wear carnation colored socks, eh?
Lucky for me, my wife plays basketball on Sundays with a fellow that has some pretty decent season tickets and he had no intention of watching what would seem to be a putrid Week 17 matchup of sad sack franchises. So he gave two tickets away.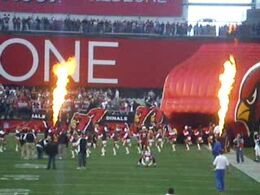 My wife and I couldn't find a babysitter on such short notice enabling myself and her to go so she suggested I take the boy to his first NFL game (and my first Cardinals game!). I politely said "Hells YES!", danced a marvelous victory jig and away we went!
The Boy
Quinten - "Bubbas" Stiles, aka Q-Dog, aka Quizzle Shiddizzle, aka Q-Joe, aka Da Mamma's Bwoi
He's 28 months old and was born a bit prematurely and was very slow to develop. As recently as 4 months ago, he was still in the 1 percentile for his weight. Doctors were testing him for various ailments to understand why he wasn't gaining weight but could reason nothing. Also factor in that his older sister has a thyroid condition since birth and his cranial circumference was in the 99th percentile and the doctors had reason to fear medical problems. He had blood work and brain scans and you name it, but everything came back normal. They were just running the tests as precaution.
But he's always been healthy to me. I mean, with his giant head and his railthinness he seriously looks like a lollipop. The charts say he should be deemed in the "failure to thrive" category but his personality, energy, playfulness and appetite all equaled the fact that well... he's just really damned skinny.
Believe me, he chows just like his Daddy! I was bone skinny as hell as a youth and my Dad could still hide behind a flagpole so I figured it was his genes. And it took me a while to overcome "the Kombol Skinny" but no one who sees me now calls me skinny!
And in the past few months, he's filled out a tad. He's still muscular looking due to his skinny but when he wears clothes, because he has no typical baby fat, he seriously looks like a miniature person instead of a kid - if you painted a goatee on him and gave him a little, fake beer belly, he would be my personal mini-me; Except CUTE!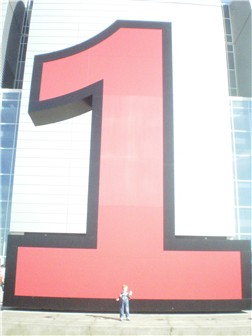 And he is a SERIOUS sports fan! This kid has seen a half dozen baseball games - he's a Rays fan! a couple of Suns games - he's a bigger Suns fan! and even a Phoenix Mercury playoff game - He's a ladies man! He went to several Arizona Fall League games (even finding a Nick Schierholtz monster HR when several fat slobbish card collector types could not) with me and he never cries when I turn a cartoon off as long as I put a sporting event on.
So he was primed for his first NFL experience!
The Stadium
U o P Stadium would be SO much cooler if they would have rightfully named it Pink Taco Stadium, but alas... life is cruel.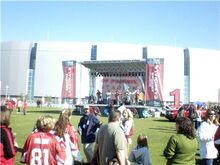 I know it's been called the "8th Wonder of the World" and all these hyped contexts but to be honest with you, I am really not that impressed by it. Sure, it's big, sure the field rolls out of the stadium and the roof slides open. And they added vertical slits in the walls to make it glow at night or whatever. It's not horrible by any means; I mean it's clean and new. But it completely lacks flavor and feels very cold and void of personality. So I guess that's why it's a perfect fit for the Bidwells...
Ooops, there goes my Super Bowl media day creds down the drain!
I mean it has so much empty concrete and the few places that do have color has boring, dull GIANT fonted words on it. For instance on the south end off the stadium - "Red Zone" is just how do I put it? DUMB.
And every concession stand incorporates a Z next to wherever their is an A - to symbolize "AZ" - like the flesh melting heat and eye blistering sun - or the general feeling of being locked in a microwave isn't enough of a reminder you're in Arizona?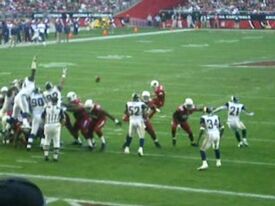 And one serious complaint I have - ONE mediocre sized American Flag in the whole stadium? You have a wall s wide as the field with "Red Zone" on it but you can't spring for a second flag so people don't have to turn around to see it? or better yet - GET A REAL SIZED FLAG!!!
The Atmosphere Outside
You know what? Cardinals fans are alright! Based on my experience with the locals I expected them to be numbnuts and dimwits but they were just kind, friendly and trying their damnedest to numb the pain of Cardinals fanship with copious libations.
Keep in mind, I had my two year old son with me, so EVERYBODY was trying to ensure he (and "we") had a good time. It was like he was a fresh, uncurtled mind walking into a religious cult's compound. Granted, the kid is cute, but every time I took my camera out to take a picture of him in front of something a person pounced offering to take our picture for me.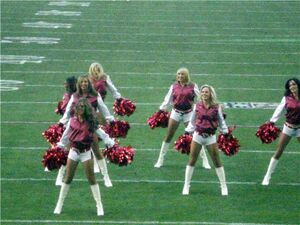 Side Note - I have taken tons of pictures for people, a bunch of people have taken pictures for me over the years - and the pictures I took were always "decent" to "AWESOME, DUDE!!!!". EVERY picture anyone has every taken for me with my cameras have just plain sucked! Does ANYONE know how to frame a picture or capture the background? Can anyone even hold a camera straight anymore?? But I'll forgive Cards fans and chalk it up as "they were too drunk numbing their pain".
So all in all, the tailgate atmosphere was relaxed and enjoyable. I got there kind of early so I probably missed a bunch of rowdiness, but the boy wanted to go inside the stadium. A rock n'roll cover band offered up only one country song while I was paying attention - a refreshing concept in a place where everyone thinks this is the Wild West and they're a cowboy even though they have never seen a horse without a police officer on it.
The Seats
Ten rows off the field on the northwest side of the endzone. RIGHT in front of where the mascot "Big Red" - a backflipping, bicep flexing, giant headed bird in football pads and obviously on steroids was stationed. Bubbas LOVES the mascots!! So that worked out great! Plus there was a team of cheerleaders there for Daddies to enjoy, which I figured would be a sweet respite once the game got rolling; after all the Cardinals were there and so were the Rams... and we all know how putrid that can end up.
They were seats I wouldn't have ever paid for but also seats I would never turn down. Lucky for us, most of the best game action was at our end.
The Game
It took a little while to get rolling. Kurt Warner had a couple throws early that SCREAMED "it's gonna be a bad day" but eventually he warmed up and settled in. He rolled out left from the 10 yard line during an early drive and made a break for the end zone before confronting two defenders at around the five, he stopped and for some unknown reason decided to LEAP for the end zone - and got SLAMMED to the turf hard. It looked ugly but I think it set the tone for the entire team.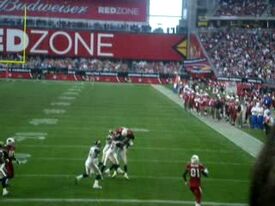 The Cardinals pulled a collective "If Kurt Warner is gonna dive like a fearless maniac and look like a fool on Week 17, WE NEED TO GO ALL OUT TOO!" and began to trounce the Rams from that point on.
While Antrel Rolle intercepted a pass and returned it 145 yards for a 47 yard TD, zigzagging all over the field in the process. I took the boy and got him a hot dog and skittles and we split a $6 lemonade - that's right, no stadium beer for Daddy Stiles. He housed the dog and ate most of the skittles before the second quarter ended. The Cardinals went into halftime with a 24-6 lead
The halftime show was as lame as lame could be - a dance off among the winners of each of the previous seven home game's dance off winners. They all sucked but the chubby lady who ripped a Rams jersey and danced on it had the right idea. She won a truck. I slapped my forehead with a disbelieving palm.
After halftime, the Rams reminded us we were indeed at a Cardinals game, returning a Kurt Warner INT for a TD - and the typical "here we go again" comments were muttered throughout the crowd.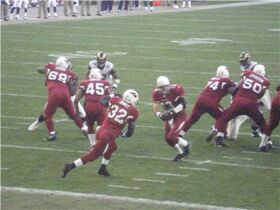 But the impossible happened. The Rams were EXACTLY who were thought they were, they folded faster than Superman on laundry day and the Cards blew the game wide open. Q plowed his way for a touchdown, there was gratuitous Neil Rackers sightings and by returning another interception for a TD, Gerald Hayes put a big cardinal colored bow on the game and a miraculous .500 season! There was a Gus Frerotte sighting which of course meant only one thing -the Cardinals would end the game by taking a knee!!!
AMAZING!!!
The Cards won the game 48-19, scoring more than 40 points in a game for the first time in 6 years and scoring their highest point total since 1977!!!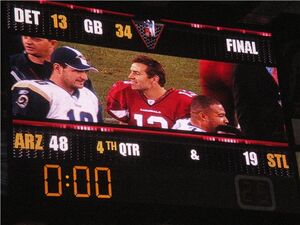 And the Cardinals did the impossible - they finished 8-8; In the same season I predicted they would finish "2-11 (because they suck so much the NFL wouldn't allow them to play 16 games)"
I was shocked and stunned and we stayed for the whole game. I didn't want to miss history!
Fan Interactions
Early on, I saw no way we were going to make it through the whole game. As I carried Bubbas around the concourse he kept seeing the exits and was whimpering, pointing to them and wanting to go outside. I shrewdly stated that if we went out there we'd have to go home since they wouldn't let us back in. He countered my maneuver with a "I want to go home"... then it was on!
"Do you want to see the (with joyous, raucous enthusiasm) FOOTBALL!!!! GAME!!!? or do you want to (with depressed body language, quieting voice) gooooo hooooome????"
That worked for a little while. But he was building the crank.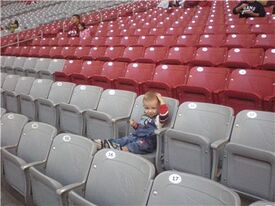 We sat in our seats and suddenly I was the cranky one. The morons behind me wouldn't shut up. The worst part is they thought they were funny. Attempting to be smart asses and trying to cross-reference as many things as possible, they were downright stupid. Several times I wanted to turn around and introduce myself as an award winning commenter on ArmchairGM.com (after all, I was rockin' my AGM T-Shirt), tell them that they should shut up in the presence of greatness but after about 3 minutes of it, I wanted to REALLY introduce them to my right fist instead. I tolerated the idiocy and focused on my boy's experience. I mean, these guys... if they would have posted some of the dumb shit they were saying on Armchair, they wouldn't have lasted 6 hours before being mocked into hiding - and not just by me. Their mocking of Rams players names were as unfunny as a poke in the eye of a blind guy.
So there I was in sports hell until luckily some Rams fans sat near us and the morons suddenly weren't so brave. They started giving the disclaimer - "We're just doing this for fun and we like to make fun of kickers the most - let me tell you how much Jeff Wilkins sucks" and then the best part - Rams guy says "Jeff Wilkins is married to my cousin" and the jaws dropped to the floor. Suddenly sports hell was Irony heaven. The two douche bags moved seats before the first quarter ended and Rams fan turns to me and says "I don't have a cousin. Those guys were just idiots" - I concurred and offered to buy Rams fan a beer.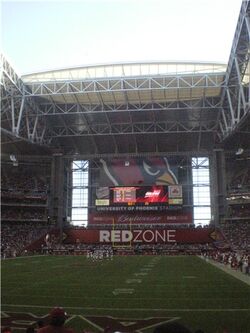 Bubbas spent approximately 93% of his energy following the exploits of "Big Red" the 'roided bird mascot (and the other 7% deciding he wanted to be picked up and/or put down). "The Bird, Dad. The Bird!!" And I'm wondering...'did Herve Villachiaze come back reincarnated as my son???'
As the game dragged on, the fans got more drunk including one complete fool who thought everyone needed to see his Cardinals logo tattoo which was on what medically is termed 'the bicep'. Note to rational thinkers - if you're gonna get a tattoo on your bicep - MAKE SURE YOU HAVE A BICEP FIRST!!!! It looks INCREDIBLY stupid showing off your monster flex when there's nothing to show off... furthermore, you're not going to frighten many people with an Arizona Cardinals tattoo - just saying. But he was VERY drunk - to the point of being unable to control his facial muscles, let alone any semblance of arm muscle. But at least he was belligerent about it! The security staff assisted him through out the game before eventually educating him on the proper way to exit the premises.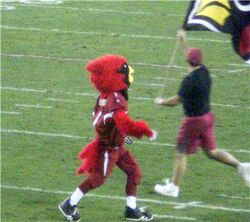 During the second half, the boy livened up but was growing irritated by the crowd noise at times. Basically he was getting tired of sitting in the same place for so long. After all, 5 minutes is a year and a half to a 2 year old...
I was standing up holding him in my arm and he noticed that some people were exiting the stands and he began repeatedly motioning, pointing as if to wordlessly say "Dad, I want to go up there" - well, he was also pointing directly at a gang of rowdy Rams fans who took his motions as a taunt and they began pointing back at him in the same manner and mock-starting a fracas. He suddenly found joy in their reaction and he began to point vigorously at them, laughing and elevating the situation and people around us loved it. I finally ended the situation by turning around and saying "Oh, he's not taunting you, he's pointing at the SCOREBOARD!!!" It was 31-19 at the time... Sometimes Mr. Stiles can bust out a funny one!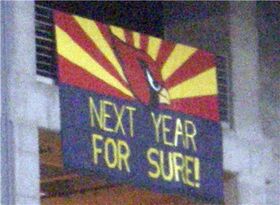 One last incident occurred when a Cardinals fan originally from St Louis began heatedly conversing with a Rams fan originally from Los Angeles. The situation was escalating because Cardinals fan had beef with the City of St Louis and Rams fan was quite unwilling to chalk it up as a drunk guy rambling. They were 3 seats to my right and they were starting to open up the doors and let the F-Bombs fly - so I played the "Yo, my 2 year old doesn't need to hear that" I'm-much-bigger-than-both-of-you-combined card and said "Besides, the Rams started in Cleveland and the Cardinals started in Chicago. Will you shut up now??" That also got laughs and I made instant friends with the non-drunks and dis-likers of confrontation all around me...
The game ended and the season ticket holders all exchanged season ending pleasantries and good byes. It was a perfect season with a perfect ending as far as they were concerned - such is life as a Cardinals fan!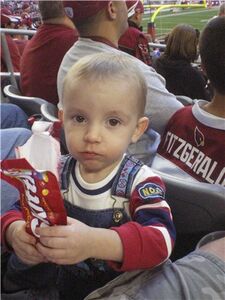 Signs like "8-8 We'll Take It" abounded and the crowd left satisfied. The boy was happy to leave and he promptly fell out once he hit the car seat after a high energy day at his first NFL experience. Good thing too, because we were stuck in the parking lot for a half hour - what a mess! No matter how well they designed that stadium, they funked up the parking...
All in all, a pleasantly surprising experience indeed and I think that the Cardinals fans have reason to look forward to next year... never heard that before, eh??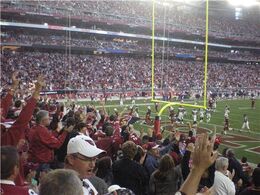 On a sad note: There were about half as many Patriots, Red Sox and Celtics themed fan gear on the people in the stands as there were Rams clad people. However if you add the number of Cards fans wearing outdated David Boston jerseys the numbers tilted against the Rams fans. Utterly disgusting on so many levels... and people wonder why I say Phoenix is such a crappy sports town?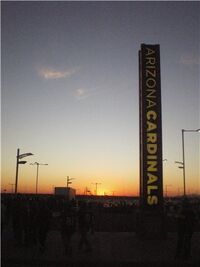 Bubbas may have been the good luck charm! E-mail me Cardinals execs - mannystiles@aol.com - maybe we can work out a deal to have him attend some games next year! You can't argue with results!!!
Community content is available under
CC-BY-SA
unless otherwise noted.