Welcome to the Sportsune Cookie...
I'm putting the comment section first
So you all don't miss it again!!!
So here is the content...
Typing with reckless abandon...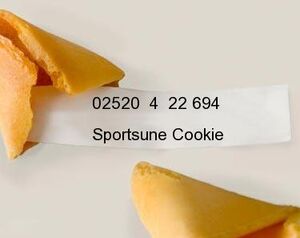 Warning: Read the following at your own risk. Possible Probable side effects include brain strain, eye scratching, and a probable cause of perpetual stupidity...
Today's Weather: 90% tired, 75% preoccupied, 9% with-it...
Sportsune Cookie
Pre-emptive Maneuvers
The Commissioners had a meeting. And... HAHAHAHA...
HAHAHAHAHAHAHAHAHAHAHAHAHA...
HAHAHAHAHAHAHAHAHAHAHAHAHA...
HAHAHAHAHAHAHAHAHAHAHAHAHA...
Moving on...
Post-emptive Maneuvers
Founder
A late congratulations to AGM founder Pean. Don't forget us here at the chair! To read this story, check the lockerroom...
Playoffs
The Lakers and Celtics each evened up their respective second round series. Each team won their game easily by double digits. Houston and Orlando will each host their respective game 3 as the NBA Playoffs continue on...
Pittsburgh and Carolina each pulled off an overtime win. Jokinen and Letang were the goal scorers who gave their teams that third crucial goal for their team to win the game. Carolina takes a two games to one lead over Boston with their victory. Pittsburgh wins their first game of the series as they pull with-in one game of D.C. All four NHL series now are scored at two games to one...
Baseball Notes
The New York Mets won on a error. 0 earned runs crossed the plate as the Mets pull out a win in the pitcher's duel. Chan Ho Park threw six scoreless innings lowering his season ERA to a whopping 6.67 while Johan Santana dominated in his 7 innings of work. He struck out 10 (9 swinging) and lowered his season ERA to 0.91!!! His amazing start has him posting 4 wins on the season as well...
The Yankees and Rays played 10. Carlos Pena belted his league leading 12th home run to sure up a Rays win...
Bronson Arroyo showed once again that he sucks. He gave up 9 runs and only got 3 outs. Janish, the Reds' shortstop, had a better outing; he only gave up five runs but also struck out 2 (which is 2 more than Arroyo). Brandon Phillips, Jay Bruce, Prince Fielder, J.J. Hardy, and Ryan Braun, all fantasy commodities, went yard as the Brew-Crew destroyed Cincinnati in the Great American Ballpark...
Baltimore took down Minnesota as the game went final due to rain after only 5 1/2 innings...
Rich Harden threw 7 innings allowing 3 runs but still picked up a Chicago win as Aramis Ramirez and company knock the ball around in Minute Maid Field...
Kansas City continues to shock the world as they roll over the Seattle Mariners 9-1. The Royals are now 17-11! Not the presumed 11-17. Keep on shuffling Kansas City...
St. Louis used 6 pitchers to end their slide and pick up a victory over Pittsburgh. Albert Pujols went four for four with a home run (his 11th on the season)...
Randy Johnson got rocked by the Rockies. Counterpart Ubaldo Jimenez was masterful. He stuck out six in seven innings of work while allowing only one run. Troy Tulowitzki continues to struggle, but the Rockies win eleven to one...
Justin Upton started the season on the bench. He now has 6 home runs after knocking two out of the park against the Padres. Jake Peavy tossed 7 innings with only 2 runs scored. He struck out 12, but he still had to pick up the loss. He deserves better than that...
Toronto destroyed the Angels. Roy Halladay pitched a gem once again; 8 innings, 6 strikeouts, and only 1 earned run. Doc picked up his 6th win on the season. He is now tied with with Zack Greinke for the league lead in the wins category...
Ever Wonder?
Does it even count as a retirement if he doesn't take any time off?
Q02520
Sporting Radio:
Q02520, with your host DAndrew...
Brought to you by the mean streets of ArmchairGM...
"All Sports, All You"
Reporting during May...
DAndrew - "Too preoccupied to write up a quality Cookie..."
10
Mark Recchi
Brendan Shanahan
Joe Sakic
Mats Sundin
Mike Modano
Sergei Fedorov
Rod Brind'Amour
Teemu Selanne
Jeremy Roenick
Keith Tkachuk
Congrats to Tmil42 for guessing yesterday's ten. He got the upgrade because he kills it when it comes to the ten. Luckily for the other readers he only graces the Cookie with his presence when he has the time off work...
Name It
"See man, that's the worst attitude I ever heard."
"Attitude reflects leadership, captain."
A Picture is 1000 Laughs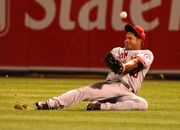 Time Warp
The story of Jordan Farmar...
LASB come back!!!
Notes From Apostrophe
Sorry about the low-quality of the Cookie today. Tomorrow's should be better...
If you would like to participate in upcoming Sportsune Cookies, feel free to contact me anytime...

As always, leave 'em below...
Disclaimer: Written as always in IMO font...

Template:Sportsune Cookie Template Cateogry: Baltimore Orioles opinions