Welcome to the Sportsune Cookie...
Typing with reckless abandon...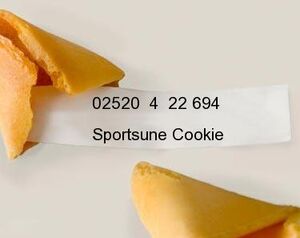 It's Mondaze...
Warning: Read the following at your own risk. Possible Probable side effects include brain strain, eye scratching, and a probable cause of perpetual stupidity...
Today's Weather: Tired...<sigh>
Sportsune Cookie
Pre-emptive Maneuvers
Big Mike
The Ballad of Big Mike is a story by Michael Lewis. An excerpt was posted in the New York Times about the story of Michael Oher. It is one of the most inspirational stories told of the modern day world. It is time's like these that can put faith back in humanity and acknowledge that there are still some good people in this world. Oher was taken 23rd overall by the Baltimore Ravens in this past NFL draft. It's been a long journey for him to this point. If you haven't yet read "The Ballad of Big Mike" it is a story you may want to become familiar with soon because it is probably the "feel good story" of the year...
Personally, I'm rooting for Big Mike to continue to thrive and improve both as a person and a football player. It is easy to say that he has at least one fan here...
Full Court
The second round is finally set and underway. Denver has already taken game one from the Dallas Mavericks, but that prediction has already been made in a past Daily Deviation (Denver wins in five games or less). As for the other three match-ups, this round seems very easy to predict. First, Houston will have a problem, as the Lakers will roll over them (and hopefully get Bynum going as well, considering they will need him against the Nuggets in the Conference Finals). Six games or less until the Lakers move on to the next round. The Cavaliers are so well rested, but will the time off hurt their chances? Little can hurt LeBron's ability to carry his team to victory. If this series makes it to six games, well, the world would be surprised...
After barely fighting off the Chicago Bulls, the Boston Celtics are still in the race. Orlando survived a scare of their own; being down two games to one over the Sixers. Once they got the train going, they cruised into the next round. This is the most intriguing match-up of the round. Dwight Howard gives Orlando the edge down low, but if you live by the three-point shot, you die by the three-point shot. Orlando's three-ball can't continue like this forever. The three-point shot is usually the death of basketball teams. The Celtics should take the series, but at this point, it could go either way...
Chill as Ice
The Carolina Hurricanes evened their series against the Boston Bruins by shutting them out in game two (3-0). The scary part is that it happened on the Bruins' home ice. The series now heads south to Carolina as they now have home ice advantage in this now five games series.
WOW! Triple overtime! The Ducks evened the series with the Detroit Red Wings by pulling out a thrilling four to three win in Detroit. The best part of the game is the quote from Todd Marchant after he scored the game winning goal; "My mom and dad came in from Buffalo, and I promised my mom I'd get a goal for her. If you follow my career, you know how hard that can be to do." A touching little story line there...
Moving on now. The Canucks and Blackhawks have scored a combined seventeen goals in the first two games of the series. It is tied headed to Chicago for game three. Luongo has been strong until last Saturday night when Chicago ended up with six goals. The only series not tied at one game a piece right now is Pittsburgh versus Washington. This may be due to the fact that they have only played one game to this point (a D.C. victory). Playoff hockey continues tonight. Can't wait to see what happens next...
Post-emptive Maneuvers
Baseball Notes
Carl Crawford felt faster than usual. He reached base five times on the night and each time felt like showing up Jason Varitek and whatever pitcher was on the mound. He stole 6 bases total on the night. Bringing his season total up to 17 stolen bases! He had only twenty-five last season. Jacoby Ellsbury and Bobby Abreu are the only other players with double-digit steals so far on the season. The unsung hero of the young Rays team is looking to shake off an injury plagued season and show everyone he is healthy again. Batting at a .317 clip and leading the league in steals is a good way to get the credit he is due in Tampa Bay...
Rich Aurilia's pinch-hit against Manny Corpas gave San Francisco a walk-off knock this season. They shut out the Rockies, 1-0 behind a strong start from Barry Zito. The former Cy Young winner through seven scoreless innings allowing only two hits on the day...
Zack Greinke continues his dominant start to the 2009 season. His 0.50 ERA is easily the lowest in the league. His 44 strike-outs near the league's best. And, his five win mark puts him in the company of Chad Billingsley and Roy Halladay as the winningest pitchers in the season thus far. Zack has two shut-outs and has hitters batting a mere .188 against him five games into the season. Most impressively is that Kansas City is in first place in their division...
The Arizona Diamondbacks and Milwaukee Brewers scored a combined 7 runs. 5 of those runs came off solo home runs. Mark Reynolds, Justin Upton, Miguel Montero, Prince Fielder, and Mike Cameron all has solo home runs in the game, which is comical since the winning run came off an eighth inning ground out by Chris Duffy, as the Brewers take home a very odd victory...
After a rough first start of the season, Johnny Cueto has been a force for the Cincinnati Reds. Twenty-two innings with only one run allowed in his past three starts. His earned run average is down to 1.65 on the season and his WHIP holds strong at 1.05. Cincinnati is tied with Chicago for second in the division, but first in the wild card for the National League (it's never too early to discuss the wild card)...
Brandon Inge continues to smoke pitchers with his new approach to the plate. The boy is batting .316 on the season with 8 home runs. Something is clicking because his on base percentage this season is .138 higher than his career mark. Mr. Versatility helped Justin Verlander and the Tigers to another win last night as the Tigers look to keep pace with the Royals (still hard to say write) as they remain a half-game out of first place...
Fantasy Break
My teams are doing horrible this season. Hope is bleak and I'm starting to worry. Luckily, it's a long summer...
Ever Wonder?
Darko and D-Wade both got rings before LeBron. With 'Melo and James still with a shot this season, it looks like Chris Bosh is going to be the one from that 2003 draft fighting for a ring in the latter part of his career. Doesn't that just suck?
Tossing Pennies
It's still early, but let the fantasy football talk begin. The question this season is who the top five draft picks? Yahoo Sports early mock has Adrian Peterson, Matt Forte, Maurice Jones-Drew, Michael Turner, and Brian Westbrook...
Personally, I would have no idea what to do if my league were to draft right now. That top five section is going to be so very unpredictable. This is the most open draft to opinions of forecasting in fantasy football history...
Q02520
Sporting Radio:
Q02520, with your host DAndrew...
Brought to you by the mean streets of ArmchairGM...
"All Sports, All You"
Reporting on May 2nd of 2009...
DAndrew - "Ok, welcome back. Now let's dive into the next topic. Can we get some calls comments about thoughts on the Sportune Cookie? Good? Bad? Needs fixing? Let's hear what the masses have to say..."
Daily Divination
None for right now. Let's see how some of the others turn out...
Divinations in Progress: The Chicago Cubs and New York Mets become two of the hottest five clubs in the month of May. The Denver Nuggets beat the Dallas Mavericks in five games or less...
1/3 on the season
10
Barry Bonds
Andre Dawson
Frank Thomas
Rafael Palmeiro
Jose Canseco
Dave Kingman
Sammy Sosa
Fred McGriff
Jeff Bagwell
Mark McGwire
Congratulations to Romiezzo who correctly named last time's ten...
Name It
No guesses last time. Here it is again:
"Should we believe the hype?"
"What hype?"
"The hype about __________"
"Now hype is something that's not for real. I'm all real."
A Picture is worth 1000 Miles an Hour
Time Warp
Remember the All-Robot Baseball Team?
The full line of an AGM founder's works...
Answering the Questions
ATQ - Cheezer made a comment regarding a piece of the Cookie that stated: "I'm going to have to hire [Cheezer] to fix my typos when I go pro..." To which Cheezer stated that, "Thanks for the shout-out. However, you can't afford me. :-)"
Well, if that's how you feel. You aren't getting paid anything to do them now, and I was going to triple your salary...
Did You Know?
The last time that no MLB player struck out more than one-hundred times in a season was back in 1949. Duke Snider lead the league with 92 strikeouts that season.
Notes From Apostrophe
n/a
No reader input today. If anybody would like to participate in upcoming Sportsune Cookies, feel free to contact me anytime...
As always, leave 'em below...
Disclaimer: Written as always in IMO font...

Template:Sportsune Cookie Template