So I would first like to apologies for this features two-month hiatus. First I had finals to study for (damn AP U.S. History!!) then I took the SAT (should get the results any day now) so I got a bit swamped but enough of my excuses.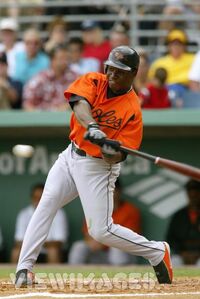 So let me catch you up on the D-Back's moves since the last installment of Snake Bite.
First Trades
None
Second Major Free Agent Signings
None
(see I didn't really need to do an article anyway)
The Diamondbacks have invited 17 non-roster players to spring training bringing the total number of players to attend spring training to 57. Some of the notables invited include:
Jarrod Parker- Arizona's first round pick in the 2007 draft and the Snakes' top prospect according to Baseball America.
Connor Robertson- Notable for being the other player received in the Dan Haren trade.
Tim Raines Jr- With all due respect to Don Kelly, Raines is the D-Backs' biggest free agent acquisition this off-season (though a Trot Nixon deal is in the works).
And upper level prospects Wes Roemer, Barry Enright, Ed Easley and Gerardo Parra.
As mentioned above Trot Nixon might be coming into the fold (a physical is the only thing holding up the deal now), he would provide insurance as a back up first baseman and lefty bench bat should Chad Tracy not be ready to start the season.
Other players who are looking to come back from injuries are:
Randy Johnson- Trying to come back form his second back surgery in two years. His health will be a huge factor in how the Diamondbacks' season unfolds. If he can be an healthy effective starter the Snakes might just have the best one-two-three rotation punch in the league.
Doug Slaten- Had micro fracture surgery over the off-season. If he is not ready to break camp with the rest of the team Bill Murphy might have a chance to be the clubs lefty specialist at least until Slaten is back.
Miguel Montero and Stephen Drew both have slight nagging injuries that should not bother them to much.
A note, Brandon Lyon has been named the D-Backs' 2008 closer beating out Tony Pena and Chad Qualls who will handle the 8th and 7th innings respectively. I personally think Lyon will do well in the role, he had the 2005 job and was dealing until an injury ended his season.
A final note; GM Josh Byrnes and team President Derrick Hall received extensions through 2015.
I promise the next article will be before May.