Sam Cassell played in his fourth game as a Celtic.  He played for 28 minutes while shooting 7 of 13 from the floor, including 1 of 3 from 3 point range.  He was good for 17 points and 5 rebounds.  Not a bad showing at all.
However his performance should resonate with basketball fans, and get Celtics fans excited.  Forget that he shared the back court with Rajon Rondo and was extremely effective.  Forget that the Celtics threw a small ball lineup at the defending champions that helped erase a 22 point deficit.  Forget that they overcame a 9 point fourth quarter deficit to do it.  Forget that Cassell had the stones to knock the go ahead 3 pointer in with 46 seconds left in the game.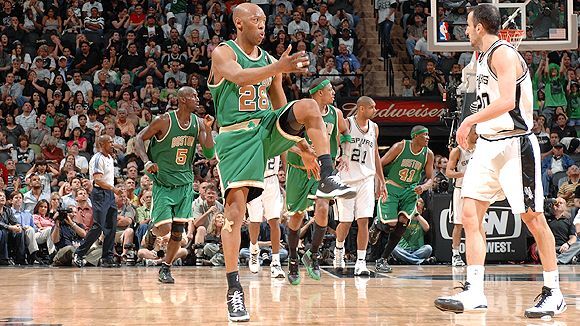 The most important thing Cassell brings to a team was on display last night, and it didn't have anything to do with his play.  The defining moment came just after the final buzzer.  After working so hard to get back into the game, most likely at the cost of tonight's game against the blistering Rockets, the Celtics almost gave it all away. 
After an uncontested Tony Parker layup cut the lead to 2 with only a few seconds remaining, Kevin Garnett had trouble with the inbounds pass.  Rather than calling a timeout, he flipped a bad pass up court which was stolen by Manu Ginobli who quickly passed the ball to Robert Horry who missed the jumper.  The game was over, the Celtics had won. 
But Coach Sam wasn't satisfied yet.  He ran right over to Rajon Rondo, grabbed him, and began going over that final play, pointing at the court, and talking to him about what went wrong and what to do next time.  That leadership from Cassell, and more importantly the desire he has to help the younger players, will continue to have an immense impact on this team.  Rondo steers the ship, and Sam knows it, but Rondo is inexperienced, and Sam knows this too.  Sam has the wisdom to share, and he wasn't celebrating this win until it was time.