The annual Giants Fanfest took place this weekend at AT&T Park and some pretty good news came out of it. The Giants trainers and manager Bruce Bochy declared that Noah Lowry is healthy and is on track to report with fellow pitchers and catchers to participate fully in workouts when spring training begins in a week.
This is great news for Noah, who tweaked his forearm last spring and it ended up costing him the whole 2008 season. I think a lot of people have forgotten how important Lowry is to the Giants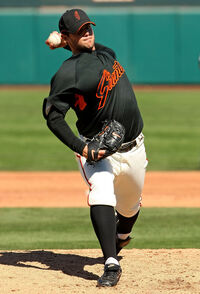 starting rotation. Even after missing all of 2008, he still leads the team in wins since 2005. And if Lowry is indeed ready to go and shows so early on in the spring, it would provide the Giants with 6 legit options for their 5 man starting rotation. It's still unclear how Lowry will react to the daily grind of getting back into game shape so if you wondering why the Giants don't go off and deal Jonathan Sanchez for a hitter, that's part of the reason. However, I really don't expect to see Sanchez in the bullpen anymore and Lowry certainly won't be demoted, so if he proves he's ready to reclaim his spot in the rotation, Giants management are going to have some decisions to make. It's still far too early to determine as to whether the 28 year-old lefty is going to be 100% and ready to pitch 6-7 innings a night once the season starts, so any possible trade wouldn't likely come before mid-late March. Remember, Lowry has only put together a 30+ start season one time in his four seasons at the big league level so you can't really pencil him in for 200 innings per year like you can a Matt Cain and now Tim Lincecum.
As far as the other hot topics around the Fanfest, Pablo Sandoval and Bruce Bochy declared that the rookie catcher/infielder will bypass his opportunity to catch for the Venezuelan national team in the World Baseball Classic. Sandoval is likely to be the Giants everyday 3rd basemen and third place hitter once the season starts so the team wants him preparing in the infield rather than behind the plate this spring. Sandoval is also stoked about the opportunity to play third base everyday and doesn't seem to mind missing out on playing with the best players from all over the world. I reported on this back when Sandoval got the invitation and felt that it would have been a great experience for the youngster if he would have gotten to play under that spotlight, but it made more sense for the Giants for him to stay with them and get his work in at 3rd. Joe Crede (although the reports on his workout last Thursday have been mixed) is still in the mix as a possible third basemen for the Giants in which case Sandoval would start getting reps at first base. At this point, I think it's pretty clear that Crede isn't really close to being 100%, so I think it would be for the best if the Giants steered clear and did not bank on getting a full, healthy year out of Crede.
Edgar Renteria was also in the news this weekend as he showed up in the Bay Area looking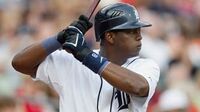 slimmer and in much better shape than he supposedly did when he reported to spring training with Detroit last February. I don't think that there is any question that the Giants should get more out of Renteria than the Tigers got from him last year, and he looks determined to get himself back to the lever he was at with Atlanta and St. Louis. A lot had been made about Renteria's loss of range up the middle over the past couple years and I think he wants to erase those whispers as well. I see '09 being a successful campaign for Renteria, and at 9.5 million dollars, he better have one.
Trevor Cole Published @ The San Francisco Giants Blog