We're only a week into March, but a few Giants' youngsters (and a few guys who have been getting a lot of pub at this particular blog) that are really making some noise so far are infielder Jesus Guzman and reliever Luis Perdomo.
Heading into Saturday's game, Guzman is tied for the team lead in both home runs (2) and RBI (5) and leads the team in extra-base hits as well. The amazing thing about this, is that he's had only 12 at-bats compared to most of the other big leaguers who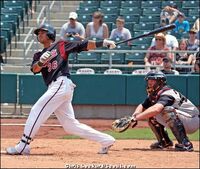 are at or around 20+ at-bats. Not only is he roping the baseball, Guzman has also played better defense at third than people thought he would coming in. He's still not flawless there, and has one error this spring to show, but he's definitely improving. I don't think there is any question that his bat is ready to be tested in the bigs, the only problem will be finding him a roster spot. With Dave Roberts' recent release (more at the bottom of the post), it does open up another potential bench spot, but Guzman is still a long shot to make the club out of spring. He's taken grounders at first and fly balls in the outfield as well, so he may see some action at some other positions before the the team breaks north, just so the Giants can get a feel of how versatile he can be. I still think he will open up as the Grizzlies starting third basemen, but he should be amongst the first call-ups in 2009, much like John Bowker was in '08 after his impressive spring.
The other young Giant fighting for a roster spot, rule V draftee Luis Perdomo, has also continued to excel this spring. What really helped his case was the recent demotion of Keiichi Yabu. Most likely, the Giants felt Yabu was expendable because Merkin Valdez is finally back and healthy (he threw 1 scoreless/hitless inning in relief of Tim Lincecum's flawless start on Friday), but Perdomo is definitely in the mix. Speaking of Merkin, Perdomo's spring so far this year has reminded a lot of how Valdez threw last spring before dominating in April and May then going down for the year with an arm injury. If Luis Perdomo doesn't make the squad out of the gate, I have a feeling that the Giants are going to do their best at trying to work a deal with the Indians in order to keep him Perdomo. There have been whispers of possibly going with a 11-man pitching rotation which would open up another bench spot for someone like Guzman or Bowker, but also make it would be pretty tough (espesially if Valdez stays healthy) for Perdomo to make the team. If Sergio Romo comes back strong in a week, that also would work against Perdomo's chances. If the Giants are planning on carrying only 6 relievers than that would leave about 2 possible spots as Brian Wilson, Bob Howry, Jeremy Affeldt, and Merkin Valdez are all essential locks if healthy leaving Perdomo, Alex Hinshaw, Jack Taschner, Sergio Romo, and Justin Miller battling for those last 2 spots.
As I mentioned in the post, the Giants made few roster moves over the last couple of days, releasing Dave Roberts, and demoting Keiichi Yabu to Triple-A. They released Dave Roberts, deciding to eat his 6.5 million dollar salary and let him play somewhere else for free. This is a bittersweet move because it does rid the roster of an aging vet that doesn't really have a role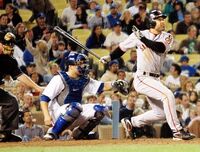 here and allowing a younger player to take the roster spot. At the same time, the front office just basically admitted they made a huge mistake by signing the left fielder in the first place. I don't know many fans that were happy about the Roberts signing, and while I fully expected him to become a bench guy before the end of his deal, I didn't think it would get to the point where the Giants would release him, but they do have Eugenio Velez and Bowker who both have some upside and both are actually better than Roberts at this point anyway. So no, this move didn't surpise me in the slightest, but I was really hoping they'd at least get a low level prospect in exchange for him. The same can be said for Yabu. There are a handful of younger, better pitchers who are itching to fill Yabu's role from a year ago, and the 40 year-old just isn't the better option here. I am glad Yabu will be staying in the organization though because he's a good veteran to have in case you need a quick call-up.
Trevor Cole The San Francisco Giants Blog