The big question coming into the spring was whether or not the Giants were going to have enough offense to match-up with their brilliant starting pitching. They certainly displayed enough in Wednesday's Cactus League opener against the Indians.
Travis Ishikawa headlined the day as he hit two impressive home runs and went 3-3 overall with 4 RBI. Ishikawa's first shot was a majestic home run that bounced on top of the roofing in right-field then out of the complex. His second jack was more of a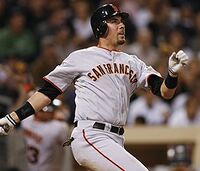 line drive shot and left the yard in about 3.5 seconds. Oh yeah, he all also added an RBI single in there as well. With the Giants recently passing on Joe Crede, it means that Ishikawa will get a real look at first base this spring and the 25 year-old looks ready. The Indian's broadcasting crew was mentioning just how sweet Ishikawa's swing looked and I absolutely concur. The kid looked really balanced today and swung at pitches in the strike zone. If he keeps that up, not only will he win the first base job outright, but he will probably end up being a solid hitting first basemen in addition to an above average defensive one. Ishikawa's cross-diamond mate also impressed in his debut at his new full-time position. Pablo Sandoval made a few very nice defensive plays while getting on base 2 out of 3 times and scoring a run. Yes, it's early in spring training, but the young Giants corner infield combo answered the bell on day one, and that's all you can really ask at this point.
The Giants' opening exhibition game was really all about the youngsters actually. In addition to Ishikawa and Pablo Sandoval's fine afternoon, Nate Schierholtz also hit an impressive home run, Emmanuel Burriss turned an ordinary single to left into a double with his blazing speed, and the two others battling for time at second base, Kevin Frandsen and Eugenio Velez both came up with clutch RBI singles late in the game that ultimately put it out of reach. Oh yeah, the pitching (until late in the game) was pretty good too. Tim Lincecum started the game and went one scoreless inning. Brandon Medders and Luis Perdomo also had scoreless outings as both of them try and overcome the odds against them to make the team.
A couple of guys who have a good shot at making the team didn't fair as well. Alex Hinshaw and Keiichi Yabu each had performances to forget about as Yabu allowed a 3-run home run in the 3rd and Hinshaw battled wildness (something he has to improve on this spring in order to cement his role on the big league team) and allowed a majestic home run himself. Some of the notable hitters who struggled were Juan Uribe (0-3), John Bowker (0-2, k), and Bengie Molina (0-3, 3 LOB). All the other notables who played contributed in some way offensively.
A few guys who didn't get into the game today were Rich Aurilia and Fred Lewis. Aurilia should play in Thursday's game, but it's not clear whether Lewis will be in the lineup or not. I'm a little
surprised that the Giants chose to roll with Uribe at DH over Rich Aurilia, but I guess that they are trying to figure out just exactly what Uribe's all about, as they already know plenty about Richie. Needles to say, Uribe looked like a cross between Neifi Perez and Jose Castillo in his debut as a Giant. He looks more like Castillo in the way he stands at the plate and his mechanics back there, but the ball comes off his bat like it used to come off of Perez's (which is by no means a compliment). I still don't know exactly what they expect from Uribe. I'd really rather have Rich Aurilia at short over Uribe on the days Edgar Renteria needs off. Whatever small advantage Uribe has over Aurilia defensively is absolutely negated by his woeful approach at the plate. I hate to rip a guy on the first day, of the exhibition season nonetheless, but still, he's a waste of at-bats that could be going to younger, brighter players who will actually help the Giants at some point.
Note: There was some negative news coming out of the Giants' clubhouse after the victory Wednesday. In yet another set-back for the Giants' left-hander, Noah Lowry reported stiffness in his throwing elbow and will take about a week off for tests and what not before he attempts to throw again. I mentioned it at the end of last season and unfortunately I have to bring it up again. It looks like Lowry may need to eventually try the Tommy John Surgery if he wants to try and get back on the mound. Hopefully it's just a strain or something, but even if it is, Lowry hasn't pitched since August '07 and I don't think he's anywhere close to being able to pitch 6-7 innings per start. Anything he contributes to the Giants in 2009 would be an unexpected bonus if you ask me.
Trevor Cole The San Francisco Giants Blog