After pestering The Legend from Kuwait for a while, I got him to answer some questions that may/may-not be in the minds of some ArmchairGM users.  So without further intro, let the Resident Interviews Series continue...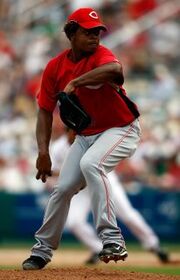 1. This past off season, the Texas Rangers traded Edinson Volquez and Daniel Herrera (both pitchers) for young slugger Josh Hamilton.  The Rangers have been known for their lack of pitching, yet trade away two of their hurlers for Hamilton.  Josh now has over ten more RBIs than any other player in the game.  Volquez is one of the best hurlers in the game with an ERA under two.  Good trade for Texas?
Many people may believe that this was a good trade for both teams. However, I say different, for one reason.  That reason being Texas' lack of pitching. The Rangers knew that they lacked pitching the last few years. What did they do? They gave up Edison Volquez, who currently leads in ERA (1.46), strikeouts (83), and currently has a 7-2 record pitching for a team who is in 5th place with a 28-30 record. That's not as bad as it looks, but take the 7 wins that Volquez earned out of their record. That's 1/4 of their wins right there. Without Volquez, the Reds surely wouldn't be this good. The Reds probably believe this is a blessing. As Aaron Harang got off to a slow start this season, Volquez was out there getting the wins. And I didn't even talk about Daniel Herrera, another pitcher with a lot of potential. He currently has a 10-3 record with a 2.41 ERA and a 1.06 WHIP. Two pitchers with a lot of potential are gone from Texas. Now their lack of pitching is hurting them the most, just like last season. They've already allowed 334 runs this season; which is 24 more runs than any other team in the Majors.
Who did the Rangers get in return? Josh Hamilton. On baseball-reference, sure, he's good. I'll give him credit for driving in all 65 of those runs so far. Heck, I'll give him credit for leading the American League in batting average (.331), slugging percentage (.623), home runs (16), hits (79), extra base hits (35), and times on base (100). However, they already had a "more than OK" offense before he got acquired. Without Hamilton, they have Michael Young, Ian Kinsler, David Murphy, and Milton Bradley who are all batting .296, .305, .280, and .317 respectively. Arlington is a hitter's park. Getting a good hitter and trading away two pitchers with a lot of potential was just wrong. The Rangers' management should have set their priorities better.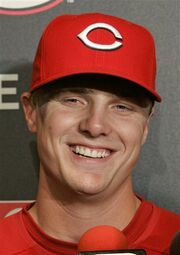 2. Let's move onto the hottest player in the Majors.  Jay Bruce has been on fire since his first Major League at bat.  He obviously won't hit over .500 for much longer, but is he really this good with the stick?
Although I am not a sports fan who judges a player based on how well he does in the Minors or how well he does in a couple of weeks, Jay Bruce has definitely caught my attention. From what I have personally heard, read, and watched, I have come to realize that this guy is the real deal. In my opinion, I think he has the potential of being the next Albert Pujols (although he won't hit that many home runs). He's only 21 years old, and he has shown teams, managers, players, and fans that he will (most likely) be a very good candidate for Rookie of the Year this year. He and Edinson Volquez are really showing everyone that the Reds are going to look (at least) somewhat good for the next decade or so.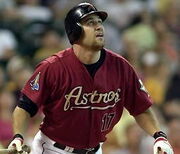 3. Chipper Jones has been simply amazing to this point.  Do you believe he will have his season average over the .400 mark after the last day of the season?
I do NOT see Chipper Jones' average being over the .400 mark when the season ends. I don't even see him coming close to .400 by the end of the season. You know how hard one has to work to maintain a .400 average? In only four games, Jones' batting average dropped from .420 to .407. Just look at the guys who have batted .400: Ty Cobb, Ted Williams, Rogers Hornsby, George Sisler, Ed Delahanty... all these guys are well-known for their batting averages and how well they hit the ball. Chipper has never had a batting average of above .337 during a single season and his career batting average is .310. Look at Cobb's (.366) or Rogers Hornsby's (.359) in comparison.
Players have hot streaks, and no matter how long they are, you eventually cool down. I bet you that a month from now, people who thought Chipper Jones was going to hit for a .400 average when the season was over are going to say, "What were we thinking?".
Speaking of hitting .400, what about Lance Berkman? He's currently flirting with the mark, batting .385. Everything is about Chipper Jones because he's already batting over .400 with 1/3 of the baseball season over. It's like the Yankees battling between 4th and last place: many people would like to see it happen, but because many people care about what happens now, they've got they already think that it's going to stay that way for the rest of the season. Sometimes, we just have to think rationally.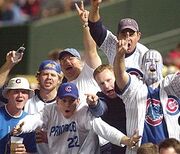 4. The Chicago Cubs 100th anniversary season is going well.  One hundred years without a World Series title for one of the most historic baseball franchises in history.  Is this the year they break the curse?
Of course, I could see it happen. Chicago is an extremely talented team. Why else would they have the best record in baseball (which is the first time they've had the best record this far through the season since 1908)?
They should be on the "America's Got Talent" show because there's so darn much of it in their roster; Derrek Lee, Geovany Soto, Alfonso Soriano, Ryan Theriot, Aramis Ramirez, Kosuke Fukudome, as well as Carlos Zambrano, Ryan Dempster, Carlos Marmol, Kerry Wood... where does it end? Well, probably there.
However, although they've shown that they have really done well within these last couple of months, there's still a lot of baseball left. Just ask what happened to the Milwaukee Brewers last year.
It would be ironic if the Cubs won the World Series this year. Can it happen? Yes. Will it happen? Probably. Maybe. There are a lot of talented ball clubs out there right now that just about anything can happen. For all I know, it could be the Rays and the Phillies in the World Series. But you forget quickly; I'm not one who judges based on what happens in a few months. ;)
Just remember, anything can happen...
Thanks much to Romiezzo for taking his time to talk about some of the current story lines in Major League Baseball.  The least you all could do in response is give some feedback and tell Romi how right/wrong you think he is on these topics.  Let the debating begin...