It's that time of the year, the Stanley Cup Finals are finally here. As any sports fan should know by now the Detroit Red Wings and Pittsburgh Penguins are the two historic franchises that will battle it out to bring home the most recognizable sports trophy in the world. To get a better perspective on the up-coming series let's bring in our Resident Hockey Expert to do a little compare-contrast on each side of the red-line...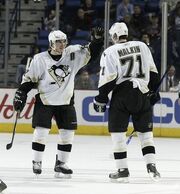 1. In your last interview you claimed that the only duo of players that could compare to the greatness of Evgeni Malkin and Sidney Crosby is the combination of Pavel Datsyuk and Henrik Zetterberg. Is it just a coincidence that these two combinations will meet in the finals or does it just show the need to have two dominant game-changers on the roster?
I don't think it is any coincidence that the two teams who have that potent one-two punch are meeting in the 2008 Stanley Cup Finals. In just about any sport, you need not one, but two game-changing or game-breaking players to ultimately win a championship. We've seen it time and time again with teams that have maybe one superstar player and he alone cannot be expected to carry a team through four rounds of playoff hockey and expect to come out on top. If you are going to increase your chances of winning a championship, you need to provide at least two players (besides having a superior goaltender) in which you leave the opposition no choice but to pick their poison and hope the one who is less focused on doesn't thrive with less defensive coverage on him.
For example, in Pittsburgh, Sidney Crosby is the playmaker and can make the big play by finding his teammates for prime scoring chances. If he can't, he's that good of a hockey player where he'll create his own play and finish with a goal himself. Especially on power plays, you may find him setting up THE finisher in Evgeni Malkin for a number of shots and most times has been successful. But in Detroit, you have Henrik Zetterberg who can do a lot of the same things that Crosby can do. He can create plays with superior passing ability as their top center on the #1 line and do it at full speed even with plenty of traffic around him. Zetterberg is very difficult to stop because like Crosby, he can find open teammates when he doesn't have an open shooting lane.
In a similar scenario as it is with Crosby and Malkin together on power plays, you're more likely to find Zetterberg looking for Pavel Datsyuk for open shots as well. At even strength and when the team is healthy, Zetterberg and Datsyuk are on separate lines to spread out the potency of their scoring lines. Penguins head coach Michel Therrien has had Crosby and Malkin each centering the top two lines, so the two teams have shown to have very similar strategies when it comes to where their top forwards are placed in the lineup.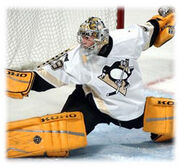 2. Chris Osgood and Marc-Andre Fleury have both been playing out-of-this-world hockey this post-season. It just goes to show that a hot goalie can carry a team through anything. During this post-season, which goalie has done more to get their team to this point?
I have seen it time and time again that you cannot win a Stanley Cup championship unless your starting goaltender is on top of his game every single minute of playoff action. Anything less than that, you'll be playing golf a lot sooner than later. I remember how well Mike Richter played for the New York Rangers during their successful 1994 playoff run. He needed to come up with so many clutch saves along the way. Here in 2008, whichever of these two goaltenders is able to sustain the kind of play that got them to this point will win the series.
In my mind, I think that Marc-Andre Fleury has done more to prove that he's worthy to be in the Stanley Cup Finals this season. This is a kid that had to quiet the skeptics who had doubted him after last year's first round exit where he simply didn't perform up to expectations in the Penguins' series loss to Ottawa. He avenged that a year later with a sweep of the Senators. Despite at times not being challenged enough, he was able to outlast the Rangers in the next round. But he was nearly dominant in Pittsburgh's Eastern Conference Finals victory over the Philadelphia Flyers as he was against Ottawa. Not to take anything away from what Chris Osgood has done where he took over for Dominik Hasek during the opening round series against Nashville, but Fleury has proven his worth so far, where we already know what Osgood can do and has accomplished. That's where he already knows how to win and he's got two Cup rings to prove it.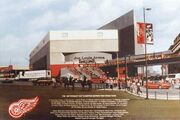 3. Detroit has home-ice advantage during the series. Game One will be played at Joe Louis Arena in Motown. Who takes the early series advantage? How would that team go about doing this?
I strongly believe that the Red Wings will take advantage of having the first two games of this series on home ice. They know how well the Penguins have played in their building having won 16 straight home games at Mellon Arena dating back to three months ago and that was during the regular season. Detroit has only lost once at Joe Louis Arena during this postseason. If they play the kind of game which saw them close the door against the Dallas Stars in their most recent contest, they will take Game 1. Osgood was very sharp in their series clincher while Datsyuk and Zetterberg were key factors in that victory.
The last nine champions have had home ice advantage in the Stanley Cup Finals and all nine won their series, so we know that especially this time around, the Red Wings will have to bring their A game and hold serve in their building if they are to go on to win their 11th Stanley Cup title. The Penguins as they are right now haven't had the opportunity to play a game at Detroit this season, so we'll see how they handle the pressure of playing in an unfamiliar environment in THIS situation at THIS time of year.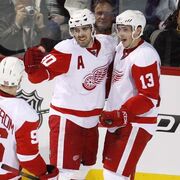 4. At first glance, the Red Wings and Penguins match up well with each other. What are the keys to winning this series for each of these teams? What are some things to watch for during the series?
These are two very well matched up teams and very similar in their makeup. As we have already discussed, both have that highly-skilled, very dangerous one-two punch. But I think there are six things to watch in this series.
First, who is able to thrive most with their special teams play. Will it be power play scoring or top notch penalty killing that wins out in this series? The Penguins have been almost deadly at home as they scored 11 power play goals as a team in 41 chances, good for 26.8% efficiency. When the series shifts to Pittsburgh for Games 3 and 4, if the Red Wings are able to shut down the Penguins at Mellon Arena, they will dramatically increase their chances to come out on top. Both teams have killed off penalties 87.3% of the time, so this is basically a wash. It's a matter of which team is able to capitalize on the power play the most regardless of where the game is played.
Second, look to see if Tomas Holmstrom is able to continue to camp out in the low slot, screen Fleury and attempt to deflect or redirect shots into the Pittsburgh net. He is so well known for doing this. If Penguins blueliners such as Hal Gill, Brooks Orpik or Ryan Whitney prevent Holmstrom from setting up shop in that area on the ice, they will neutralize much of his game.
Third, how effective the Penguins centers are will go a long way in determining their chances of victory. They are deeper down the middle than the Red Wings as they have Crosby, Malkin and Jordan Staal for the top three lines and with Maxime Talbot having just recently returned from injury to center the checking line. Detroit will have their hands full having to keep all four of them in check.
Fourth, will size or skill win out on the blueline? Nicklas Lidstrom and Brian Rafalski each have won Stanley Cup championships and know they have to prevent Crosby and Malkin first and foremost from getting open scoring chances at the net. Chris Chelios may be a real elder statesman, but he also has the Cup rings and still is a bruising defenseman at age 46. But how well he holds up will be a factor because both Lidstrom and Rafalski cannot be overburdened. Niklas Kronwall is another blueliner that must step up in this series.
Fifth, Johan Franzen is expected to return early in this series, likely for either Game 2 or 3, but as early as Game 1. His return can be really huge for Detroit as he has been absolutely brilliant during this postseason with 12 goals in just 11 games. How well Marian Hossa and Petr Sykora can counter for Pittsburgh will determine just how much confidence Therrien will have in their ability to produce without relying too much on Crosby and Malkin.
And lastly, it will obviously come down to the goaltending. Will Fleury continue to play at a high level and shut down the Red Wings? Detroit is known for being a superior puck possession team and he may have to stand on his head almost literally if Pittsburgh is to win. If people think he wasn't tested enough in the first three rounds, he will be by Detroit. Chris Osgood will need to use his experience to his advantage and also be ready to face the highly-skilled Penguins understanding there will not be any point in which he can let his guard down. Which goalie is able to keep himself playing the positionally the best, he will propel his team to victory. I say this because each team can force you out of your comfort zone.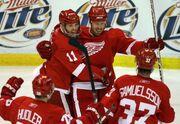 5. Now for the inevitable question that needs to be answered. Who wins the series and how many games does it take for that team to hold the Stanley Cup high over their heads?
This may be among the best Finals match-ups we've seen in recent memory with pure skills. There is no doubt in my mind that this is a perfect showcase of two teams under the new NHL rules implemented following the lockout.
The Red Wings showed in their last game they know how to bounce back from a loss at home. The Penguins haven't faced that scenario yet and we really haven't seen how well they can face adversity. How you handle adversity in a playoff series makes or breaks you. We'll find out if Detroit wins Game 1 and especially also Game 2. Then Pittsburgh will be forced to win at home and the pressure will be enormous to keep that home winning streak alive because they'd have no choice. There is only one way I can see the Penguins winning their first title in 16 years and that's if they win earn at the very worst a split of the first two games on the road.
The question is, will the Red Wings' experience or the Penguins' youth and relentless determination win out? I believe it will end up being Detroit that wins the 2008 Stanley Cup championship because they have the experience as well as enough youth to get the job done in this series. With that, they will win this series in six games with a statement game in Pittsburgh. I apologize to Penguins fans that don't want to hear that, but I know if there is one team that can win on the road with the season on the line, it is the Detroit Red Wings.
There you have it, Detroit in six games will be taking home the Stanley Cup. No matter what, these two teams will be laying it all out on the line. As fans, we expect nothing less than high powered, fast, and exhilarating hockey played at its best. I want to that Sir Paul for taking a great deal of his time to answer these questions about the upcoming Stanley Cup Finals.