Hockey may not be the biggest subject of sports here on ArmchairGM, but why should that stop fans from enjoying an interview from the Resident Hockey Expert?  With the Detroit and Dallas series all but finalized we turn our attention to the Series of Pennsylvania, Sid the kid Crosby and Evgeni Malkin's early career success, and the injuries at the Flyers' blue line...
1. Evgeni Malkin and Sidney Crosby are amongst the top three leaders in points this postseason.  This young duo has simply amazed anybody that has seen them play.  Clearly they are good players, but what are the qualities that bring these two to an elite status?  Is there another one-two punch in the league that comes close to these guys?
What makes Sidney Crosby and Evgeni Malkin elite players in the National Hockey League today is their ability to not just dominate the game, but be game changers or game breakers. The status of these kinds of impact players is the rarest you can find in hockey.
First, the very best in the world as game changers make the opposing team's coaching staff change their game plan in order to neutralize their impact. But take note that this is even the case when an opposing coach already had a winning formula, but has to adjust to you and what you as an elite player is capable of damaging or destroying the opponent's hopes of winning. No matter what the opposing coach throws at you to slow you down, you still cannot be stopped completely. That alone still spells trouble for them.
As game breakers, Crosby and Malkin each can be quiet through most of a game, but when it comes to crunch time, they will frustrate the opponent by a surprise attack just when you think you have them solved and you get burned. Each can make the clutch play at any point in a hockey game and it doesn't matter when that would be. Elite players can end your chances of winning by executing a single game-deciding play regardless of what you think you can do to stop them. You can only hope to contain them. Whether it is Crosby finding an open teammate for a goal in the opening minutes of a pivotal playoff game or either him or Malkin scoring a game-winning goal in the final few minutes of regulation, they are the kind of players that are near impossible to stop. And that is what helps make Pittsburgh a legitimate contender at this stage to win their first Stanley Cup title since 1992.
Crosby won the Art Ross Trophy as the NHL's top point producer for the 2006-2007 season. Without Crosby for 29 games, Malkin blossomed into the role of the Penguins' top scoring threat and really proved he can still play his best and carry the weight of Pittsburgh on his back. How many players can do that? So few, we likely could not count them on more than one hand. Had Malkin not done so during that stretch of the regular season, there is no telling where the Penguins would be right now. And with that, he's a Hart Trophy candidate to be the league MVP.
And it's no surprise to me that Crosby and Malkin are drawing comparisons to what Mario Lemieux and Jaromir Jagr accomplished in Pittsburgh during the 1990s. The one clear difference is that Lemieux and Jagr together won the Penguins' last championship. Crosby and Malkin are capable of duplicating that success. What makes these two extraordinarily special is how far they've come at such a young age (Malkin at age 21 and Crosby at 20) and how so many years are ahead of them and what they can do if they play their cards right.
Is there any duo on a single team that can come close or match Crosby and Malkin? While there are a number of high impact elite players in hockey such as Alexander Ovechkin, it's no coincidence without me needing to give a second thought I believe there is just one other one-two combination on the same team capable of doing what Crosby and Malkin are doing for Pittsburgh. This would be Pavel Datsyuk and Henrik Zetterberg in Detroit. Where are the Red Wings right now? In the same position the Penguins are in at this very moment, in control of their respective conference championship series.
Datsyuk and Zetterberg certainly don't get the same amount of attention that Crosby and Malkin receive. But it is entirely possible that when this season is over, the Red Wings led by these two players hoist the Stanley Cup over their heads within the next few weeks or so. Datsyuk already did in 2002 and Zetterberg arrived the following season. Both know what it takes to win. They combined for 189 points this season (Datsyuk with 97 and Zetterberg with 92) and have always been a double threat to any opponent they face. If Datsyuk has a quiet night, usually Zetterberg makes his presence felt in a big way and vice versa. Should Pittsburgh and Detroit meet in the Stanley Cup Finals, you'll be in for this year's greatest show on ice and the matchup between these two teams would be incredible to watch.
2. The Flyers have now lost their top two defense-men in Kimmo Timonen and Braydon Coburn.  It obviously hurts the team, can you put in perspective how much it will actually hinder the team's play?  Can Philadelphia survive without these two team leaders?
Not having Kimmo Timonen and Braydon Coburn on Philadelphia's blueline will have a significant impact on their chances in this series. You need a healthy defensemen corps to survive four rounds of grueling playoff hockey. Both had been steady contributors in the Flyers' renaissance season. Now, you're asking an aging Derian Hatcher to play even more important minutes. You're asking Jason Smith and Jaroslav Modry to take even more of a beating physically as the series continues and they inherit a higher workload. Randy Jones is going to have to play beyond his limited playoff experience and show he can be more than capable of effectively making up for the loss of Timonen and Coburn's key ice time. Lasse Kukkonen is going to have to step up as well.
Can the Flyers overcome the loss of Timonen and Coburn on defense remains to be seen, but how they handle this adverse situation will obviously be key here. Once your blueline has taken a hit and you're facing a potent offensive team like what the Penguins can throw at you, you're really playing with fire as far as your ability compete on the same playing field (or in this case, ice surface).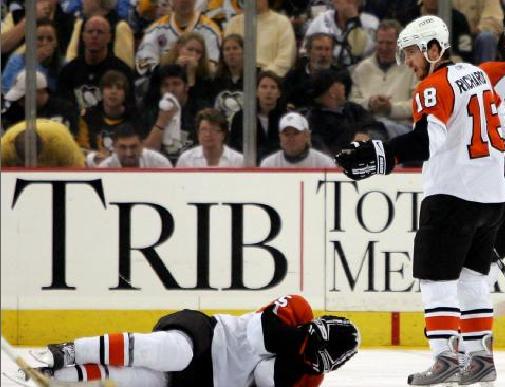 3.  The Penguins have done what they were supposed to do by winning their two home games.  Do the Flyers have any hope upon their return home or are the Penguins just too good?
No doubt that the Flyers have an uphill battle to overcome. They are capable of defeating Pittsburgh in either or both of the next two games with a couple of things to keep in mind as to why. If Game 1 and Game 2 were losses at home as opposed to on the road, Philadelphia would be as good as finished. This is knowing how tough Pittsburgh has been at home for nearly the past month. The Penguins have had their problems winning in Philadelphia over the years, especially in the playoffs, so history is on the Flyers' side there. Plus, with the Wachovia Center crowd supporting them instead of the Penguins, they can help be that sixth man at any given time of the game and spark the Flyers.
The key factors for the Flyers to climb right back into this Eastern Conference Finals series would be:
Counterattack with a physical game and severely limit any scoring opportunities Crosby and Malkin could generate.
Martin Biron needs to play between the pipes just like he did in the previous series against Montreal. Don't allow rebounds to a team such as Pittsburgh who will crash the net at every given opportunity.
Somebody other than Mike Richards needs to score.

Jeff Carter

and Mike Knuble need to find the net. R.J. Umberger was on fire in the first two playoff rounds, but we've hardly heard his name mentioned in the first two games of this series. Daniel Briere also has to have an impact.
Philadelphia must make Marc-Andre Fleury stand on his head if Pittsburgh expects to win Game 3 and/or Game 4. At points during the Rangers series, he was not challenged enough. Fleury had a year to experience playoff adversity and has silenced his critics this time around.

Carey Price

did not have that luxury and look where he is now, playing golf.
That said, the Penguins have the upper hand in this series. Besides the momentum they already have, they can take advantage of Timonen and Coburn's absence by wearing out the Flyers' remaining blueliners. They can do so by generating a few more important scoring chances and putting a few extra pucks behind Biron that may ultimate determine the series. And don't forget, Philadelphia also has to deal with Pittsburgh's deeper lineup and must keep Marian Hossa, Petr Sykora, and Jordan Staal off the scoreboard, too.
How Philadelphia handles the first 10 minutes of Game 3 could decide the fate of their season. Scoring the first goal will be utmost important on their chances of extending the series and their playoff run. That's how much pressure they are under right now.
Much thanks to my man Paul for taking the time to answer some questions on this ongoing NHL playoffs.  Even with his team out of the playoffs he still has the fever to watch some great hockey, and why shouldn't he be excited to watch this exhilarating sport at its best?