Back by popular vote, this week's Resident Interview knocks on the door of Tmil42...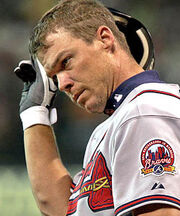 1. Chipper Jones resurgence has been huge so far this season. He seems to be getting on base every time he is up at the plate. Has Chipper turned back time or is this just Chipper finally being mostly healthy? At the end of this season, what will people say about the year Jones would have?
It's a little ironic that I get this question the day after Larry - I refuse to call him Chipper - Jones gets hurt again. It's apparently not very serious - he played Monday night - but it's another example that he's just not as durable as he used to be. I mean, he's no Moises Alou, but he hasn't played more than 140 games since 2003. When healthy, though, he is still the best offensive third baseman this side of A-Rod. He's been among the elite third basemen for the past 13 years, and I don't see that changing this year or the next, even though he'll turn 36 on April 24th.
My guess is that he will cool down at some point (I mean, he's not going to hit .458/.494/.764 all year), play about 140 games, hit 28 or so home runs, and finish top-5 in the MVP voting. At the end of the year, people will say what they've said for the past 4 seasons (I call it the Ken Griffey Jr. Dictum): "Imagine if he hadn't gotten hurt."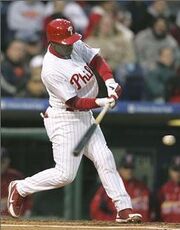 2. The Philadelphia Phillies are severely missing Jimmy Rollins, both in the offense and defense aspects of the game. What is Jimmy's out look for the rest of the season? What do the Phillies need to do to make it through the next few weeks, and will they be successful in doing so?
I'm going to reword the question a little bit: the Phillies aren't going to miss Jimmy Rollins' defense as much (Bruntlett is a defensive whiz, despite the hiccups he had in his first couple starts) as they will his offense and his leadership on the field (if you buy this sort of thing, which I do). Chase Utley is single-handedly keeping the Phillies afloat right now.
What Rollins needs to do is focus on getting completely healthy. So much of his game is predicated on speed that if he's got a lingering injury, he won't be effective. If Rollins tries to rush back, odds are pretty good that he'll aggravate that injury and won't be able to be the guy he was in 2007 (I'm on the record as saying that David Wright should have won the 2007 MVP, but I can live with Rollins taking home that award). If Rollins misses more than a few weeks, I believe that the Phillies are pretty much screwed.
The Phillies desperately need Ryan Howard to get going at the plate (.186/.318/.386, 27 K in 70 AB). I'm not that worried about the strikeouts - although they are a little extreme - as Howard's a guy who strikes out a ton anyway. He had a slow April in 2007 also; with a stat line of .221/.396/.390, with only 3 HR. Howard will come around, but with Rollins on the DL, [Howard] can't afford to wait much longer. Utley isn't going to hit a home run in every game, although it certainly seems like it at this point. If Philadelphia falls more than a few games behind the Mets this year, I'm not sure they have the horses (or baseball players, for that matter) to erase a seven or eight game deficit. I honestly don't think it'll get to that point, as I expect a close race between the Phillies and Mets (sorry Braves, no bullpen means no chance in this division) throughout the season.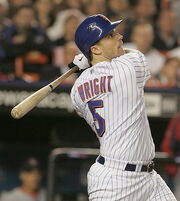 3. You claim David Wright and Chase Utley will go down to the wire in this season's NL MVP voting. Make your case why you believe this and why you claim Wright will ultimately take home the title.
I don't think anyone who watches baseball would question that Utley and Wright both belong in the MVP discussion. Utley would have won the award last year if he hadn't missed a month with a broken hand. He's hands-down the best second baseman in the major leagues. If he stays healthy (which shouldn't be a problem; as last year was the first of his career that he missed significant time due to injury). I think he's going to have a great season (think .315/.420/.530, with 30 HR, and yes, I made most of those numbers up), and the voters seem determined to give MVPs to the entire Phillies infield. Look for Pedro Feliz to win it in 2009.
The case for David Wright? He's an above-average defensive third baseman, very durable (160, 154, and 160 games played in each of the last three seasons), outstanding offensively (the 3rd Met to have a 30-30 season, after Howard Johnson and Darryl Strawberry). I believe he should have won the 2007 NL MVP (I think I've mentioned that), and right now, I think he's the best player in the National League, and the 2nd-best third baseman in baseball. My favorite part (other than his dreamy eyes, of course)? He's only 25, which means that he's still a year or two away from his prime. I may or may not have a man-crush on him.
You want to know what will make the difference? I think the Mets are going to win the NL East, as I'm not sure the Phillies have the pitching to overtake them. We all know that, either fairly or unfairly (I say unfairly), postseason awards are based largely on whether or not a player's team makes the playoffs. The NL West is so loaded that I think either the Padres or Rockies will grab the Wild Card, and that leaves Philly home for the winter. Oh, and just to get it out of the way, AS LONG AS THE METS DON'T CHOKE AGAIN! HAHAHAHAHAHAHA!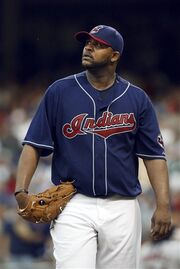 4. CC Sabathia has been getting rocked this season. Twenty seven earned runs in eighteen innings so far this season. Can he turn around his early misfortunes? What can be expected from his next time out?
Sabathia has been awful this year, and his struggles have been well-documented. One aspect of this that hasn't been discussed (well, maybe it has, I don't know, but I haven't seen it anywhere) is his impending free agency. In April of 2007, Carlos Zambrano was also entering the last year of his contract, and he struggled mightily. In his first 4 starts, Zambrano was 1-2 with a 7.77 ERA, 19 ER in 22 IP, and was, by all accounts, awful. He has since said that the contract situation was distracting. I imagine something like that is happening with Sabathia in this case. It could also be his jump in innings, from 192 in 2006 to 256 last year. I think it is a combination of the two.
That being said, I think at some point soon he will right himself. That could happen on Tuesday night, when he faces the Royals. The Royals are last in the American League in runs scored and the second worst team in home runs (they've only hit nine the entire season; whereas Chase Utley has eight by himself). I predict at least a quality start, and possibly a dominating one out of the hefty lefty. That is crucial because after this start he is scheduled to pitch on Sunday against the potent New York Yankees lineup.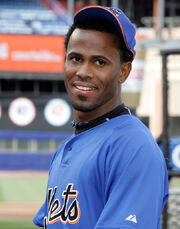 5. In the National League East, there are four talented shortstops (when they are all healthy); Jose Reyes, Jimmy Rollins, Hanley Ramirez, and Yunel Escobar. If all four were healthy at the moment, who is the best at this position? Which of the four will end up having the best career?
First off, Christian Guzman is offended that you didn't include him. I, however, am not. I am going to remove Escobar from the discussion. Though no offense to Yunel, he is a fine young player, but he's just not in the same league talent-wise as the other three. Choosing among these three is exceptionally difficult. If you're talking about this from purely offensive standpoint, it's got to be Hanley Ramirez. He's an absolute beast at the plate (.332/.386/.562, 29 HR, 83 XBH in 2007), and he is only 24 years old, which just isn't fair. If you are talking about defense, Hanley is going to have to sit this one out. Jose Reyes and Jimmy Rollins are similar defensively, but I have to give the edge to the New York shortstop I'm not great with defensive metrics, but Rollins has a higher range factor and Reyes has a better zone rating. So basically, it is a wash. And having watched Reyes last year, and I'm just more familiar with him. He is a dazzling defensive shortstop. Oh, and if anybody tries to use a Gold Glove award or fielding percentage to dissuade me, they're immediately disqualified. But overall? Right now, Ramirez is a butcher defensively and Reyes has yet to put a full season together. So you've pretty much got to put the reigning MVP at the top of the list.
As for the best career? I honestly think that at some point, Ramirez will be moved to the outfield (I think he would be an outstanding center fielder). Rollins is 29 this year, and Reyes is only 24. Sure, Rollins has had a great career at this point, but Reyes won't even enter his prime for another two or three years. I think when all is said and done, Reyes will have a better career, although Rollins career is going to be stellar. I could go on for days about the NL East shortstops - and maybe someday I will - but for right now I'm going to shut up.

Thanks a ton to Falcon for giving me a chance to answer some questions, and a special thank you to anyone who actually takes me seriously (and please, seek some professional help).
A special thank you to Tmil42. ArmchairGM's Best Commenter shows that he has much more insight than just the humorous comments we have come to know and love...