The New York Yankees came up short against the Texas Rangers, 4-2. Despite losing against the Rangers, the Yankees took two out of three.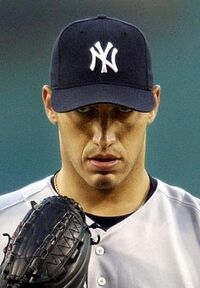 Yankees pitcher Andy Pettitte, wasn't satisfied with his performance. He pitched five innings with six strike outs and four earned runs. Pettitte had four walks. "I was just not good," Pettitte said. "That's all there is to it."
Pettitte suffered his second defeat on the season. He's currently 5-2 with a 4.33 ERA.
"I was behind, I couldn't get ahead of anybody," Pettitte said. "It was embarrassing, actually. We're playing too good for me to go out there and scuffle like that."
Third baseman Alex Rodriguez finished with one RBI, one hit, and with four at bats. First baseman Nick Swisher and catcher Jorge Posada, had one run with two hits each.
Yankees manager Joe Girardi, feels his team didn't produce enough at the plate. "We weren't swinging the bats particularly well, but Feldman was good," Girardi said.
Rangers pitcher Scott Feldman pitched six innings with five strike outs and two earned runs. Feldman received his fifth victory on the season and hasn't suffered a defeat this season.
"Scott Feldman has been great since we put him in the starting rotation," Texas manager Ron Washington said. "He always does what you need him to do, keep you in the ballgame. He did that tonight very well."
Ian Kinsler, the Rangers' second baseman, had one run with two hits. Outfielders Andruw Jones and Nelson Cruz, had one run with one hit each.
Quotes from Yahoo Sports