Pean: Last Sunday, The New York Giants won their first playoff football game since their rout of the Minnesota Vikings in the NFC Championship Game in 2001. There has been a tremendous amount of disappointment over the past seven years since that win. Giants fans have witnessed a monumental playoff choke against the San Francisco 49ers in 2003, a 4-12 season, and lots (and lots) of locker room bickering. Last season was a typical microcosm of this time period. The players seemed to hate each other. The coach was destined for a firing after the season. Hell -- even some fans wanted them to not make the playoffs, just so they wouldn't have to be forced to watch another Giants football game. Thanks to an easy schedule and some tough play on the road, the Giants were able to return to the playoffs. As the Giants head into this Sunday's NFC divisional game against the favored Dallas Cowboys, they seem to have a little step to their game. I ask you this DNL -- What the fack is so different than last year?
DNL: Oh man... first, I think the O-line is half as sucky. Same with the secondary. But really, I don't think anything is appreciably different other than the fact that the NFC sucks even worse, and the Giants did something the Giants never do: they stopped playing down to their opponents level. Who did they lose to? Dallas x2, Minnesota, Green Bay, Washington, and the Patriots. The Vikings were one of the best non-playoff teams; the other five losses were versus teams still playing after the regular season. But who did they beat? A bad Washington Redskins team in week 3. A horrid Philadelphia Eagles team, twice. Jets, Dolphins, Falcons, Lions, Bears... six really bad teams, even if the Lions fooled us for a while. The Giants only really solid win was at Buffalo week 16. Giants teams of days gone by would have lost two or more of those cream puff games but stolen a game from the Packers or someone, while being manhandled by the Bills -- that is, gone 8-8, tops. This team finds ways to win, Eli notwithstanding. So, my question for you: Was Eli's game at Tampa Bay for real?
Pean: I'll try to answer this as rational and unbiased as possible, but I won't make any promises. Everyone I have talked to about football knows how I feel about the Giants QB1. After all, I have a goldfish named Eli. I got him the day before Week 1 and he is still kicking. Two fish have lived with him in the bowl, but they both "died". So we just left him alone after that. Anyway, it is well publicized that Eli has been terribly inconsistent his whole career. However, in the back of my mind, I know have seen some pretty amazing things from Eli in the 4th quarter. I remember going crazy during his dramatic comebacks against the Broncos in '05, and the Eagles in '06. Yet everyone always talks about Eli like he is Dave freaking Brown. So this is obviously Eli's biggest game of his career (it seems like we have heard this about every other game he plays in). He always seems to play well against the 'Boys. The pieces are in place. His boy Toomer is healthy, Plax is a little healthier (but more importantly a changed teammate). I think he can do it. I gotta ask though: If Davis21wylie's Tecmo simulation is correct and the Giants get blown out -- would you consider this season a success?
DNL: Yes -- if the Giants build on the gains properly, and if Eli plays well on Sunday. We need a cornerback, and with a deep 2008 NFL Draft class at the position, there's plenty of talent. Malcolm Jenkins, DeJuan Tribble, or Aqib Talib would be awesome. We do not need a running back. The Giants can plug seemingly anyone not named Reuben Droughns in to complement Brandon Jacobs (who seems to be Mr. Injury anyway), so why bother going out and signing someone? And most of all, someone has to tell Eli that the Tampa Bay game was the best of his career. If Eli goes 28-25 passing for 250 yards, two TDs, and no INTs, but the Giants lose because Marion Barber III and Tony Romo/TO run over the D, while the running game can't get off the ground, that's fine.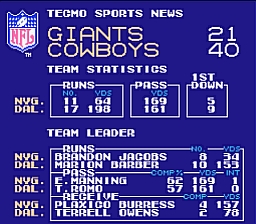 That's the screen cap from Davis' sim. Eli tossed 3 TDs (1 INT) with a 62% completion rate. The yards are low because hey, it's Tecmo. Sometimes, you just hit a better team.
On the other hand, Davis simmed the Giants game versus a TO-less Cowboys: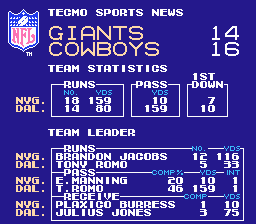 If that happens, and the Giants don't make changes, then this season is a failure, because the gains will have evaporated.
Okay, same question for you: Blowout at Dallas =?
Pean: I would obviously be disappointed with the outcome, but would hard be pressed to say that the season as a whole was unsuccessful. Wins and losses aside, this team has done a complete 180. The Giants players are becoming likable again! I think it goes a long way. If they can plug a few holes and get everyone they lost this year healthy again, I would be very excited about next year. However, here's a reason why you can label the season as a disappointment. No matter what happens on Sunday, the Giants exceeded expectations, and played well enough for Tom Coughlin to keep his job another year.
Let's flip the sides for a moment though. It's in my DNA to hate the Cowboys, and whoever happens to be their QB. However, I obviously know that Tony Romo had an excellent season with 36 TD passes and 13 wins. Lets say he throws up a dud on Sunday. After last season's botched snap, will everyone start talking about how Romo can't win the big game?
DNL: No doubt, and I think it'll be catastrophic for the Cowboys. It'd have to be his fault, and TO would have to play, but imagine if, up 21-17 with five to go, he's leading a charge downfield. Second and eight on the Giants 41, he drops back, and, not seeing a wide open Patrick Crayton, instead dumps it to Julius Jones in the flat. But, uh oh, up steps some Giant DB or LB and takes it 59 yards the other way for six. Then he goes three and out while the Giants grind the clock for the win. Blame city. And the biggest fingerpointer would be TO, and Dallas would implode just like the Eagles have since.
Oh, and likable? I've always liked Tiki Barber, but you don't. With his jabberjawing all year, and with the Giants' succees, if you could write him a haiku, what would it say?
Pean: I was more referring to the current players. Plax comes to mind, because he always seemed to give up on plays, and complain to no end. He seems like a changed person this year. I have alot more respect for him now, because he played the entire season hurt and still put up great numbers.
I used to be a huge Tiki fan. However, I just got sick of his BS the last two years. I still think he was an amazing player though. Here would be my Haiku.
Giants in Second Round
Tiki in the Studio
Eli gets last laugh
Speaking of Tiki Barber, the Giants have their first "Thunder and Lightning" without #21.
2001: Tiki Barber and Ron Dayne
2005: Tiki Barber and Brandon Jacobs
2007: Amhad Bradshaw and Brandon Jacobs
What is your favorite "Thunder and Lightning"?
DNL: Isn't even close -- I go old school. I'm a big Ron Dayne fan, really. He's going to be the feature back next year in Houston, mark my words, and we're going to feel foolish. I really think that the Giants coaching staff had some sick fascination with getting him to run straight forward and move a pile. That's not his style. When he was at Wisconsin, he was behind a great -- great -- O-line. They'd give him a hole and he'd rumble over a linebacker and through a safety or two. It was beautiful. What the Giants should have done, and what the Texans are doing, is running blocking schemes that let him get to the line of scrimmage untouched, only to be taken down by a linebacker with help.
Tiki -- he just needs to shut his trap. But on the field, wow.
Okay, prediction time. I have Cowboys 24, Giants 21, but favorable to Eli. The Cowboys are up 21-7 late in the third, and Eli storms back to get them within a touchdown. Nick Folk adds a trey to make it 24-14, and with under two minutes left, Eli hooks up with Amani Toomer. The Giants don't recover the onsides and both of us are devistated. What say you?
Pean: I'm getting very worried. EVERY sports website seems to be picking the Giants. It's kinda strange. You know all that stuff I said about the team coming together, playing hard blah blah blah? I think its just the Giants getting our hopes as usual, just so they can crush them down. I think the Giants and Eli will play very well. You know what hasn't bitten them season yet? Lawrence Tynes. He has played well all year, but he missed TWO extra points. My prediction: 31-30 Cowboys. Tynes misses a game winning 42 yard field goal -- IF they can get the snap off. Can you blame me for thinking that way? After all, thats what the last 7 years has done to me.
Enjoy the Playoff weekend everyone!
Community content is available under
CC-BY-SA
unless otherwise noted.