Saturday marked the deadline for teams to offer players eligible for arbitration a contract for 2010, and a couple big names became free agents after their clubs declined to do so.
The top two names that immediately jumped out at me when looking at the non-tender list were Kelly Johnson and Garrett Atkins. If I were running the Giants, Kelly
Johnson would now become my target for left-field and I'd feel just fine giving him a 2-year deal. He was injured in 2009 and it shortened his season and hurt his production, but prior to 2009, he was quietly becoming one of the better, more consistent leadoff hitters in the NL. In his two full seasons at the big league level in '07 and '08, Johnson hit .282, while averaging 14 bombs, 69 RBI, 10 steals, 88 runs and an OPS of .818. All those numbers, besides maybe the stolen base number, are very good numbers for a leadoff guy. Plus Johnson has played the majority of his games in the spacious Turner Field, which favors pitchers, just like AT&T. Outside of Johnny Damon, who the Giants aren't going to start bidding for, the 27 year old Johnson is probably the brightest leadoff hitter on the market. He'd fit perfectly into the Giants mold of going after young players on the up and they could probably get him at at a decent deal as he's coming off a sub-par season. I really hope Sabean is thinking along the same lines and at least puts in a call to Johnson's agent.
As far as the power bats go, career-long Rockies third basemen, Garrett Atkins, was let go by Colorado and former Tampa Bay Ray outfielder Johnny Gomes was non-tendered by the Reds. Atkins is intriguing because of what he did prior to 2009, but his struggles over the last year and a half are a bit of a mystery. He hit just .229 with 9 homers and 47 RBI in 354 at-bats last year and lost his starting job to Ian Stewart. His struggles really started in the second half of '08 though, when he hit just .259 with 7 hr and a measly .717 OPS after hitting .305 with 14 bombs, 54 RBI and a .822 OPS in the first half of the year. He's not the best defensive third basemen out there either. That said, I think he's still got plenty of good baseball left in him, as he's just 30 years old, and maybe a change of scenery may do him some good. Since the Giants let go of Ryan Garko and will likely lose Juan Uribe, Atkins could provide a right-handed platoon mate for Travis Ishikawa and fill Uribe's role. I just wouldn't guarantee him a starting spot.
Unlike Atkins, Jonny Gomes had a big 2009, and thrived especially in the second half. Gomes hit .267 with 20 homers and 51 RBI in just 98 games and 281 at-bats. Gomes has always hit for pop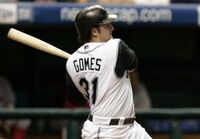 and has been able to get on base at a respectable clip, but his low average (career .241) and high strikeout rate (1 K per 3 AB's throughout career) has kept him from being an everyday player, but he seemed to grow last year. It was his first tour in the National League, and he played very well and should only get better. He really reminds me of Adam Dunn, with the power, the ability to draw a walk, and the knack for the strikeout. Sabean has been very clear that the Giants first order of business to get a corner infielder in here, and even though they're in need of a few corner outfielders as well, It doesn't seem like it's as high of priority for Sabean. I mean, he is talking about starting Andres Torres and Eugenio Velez after all. Like Atkins, I wouldn't offer Gomes a starting position, but a fourth outfielder position with a possible platoon.
Other Non-Tenders: Other prominent non-tenders who the Giants may now give a look at are outfielders Ryan Church and Jack Cust and pitchers Chien-Ming Wang, Mike MacDougal, Matt Capps, D.J. Carrasco, and Clay Condrey, and catcher John Buck.
Trevor Cole http://giantsbaseballblog.blogspot.com/