Rays superprospect Reid Brignac has been called up from AAA Durham to replace the recently injured Jason Bartlett. Bartlett was placed on the 15 day DL as he injured his knee stealing third base in the final game of the Rays...
SWEEP
...of the second place Red Sox last night.
Also, the Mitch Talbot era ended without a pitch as the Australian native was reassigned to Durham and replaced on the roster by utilityman Ben Zobrist. Brignac is likely to start at short whereas Zobrist will be counted on for backup and pinch hitting roles.
Yet another 2007 Arizona Fall League alum will make his debut in Kansas City as the Rays continue to extend their lead in the AL East.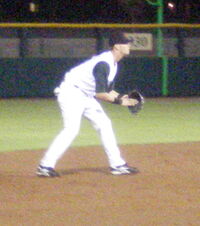 The "Future" has become the "Now". Brignac is projected to be a productive Major Leaguer and could very well be among the bex=st three at the position in a few short years. He already has the glove and the power to hold down the position.

What? You thought the "New Era" was something about being the best team in baseball or how Boston sucks? That's old news, pal.
Now for the next "BIG MOVE" - prepare adequately for the "new Sandy Koufax" (yes, I REALLY said that), David Price - he's NEXT!
9=8 - the "other" 7 = We Are One Team.

Go Rays!