This is a continuation of the NFL History 101 series that yours truly and Crackajg are collaberating on. Today we're profiling those unsung yet invaluable cogs in any football machine…the offensive lines. The following are the best offensive lines in NFL history…
Oakland Raiders-Jim Otto, Gene Upshaw, Art Shell, George Buehler, Bob Brown…1971-74…This group produced three HOFers and steamrolled the best defenses in football. Otto is arguably the best center ever while Upshaw and Shell were among the best guards and tackles in history. In 1971, this group allowed only 24 sacks in 14 games, repeating this in 1972. They paved the way for Marv Hubbard's three straight Pro Bowls between 1971-73. Otto was as durable as he was tough; he never missed a start, 308 consecutive games over 15 years. Shell was an eight time Pro Bowl Selection, seven times All Pro, and was named to the NFL 1970's All Decade Team. Upshaw was named to the NFL 75 th Anniversary team and has been the head of the NFL Players Association for decades. This is arguably the best offensive line ever.
Washington Redskins-"The Hogs"-Joe Jacoby, Russ Grimm, Jim Lachey, Raleigh McKenzie, Jeff Bostic, Mark Schlereth, Mark May…1986-91…They popularized the image of the quintessential mud covered and battered yet impossibly tough grizzled pit warrior. Grimm was the leader of this group and Jacoby was named to the NFL 1980's All Decade Team and, along with Grimm, has been a borderline HOFer. While the group experienced a lot of turnover between 1988-90, they still remained a cohesive and utterly dominant force. They were the biggest reason why the Redskins won two Super Bowls in 1988 & 1992.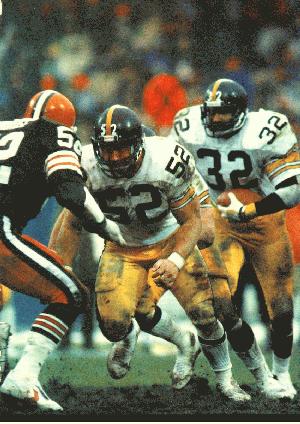 Pittsburgh Steelers-Jon Kolb, Sam Davis, Ray Mansfield, Mike Webster…circa 1974-80…Webster is in the Hall Of Fame and is considered one of, if not the, best center in NFL history. Webster was named to both the NFL 1970's & 1980's All Decade Team. Mansfield was a dominant run blocker while Kolb and Davis were named to multiple Pro Bowl teams. They broke trail for Franco Harris and kept Terry Bradshaw snuggly safe during their epic four Super Bowls in six years run.
Houston Oilers-Mike Munchak, Bruce Mathews, Bruce Davis, Dean Steinkuler, Jay Pinner…1986-89…Lost in the multiple NFC over AFC Super Bowl beat downs of the late 80's and early 90's was the brilliance of the Houston Oilers' offensive lines. Featuring two HOFers in Munchak and Mathews, this line was consistently great. During their time together as a unit, Warren Moon was one of the most well protected quarterbacks in football. Mathews is possibly the most durable player ever in NFL history. Munchak was a proverbial snow plow. Their cohorts, Davis, Pinner, and Steinkuler, were solid. All told, this group was special.
Dallas Cowboys-Mark Stepnoski, Nate Newton, Mark Tuinei, Erik Williams, Larry Allen…1992-96…As a unit they combined for 30 Pro Bowls, three Super Bowl wins, and they paved the road for arguably the best running back in league history. Emmitt Smith, Troy Aikman, and Michael Irvin are all HOF players, with Smith still to receive the inevitable bronze bust, and the flash behind the Cowboys' Super Bowl tear. But their success was predicated on an offensive line that destroyed opposing defenses. Larry Allen may eventually wind up in the Hall and Williams was the best right tackle of his era. Newton was the affable funny man, Tuinei the scholar, and Stepnoski the rock. Together they were the best such unit of their, or perhaps any, era.
St. Louis Cardinals-Dan Dierdorf, Conrad Dobler, Bob Young, Tom Banks, Roger Finnie…1975-77…Dierdorf is in the HOF and Dobler has an outside shot of joining him eventually. This Cardinals group is considered the first to introduce weightlifting and power lifting into the NFL training regimen. They were incredibly strong at the point of attack and kept quarterback Jim Hart safe and sound. Dierdorf went the entire 1976 & 77 seasons without allowing a single sack. In 1975 this unit only allowed eight sacks for the whole year, a then NFL record.
Cleveland Browns-Frank Gatski, Mike McCormack, Lou Groza, Abe Gibron, Harold Bradly…1954-56…Their primary responsibility was protecting the legendary Otto Graham. But they did that and much more. They helped win the 1954 & 1955 NFL Championship and were the foundation of one of, if not the, best offenses in the era. Groza, McCormack, and Gatski are all in the HOF and make this unit one of the best ever.
Green Bay Packers-Forrest Gregg, Jim Ringo, Jerry Kramer, Fuzzy Thurston, Bob Skoronski…1959-63…They blocked for Paul Hornung, Jim Taylor, and Bart Starr. In doing such they were a large component to the 1961 & 1962 NFL Championship. Ringo and Gregg are in the HOF, Kramer was a three time Pro Bowl participant and was named to the NFL 1960's All Decade Teams, and Thurston & Skoronski were solid. Thurston is most famous for a rather infamous quote. When asked how he prepared for the legendary Ice Bowl, Thurston replied, "about ten vodkas."
Denver Broncos-Gary Zimmerman, Tom Nalen, Tony Jones, Mark Schlereth, Brian Habib…1996-98…Zimmerman will enter the Hall Of Fame in July and Nalen has been the best center in football for over a decade and may eventually join his line mate in Canton. Tony Jones was a great right tackle while Habib & Schlereth were great interior blockers. This line was a big reason why Terrell Davis ran for 4.7 yards a carry his first four seasons. They were also instrumental in providing John Elway with enough time to pilot the Broncos to two straight Super Bowl victories. Alex Gibbs was the architect of this group that was the best in football in the mid-late 1990's.

Buffalo Bills-"The Electric Company"...Joe Delamielleure, Reggie McKenzie, Dave Foley, Donnie Green, Mike Montler...1973-76...They unleashed "The Juice" on an unsuspecting NFL. What followed was a 2000 yard season by O.J. Simpson and a 3000+ team rushing performance in 1973. DeLamielleure is in the Hall and is generally regarded as one of the best ever. Yes those Bills teams were horrible but it wasn't because of a crap offensive line.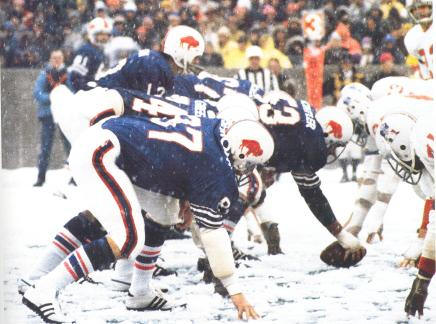 Community content is available under
CC-BY-SA
unless otherwise noted.