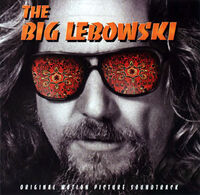 What does The Big Lebowski have to do with the NBA Playoffs? Not much, but seeing as the internet has been flooded with previews and predictions, I decided to look at it a little differently. Sure, I'm aping Simmons' style a bit here, but he hasn't done one of these in awhile, and I always really enjoyed the columns that were done this way.

East

8. Atlanta. Cop: "Good news, we found the Creedence". Making the playoffs must feel like finding some old Creedence tapes for the Hawks, especially since the Celtics beat them last week without playing their starters for the fourth quarter.
7. Philadelphia The Big Lebowski: "Nothing is F'd? The god damn plane has crashed into the mountain!". Because of a shady call last week, Philadelphia slipped to the seventh seed and get's the tougher first round matchup of Detroit instead of Orlando. Their season has pretty much hit the mountain at this point.
6. Toronto The Dude: "Nobody calls me Lebowski. You got the wrong guy. I'm the Dude, man." And no one is confusing Toronto with a contender either. This team is just so boring, I can't think of one interesting thing to say about them right now going into the playoffs.
5. Washington. Donny: "Mark it Dude, I'm throwing rocks tonight". With Gilbert Arenas returning from injury and Antwan Jamison and Caron Butler having great seasons, the Wiz are suddenly throwing rocks and hoping to make a splash in the post season.
4. Cleveland. The Dude: "Uh, yeah, uh, me, and uh… the driver. I'm not handling the money, driving the car, and talking on the phone all at the same time". Well, actually LeBron you are. It's a one man show, and it's not going far this year.
3. Orlando. The Stranger: "Sometimes, there's a man, well, he's the man for his time and place. He fits right in there. And that's the Dude". Dwight Howard certainly is a dude, just his time and place was the slam dunk contest.
2. Detroit. Nihilist: "Ve don't care, ve still vants the money". Detroit has turned into a group of nihilists asking for ransom without a hostage down the stretch. A switch turned and all of a sudden they don't seem like legitimate title contenders.
1. Boston. Walter: "Who's got a million F'n dollars in their F'n car? And what do they got? My dirty undies…my F'n whites…" I'm not throwing stones at Al Jefferson, and he's going to continue to get better, but at this point in the season it certainly feels like we traded our dirty undies for a million F'n dollars, and I wouldn't change a thing.

West

8. Denver. Walter: "No Donny, these men are nihilists. There is nothing to be afraid of". Denver is certainly built for success on paper, but they lost so many games by more than 20, I guess they probably just don't believe in anything.
7. Dallas. The Dude: "F sympathy! I don't need your F'n sympathy, man, I need my F'n johnson." This one made a little more sense when Dirk went down with that high ankle sprain and it looked like all the wheels were coming off their season.
6. Phoenix. The Dude: "That rug really tied the room together". There were skeptics, but the Big Cactus looks like he's really tying things together out there in Phoenix.
5. Houston Donny: "I am the Walrus". Houston is definitely Donny this season, becoming the Walrus and winning 22 straight games, then dying just as quickly as Walter dismantled those nihilists.
4. Utah Chief of Police: "Now we got a nice, quiet little community here, and I aim to keep it nice and quiet." What does this have to do with basketball? I have no idea, but I feel like this is something the Salt Lake Chief of Police would say to someone like The Dude.
3. San Antonio. Walter: "You want a toe? I can get you a toe, believe me. There are ways, Dude. You don't want to know about it, believe me". San Antonio did little to improve this year, the savvy Kurt Thomas trade but that's about it, and they haven't looked that great lately either. But if there's one team in the NBA that thinks "there are ways" of pulling this thing out, it has to be San Antonio.
2. New Orleans. Bob Dylan "la la la la la la la la la la la la". This is the intro to Bob Dylan's "The Man in Me", which plays during one of The Dude's dream sequences, which is pretty much what this season has seemed like for the Hornets. I kept expecting them to wake up and not have one of the best records in the league. It might have only just happened this past week.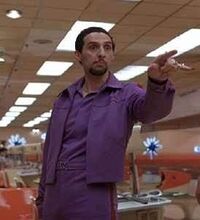 1. Los Angeles. The Jesus: "You said it man, nobody F's with the Jesus". Kobe has been great in the past, but I think he has officially become the Jesus carrying this team all year and opting not to have surgery to fix his hand. Sure Pau Gasol pushed this team over the top, but the Jesus had teammates too right? Who's that guy next to him who never says anything?

Bonus Quote:
Seattle: Maude Lebowski: [on answering machine] Jeffrey (Seattle), this is Maude Lebowski (Clay Bennet). I need to see you. I'm the one who took your rug (franchise). Cop: Well. I guess we can close the books on that one.
It's pretty obvious now what happened with that whole thing since the emails came out. Sadly Stern seems to be backing his buddy on this, and not a city that supported a team for 40 years.