You know I had to do a remix right...(yes I will open every article with some random quote until it no longer amuses me). When we left off we was talking about how Indiana having to re-sign Kareem Rush. No seriously he is their biggest free agent. Continuing on with the list we go west to LA where the Clippers who drew first blood by grabbing Baron Davis. But what about all of their free agents they have already including the only other star in the high school senior free agent pool (get it it's shallow), Elton Brand. Lets dig in shall we
Nine free agents? Were they not counting on existing past 2008. Anyways their main priority is Elton Brand, the former No. 1 pick and their franchise player. He is coming off an injury so there is risk there but a Baron Davis, Eric Gordon and Elton Brand trio might fill in seats with people who aren't just there because they're cheaper than Laker tickets. Shaun Livingston, the former lottery pick coming off that horrible injury is another risk but they did just grab Eric Gordon is there room for him there. Corey Maggette wants to get down with the champs but if the Clippers somehow manage to keep all their free agents he might be leaving a championsh...yeah I can't even type that with a straight face. Smush Parker and Dan Dickau who would be their 5th and 6th guards should be looking elsewhere as well as those other guys I never heard of.
Ronny Turiaf and Sasha Vujacic would be fine additions to any team so the Lakers should be careful. Turiaf provides tons of energy off the bench and makes Kobe jump Aston Martins while Vujacic tends to pick up the scoring slack for all 2 minutes Kobe isn't in the game. The other 2 guys barely got off the bench so whether they stay or go isn't much of a difference. Needless to say, the Lakers are more concerned about a potential free agent in 2009.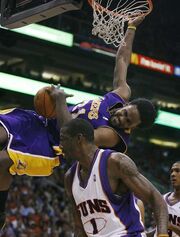 Why is everyone talking about LeBron in 2010...Kwame Brown is available NOW. No seriously, he is their biggest worry in the free agent market and considering they gave away Pau Gasol for him they can at least pretend as if they wanted him all along.
Couple of familiar faces here, Jason Williams, Ricky Davis and Alonzo Mourning. I wish Zo would just retire, he's getting real Brett Favre-ish. Jason Williams got lucky that the Heat didnt land Derrick Rose so he might be resigned. Ricky Davis should get a legitimate deal somewhere he doesn't exactly suck persay...I think his best years were as the 6th man in Boston and he could still be that guy on a Detroit or a Dallas. Stephane Lasme, fellow UMass alum and record holder for most triple doubles in a college season (though it was tainted but hey) and the other guys will end up on someone else's IR.
I never heard of any of these guys....maybe because it's Milwaukee (no offense AKittell)
Ah, the Celtic Jrs. who is on the chopping block. Sebastian Telfair, he has New York Knicks written all over him. Ryan Gomes, I want him to succeed somewhere he deserves better than the Wolves. Craig Smith, oh THAT'S what happened to him maybe he can go to Charlotte and reunite with Jared Dudley and underachieve just like old times.
You know what would be hilarious? If after all their cap clearing, they don't end up with LeBron. I would just laugh and laugh. Anyway Nenad Kristic is the only person worth keeping and what do you know it looks like Keith Van Horn's free ride is up, I could've sworn he was NOT playing for the Lakers. How he end up back in New Jersey, but I need his agent, they can pay me to take up a roster spot and balance trades.
Okay they got CP3 long term and that was their only priority. Chris Andersen will just smoke up any contract he gets and I don't know what happened to Paul Pierce's long lost brother but he just can't fit in anywhere now. He's actually nice so its a shame.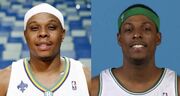 Fred Jones and Randolph Morris...yeah lets move on



Orlan...oh wait I gotta stay in alphabetical order...
Oklahoma City Untitleds
They should lock up Robert Swift he is VERY underrated the rest of them can kick rocks
I don't get how Carlos Arroyo is average at best here but then he kicks ass in the Olympics and World tourneys. He should re-sign. Keyon Dooling should take what he can, rumor has it that Miami wants him back. But maybe they just want what they can't have.
Philly come here...a little closer.....SMACK why hasn't Andre Iguodala got an extension after leading your team to the playoffs and almost pulling off a HUGE upset. Don't tell me you are waiting until 2010 too...
6 free agents....none of them relevant moving on
James Jones is a keeper not the greatest player but he played his heart out towards the end of the season to get re-signed I think he earned it. Other guy hit the showers...or hit the plane...yea I don't know just leave
They better not like Beno Udrih go...did they not learn what happened to Hedo Turkoglu and Peja Stojakovic...oh wait they did re-sign Udrih. Well, carry on
Well well well, if it isnt the Sunshine Patriots...Brent Barry, Michael Finley, Robert Horry, DerMarr Johnson, Damon Stoudamire and Kurt Thomas all sold your souls to win a ring some of you have, some of you got egg on your face, DAMON, but what do you bring to the Spurs, why should they re-sign you theres plenty of vets that would love to go to San Antonio and get a ring. Finley, Barry, Thomas go get your contracts, the rest of you beat it
They re-signed Jose Calderon...thats all they needed to do
C.J. Miles??? Next
Locked up Jamison and Arenas...check...Finally got a post threat...no...Re-sign Roger Mason...well what are you waiting for