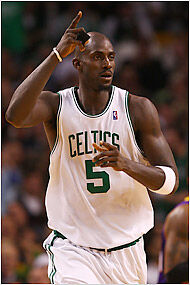 They did it. They reached "The top of world". It was 21 years in the making, through the up and the downs, the Boston Celtics just couldn't get the right pieces to fall into place until this year. Paul Pierce, Ray Allen, and Kevin Garnett can all enjoy their first championship together. Larry Bird and Kevin McHale didn't walk through that door, and for the first time in about 16 years, that was okay. Thoughts and Burning Questions to follow:
Kevin Garnett said "I can play better, and I will play better". He was true to his words, carrying the Celtics early while Ray Allen was out and Pierce was finding his rhythm. All the critics should leave him alone at this point I think.
Every Celtics player who entered the game scored, 5 had double digits, 3 had over 20.
Rajon Rondo had 21 points, 7 boards, 8 assists, and 6 steals. He's about 3 blocks short of Hakeem like numbers there. He definitely played aggressive like I called for.
Kudos to Pierce and KG for knowing P.J. Brown could come back and contribute, and then talking him into it. I cannot emphasize it enough, as to how rusty I thought he looked, and how little I figured he'd do for us.
The way KG's first half went, and after that ridiculous finish over Lamar Odom, I honestly expected his half court shot to go in.
The fact that the Celtics didn't go fo'-five-fo' doesn't diminish this at all. 
What happened to the game ball when Big Baby threw it into the crowd? I tried to watch it to see where it ended up, but I lost it coming down.
I was glad to see the bench contribute early in the game when it still mattered. The Celtics bench has been huge all season and all playoffs, it was underrated going into the postseason for sure.
I'm not even convinced the Lakers have the better shot at next year's title now either. They need a key pickup, and it doesn't seem like the team environment thrives there. Plus, how do we know Andrew Bynum will step in next year and play at the same level he did this year?
I have a feeling Rondo is going to spend his summer working on midrange jump shots.
14 arrests in Boston last night, couldn't we at least have gone for 17?
In order, 9-26, 11-23, 12-20, 6-19, 8-21, 7-22. Kobe shot 40% for the finals.  I think defense wins championships is how the saying goes.
I was a little concerned that the Celtics may have started celebrating too early. Games 2 and 3 anyone?
When KG went to Bill Russell and said "I've got my own". Chills.
When he then asked him "Did I make you proud?" Near tears.
And this man has only been a Celtic for 10 months.
Paul Pierce was a deserving MVP, but Ray Allen certainly did his part, and would have been deserving too. Paul had more points, rebounds, and assists, but Ray was much more efficient with his shooting and had more blocks and steals, plus a Finals record 22 3-pointers (on 52% shooting!). I had a feeling it was going to be Ray, only because he covered Kobe more on the other end, but I'm also happy for Pierce, since he's been a Celtics for 10 years.
Pierce definitely takes his place amongst Celtic greats now, and his number will definitely be retired, no debate.
At what point do you think Gino made it onto the 'tron?
For the postgame I stuck with local Chanel 5.  They interviewed Donnie Whalberg and Joey McIntire (New Kids!) for about 7 minutes, and by the time they cut over to Paul Pierce for the press conference his time was done, so if he said anything good, I missed it.
Kobe was probably more personable in defeat than he has been all along. His postgame interview was really good, and surprisingly funny.
Could Michelle Tafoya have ruined the end of the game anymore? Just let the man enjoy his victory.
The ABC man who uses the bleeping button had his work cut out for him.  With the Celtics having so much time to celebrate, and the cameras in their faces, there were some F bombs being dropped, and we would just miss patches of commentary. Not to mention KG dropping one when Tafoya was trying to force him to answer questions.
I wish I had $1017 to spend on shoes.
Ray Allen took 2 different 3 pointers last night in the fourth quarter, where the closest defender was in the charge circle.
Final Thought of the Season:  It is with a tinge of regret that season is over already.  Winning the championship was the ultimate goal of course, and I wouldn't trade it for anything, but fans of basketball should appreciate what happened all season long.  The Perfect Storm.  Three veteran all stars, one of which is the former league MVP, coming together willing to get everything done, and sacrifice what it took to win a championship.  I don't know if we'll ever see anything quite like this again.