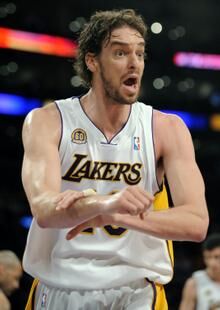 It looked like the Celtics were going to repeat a Game 4 of sorts, falling behind early and roaring back.  Ultimately the Celtics offense was too streaky, a more consistent finish would have probably led to a victory, but I'll take a 3-2 lead back to Boston any day.  Thoughts and burning questions to follow:
First off, good thoughts to Ray Allen and his children.
These bad first quarters for the Celtics have to end.  It's hard to win basketball games spotting the other team 20 points.
I had the same nightmare 3 or 4 times last night.  I kept waking up thinking Game 6 was already on TV and I was missing it.  I woke fumbling for remotes trying to turn on the TV.  It was awful.
Rondo should make Kobe work in the early parts of the game.  If the Lakers think Kobe can just slack off him, then use the quicker Rondo and run him off a lot of picks while he's dribbling, try and use up Kobe's legs.  Of course, this is dependant on Rondo's ankle, so…
I actually wouldn't be surprised if Kobe switched onto Pierce full time, as he abused every matchup the Lakers threw at him.  I don't think they'll be able to dodge another 40 point bullet.
Okay, let's say Kobe stays on Rondo, rather than clearing out to the opposite wing or corner, Rondo should slide to the opposite block.  If Kobe leaves him, it's an open lay up.
Chris Mihm and Tony Allen seeing significant minutes in the second quarter?  Is this December basketball or June NBA Finals basketball?  Tony Allen played surprisingly well, Chris Mihm did not.
The Celtics got absolutely got killed on the boards (It was only 40 to 37 LA, but it *looked* a lot worse, particularly early in the game). Maybe a healthy Perkins would have helped.
I don't see Pau Gasol and Lamar Odom playing like that in Game 6.
I don't see KG getting in early foul trouble either.
Kobe's interview before the half was much better this time.
Part of the Celtics game plan should be to foul Derek Fisher a lot less.
I really like the compilation commercial of all of the other split face commercials.  But why are these shown during the finals?  We're already watching them, right?
Production from Sam Cassell?  That was a bonus.
My wife was excited that Scalabrine was activated.  Ugh.
If the Celtics close this out, no one will be able to say they lucked out.  They are weathering many injuries.
What a putt by Tiger.  Why doesn't golf have the giant testicles dance?
I enjoyed the part of the halftime piece where Luke Walton complained about having to be on his Dad's team while his brother got to play with Larry Bird during a pickup game.
Sasha Vujacic can shoot whenever he feels like it (which is a lot) as far as I'm concerned.  "The Machine" is about the least likely nickname for him I could have come up with. 
Not only has Pau Gasol never committed a foul, I'm starting to notice his teammates don't either.
If Kobe wants to start holding the ball until there's 5 seconds left on the shot clock before driving with more than 2 minutes left in the game, I have no problem with that.  That will lead to either a highly contested shot, because the Celtics will collapse in on him, or a kick out to a teammate who has to hurry a shot because of the clock, and the Celtics are great at closing out on shooters.
It was nice to hear Van Gundy give James Posey such compliments.  Posey has been great all season and hasn't received much recognition for it.
With 3:40 to go in the game I noted that the Celtics had been playing great defense and they were two fouls away from the penalty, then bang, bang, 2 quick touch calls and the Lakers are in the penalty.  Paul Pierce got hammered a lot worse than that on just about every drive he took to the lane for a lot of no calls.  Just saying.
After Eddie House cut the lead to 3 with 16 seconds left, Kobe may not have been out of bounds when he fell (he might have, but he might not), but he definitely traveled.  Just saying.
During an interview Kobe said something to the effect of "If you told me back in training camp, you'd get 3 shots to win the NBA Finals, would take it?  Absolutely."  Umm, Kobe, the Celtics were the ones with 3 shots to win the finals (now 2 obviously).
Consistency will likely be the key to Doc River's message to the Celtics today.  Or likely it will be something to effect of needing to win.  Either way, if the Celtics can continue to play solid defense and get a little more out of the offensive end, they can definitely wrap this thing up in 6.  This town needs a parade, right?  Never let up.