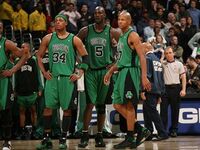 Epic.  The Lakers played at about their absolute best for the first half of the game.  Lamar Odom was making moves and scoring, Radmonovic was hitting 3s and spreading the floor, and Kobe was facilitating to his teammates.  The Celtics played at about their absolute best for the second half of the game.  The defense was stifling, creating turnovers and fast break points, Eddie House and James Posey were hitting open shots spreading floor, and Paul Pierce dominated with his midrange game and moves to the baseline.  As always, thoughts and burning questions to follow. 
This game was a back breaker.  I just don't see how the Lakers can recover from it, especially because they have 2 days off in between for it to haunt them, and from Kobe's comment about Kurt Schilling, you know he listens to the media.
Doc Rivers considered starting Tony Allen at point guard for game 4 (!), but he should consider starting Eddie House for game 5.  The people who called for more Eddie House all playoffs (me) are feeling very vindicated today.  The man is Instant Offense: Just Add Minutes, if only his minutes hadn't been jerked around these playoffs he would have been more consistent.
In the stands I saw a Shawn Kemp jersey (courtside!), an Eli Manning jersey, and a Green Bay Packers shirt.  You have to love these Lakers fans.  (The Packers shirt was yellow, I'll give him that)
I've upped the ante from Celtic Apparel Fridays to Gameday Celtic Apparel plus Fridays.  I think this is a good change for the Finals.
Thumbs down on Jack's eye candy, it was some 80 year old guy in a Yankees hat this time.  Boo.
My favorite adjective to describe Ray Allen is sneaky.  He has quick moves that no one seems to recognize, and he's athletic and smooth around the hoop.  He also has a knack for dunking the ball while he's still jumping up, or as I call it, the "sneaky dunk". 
That shooting slump seems to be a thing of the past too.
"The whole game, from the minute I came in, they called fouls on me. He fell down, foul. I was trying to find a way to guard him for 48 minutes, and everything I did was a foul. He got me. He went to the basket, and it was a good basket. I don't know what else to say." Vujacic said.  Um, Vujacic played for 24 minutes and only had 3 fouls called against him.
Of course Vujacic had the audacity to try and put Ray Allen in the scissor hold, then had the audacity to look at the ref like he hadn't committed a foul.  I find the whole thing to be audacious.
Lamar Odom started the game with 13 points in the first quarter, and finished with 19.
Twice, while James Posey was covering Lamar Odom he played what I like to call "phantom defense" where you just slide away from someone backing you down, causing them to travel.  I think Dennis Rodman did that to Karl Malone a lot, but either way, it was hilarious.
A few weeks ago I mentioned PJ Brown looked too rusty to contribute.  He was getting rebounds, but wasn't making any shots.  He's really played strong in these playoffs.  Very underated performance.  "Trolley car jumpers".
There were a lot of suspect calls every time the Celtics made a little run in the first half.  Just saying.
We learned from Phil Jackson that "Momentum is a strange girl".  What Phil really meant is their defense is killing us and we can't seem to stop them anymore now that they have 5 shooters on the floor. But even then, after ending the third on the bad end of 21-3 run, he gritted his teeth and answered foolish in between quarter questions.
Doc is actually making mid-game adjustments.  Who saw that coming?
I'm supposed to believe this Phil Jackson guy might be considered the best coach of all time?
The Lakers had 70 points with 6 minutes left in the third, and their 18 point lead was still intact.  When they scored their 75 th point, with 9:30 to go in the fourth, it was to break a tie. 
It was nice to see that each part of the Big Three contributed in the clutch last night.
I love seeing the final play, KG going to set a pick as the play was called, Ray calling him off it, then beating Vujacic off the dribble for a pretty left handed layup.
Also, Ray Allen had played the entire game, and still had the juice to blow past him and get to the hole.  Very impressive.
In the postgame we learned that Paul Pierce went to Doc and said "I'm covering Kobe".  Perhaps Eddie House should try this tactic and just say "I'm playing instead of Sam from here on out" and see what happens.
All 28 previous teams that have gone up 3-1 have won the NBA finals.  That's a pretty telling stat.  After this comeback the Lakers spirit must be crushed.  Even if they win game 5, they know they have to win back to back in Boston, and that must be daunting.