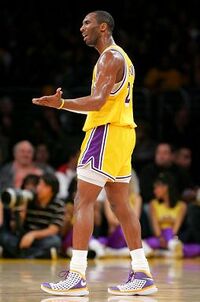 Well, that pretty much went as expected. We were able to guess the referees the NBA lined up and the Lakers were overcompensated for Game 2. The Lakers shot many more free throws than the Celtics, and got all the little touch fouls they complained about not getting in Boston. As seems to be my finals trend, thoughts and burning questions to follow:
What was Kareem doing sucking on a lollypop behind the Lakers bench? He clearly had to bring it there himself, I'm just not sure why exactly he chose to enjoy a nice lollypop during the opening minutes of an NBA game.
"Something was definitely wrong with Paul Pierce" is something of a consensus today. Let's just hope it wasn't his knee.
What's so great about being a player who's loved by his team, but hated by the rest of the league? Sasha Vujacic did play well though, 20 points in 28 minutes. And I hate him.
I spent a few minutes during commercials trying to determine what David Bowie's "Modern Love" and Foghat's "Slow Ride" have to do with playoff basketball.
The halftime puff piece was about the worst I've ever seen. Farmar was pissed with the way Kobe was talking to him (one of Kobe's biggest knocks), and Farmar walked away rolling his eyes and shaking his head (one of Kobe's teammate's biggest tells). It wasn't like they used current footage either, it was from a game against Phoenix. They couldn't find a better Kobe-as-a-leader clip than that? On a similar note, his kids weren't too convincing either.
Leon Powe was the puff piece for game 2, Kobe for game 3…these puff pieces might decide the series!
I like the idea of getting Magic and Larry to film the split-face-rivalry commercial, but couldn't they have edited their faces to make it look like 1984 again?
When Jerry Sloan does the between quarter or before the half interviews, his disdain for them actually comes through as charming. Before the half last night Kobe just looked like a douche.
Leon Powe was pressing too much last night. That's something I didn't think would happen, but you could tell he was still amped up after his 21 points in 15 minutes from game 2.
This game helped illustrate why the 2-3-2 format actually favors the home team. It's hard to win 3 games in a row against one of the NBA's best teams.
I have a crystal ball up here *points to head* and I will never buy a Yukon Denali. Never let up.
Van Gundy had another one of his more annoying nights, but the whole barber shop routine was great. "Oh, they want me to look at the camera, yes, I'm bald, see, and I have to pay the same price as everybody else".
It was nice to see Sam Cassel make his first jump shot. Missing the next 3 on the heat check though, that I could have done without.
I have a hard time believing KG wouldn't dominate this entire team on the block.
Who the hell was that sitting with Nicholson? It looked like a 90 year old Justin Timberlake.
Eddie House looked like he was hurrying his shots. That's to be expected, guy's had his minutes jerked around all playoffs. Hopefully he relaxes for the rest of the series.
How useless is Lamar Odom?
The Celtics final meaningful possession looked almost as bad as the Lakers final meaningful possession of Game 2. I will say this though, don't let KG set a screen the same way 50 times during a game, THEN call an offensive foul on the final play. That's beyond ludicrous.
I enjoyed Doc digging at Phil Jackson during the postgame. "You mean Phil didn't whine about the fouls this time?"
The Celtics should at least be upbeat about the whole thing, they got very little from Pierce and KG, and still had a chance to win the game. I think an evenly officiated game will definitely favor the Celtics at this point.