This post is pretty self-explanitory when you read it. It's not written really well, but it should start some debates over different positions. I've compiled what I believe is the best starting roster a team could throw out on the field this season. Anyway...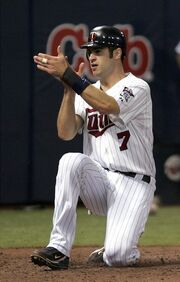 Catcher
The main reason in which Russell Martin is not the catcher of this team is that he falls apart down the stretch. He simply is worn down comes season's end. Victor Martinez fell apart last season and I'm not sure if I could trust him to return to his old offensive ways without abandoning his newly established defensive abilities. It really all comes down to Geovany Soto or Joe Mauer. This is a really tough decision because Soto has much upside and showed last season that he is a force to be reckoned with behind the plate. But the reason I am choosing Joe Mauer over him came down to clutch hitting. Mauer, a two time silver slugger, batting champion, and two time all-star, hits much better than Soto late in the game, with runners on base, and in close games. Soto surprisingly hit much worse than expected with runners in scoring position. Anyway, Mauer is one of the best defensive catchers in the game today. Over his career, he has thrown out an impressive 41% of runners attempting to steal a base. Mauer is a gold glover with a .996 career fielding percentage. He is good at managing a pitching staff and will not clog up the basepaths. He is a smart and quick base runner. He is a very durable catcher, not falling apart late in any season. All this combined with a .317 career average and .399 career on base percentage is why Mauer would be my starting catcher...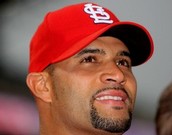 First Base
Albert Pujols: This is a hands down decision. He may even turn out to be the best first baseman ever. During his eight seasons of professional baseball, he has never played less than 143 games, scored less than 99 runs, with no less than 32 home runs, or 103 RBI. He has a career average of .334 and a career on-base percentage of .425. He batted .357 last season with a .462 OBP. He rarely strikes out; 93 was his highest ever during his rookie season. Since that 2001 campaign, he has never broken 70 strike outs. He also walks more and more every year (104 last season). Combine all this with a career .994 fielding percentage at first base. He is a line drive hitter who works hard day in and day out. He is a winner; he ranks 13th all-time in offensive win percentage with being on the winning side of his games .777 percent of the time. As a World Series champion, two time MVP, seven time all-star (over eight seasons), gold glover, four time silver slugger, batting champion... Prince Albert stands tall at only 29 years old. Oh yeah, during his eight seasons, he has finished outside of fourth in MVP voting only once! That was in 2007 when he had 32 home runs, 103 RBI, and a .327 average; not bad at all. He has it all, more, and then some. There is not a first baseman today that compares... when he is all done, maybe there never will be one better...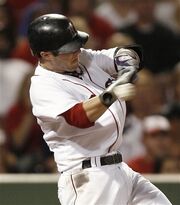 Second Base
Second base lends a more difficult decision. Dustin Pedroia has come storming onto the scene over the last two seasons. He is a scrappy young talent, and a winner at that. He also doesn't fall apart down the stretch. Ian Kinsler had a huge breakout season last year. A good young player, who definitely benefited from hitting with Josh Hamilton in the line-up. There is also Chase Utley. A World Series Champion who has not failed to put up less than 100 RBI, 22 home runs, 93 runs, 73 extra base hits, or a .376 OBP over the last four seasons. As impressive as Utley's stats may be, he did go through a rough patch last season, his performance in the clutch is nothing to write home about (.213 career postseason average), and his defense lacks in comparison to Pedroia. Now I know this opinion may be a little bias because he is a personal favorite but Dustin Pedroia is my second baseman. His fielding percentage is nine points higher than Utley, he won his first gold glove last season, and has around the same amount of range as Utley. This scrappy young player is a fan favorite, knows how to work the count, can hit in any situation, showed last season that he can carry a team, knows how to put the ball in play, steals 90% of his stolen base attempts, is a silver slugger, all star, and reigning AL MVP. Dustin Pedroia will start at second base for this team...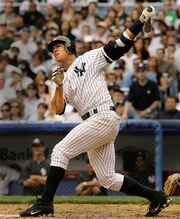 Third Base
David Wright and Evan Longoria are two guys who deserve a spot on this roster but will not receive the starting role because of Alex Rodriguez. A-Rod may get a bad rap from the New York media, but I'm giving him his due. The three time MVP never seems to disappoint. He has failed to hit less than 35 home runs once in his career (1997), failed to drive in less than 100 runs once (1997), failed to steal less than 15 bases only once (2002), and never bat less than .285. With a career OBP of .389, he gets on base plenty. He is a ten time silver slugger, twelve time all star, and three time MVP. He has become more comfortable at third base showing with less than 13 errors over each of his last two seasons, and a .970 fielding percentage last season. Basically, I'm saying that he is not a liability at the position. Plus, he did win two gold gloves at shortstop before, so the defensive capability is there. The knock on Alex is that he doesn't perform in the clutch. In this line-up the pressure will be off him. Plus, he is only a .279 postseason hitter; considering you are facing some of the best pitching in the league in the playoffs, a .279 average isn't as bad as it may at first seem. Alex may end up being statistically the best player ever, and after tearing up the league the last few seasons he has shown why he deserves to be the starting third baseman...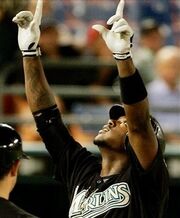 Short Stop
Hanley Ramirez may not be a good defensive shortstop (which is why a move to center field in the next few years seems likely), but there is none better right now at offense. Over his three seasons in the majors, Hanley has averaged 123 runs, 7 triples, 42 doubles, 26 home runs, 191 hits, 46 stolen bases, a .308 average, .379 OBP, and 69 RBI. This silver slugger is only going to get better, and he will be an MVP candidate this season.
Fun fact about Hanley: he has played 23 extra inning games and is batting .619 after the ninth inning of those games.
Troy Tulowitzki's injury plagued season was disappointing last year. I still believe he will turn it all around this season. Anyway, Hanley's offensive abilities overshadow his defensive struggles. When this line-up is filled with solid defenders, it is perfectly acceptable to have someone who isn't gold glove worthy every season.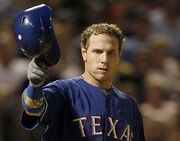 Right Field
Josh Hamilton's amazing story is just part of the reason he makes this roster. His unbelievable comeback says a lot about his skill and his character. I read a story on him a while back about how calm and cool he remains under pressure and how his character and demeanor are his biggest assets. Hamilton has every tool, and if it weren't for some unfortunate circumstances, he would have a leg up on A-Rod in the all-time chase for best player ever. Ain't much I can really say about this Natural that most don't already know...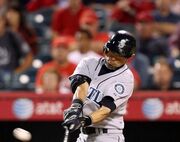 Center Field
Ichiro is unquestionably on this team. He has been in the MLB for eight seasons. He has never missed an all-star game, never stolen less than 33 bases, had less than 100 runs scored, struck out more than 77 times, had less than 206 hits, or batted less than 647 times. He is a work horse and every day player. He has a cannon so fierce that nobody dares to try and take an extra base on him. He has an impressive 81% stolen base rate. He has started seven of the eight all-star games he has attended and played in the other one as a substitute. He has two silver sluggers, led the league in at-bats six times, and led the league in hits five times. He is consistently a great player whenever or wherever he plays. He is a speedster, defender, and is the ultimate leadoff batter. He is amazingly consistent. He bats over .320 home or on the road, post/prior all-star break, every month except March/April, with runners on or not, with any amount of outs, in close games and blowouts, during the day or night, indoors or out. He is unstoppable...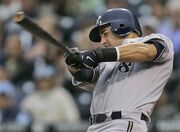 Left Field
After much deliberation on who should receive the final position spot on this roster, I decided to come to a compromise. There was a tear between Manny and his antics and how hard he would be willing to play for this team. So I decided on a different, more effective, and more reasonable conclusion. Playing left field for my team would be... Grady Braun. That's right, a platoon in left field. Here is why...
First, it allows the option of having a quality player to DH if this is an American League roster. Honestly, it is because Braun is much worse at hitting righties and Sizemore is not strong against lefties. Sizemore is a .298 hitter against right handed pitching and Braun is a .351 hitter against left handed pitching. Braun is also a much better outfielder than he was a third baseman. He didn't have a single error last season (his first in the outfield). Sizemore had two errors last season, but he has more range than Braun and also a better arm. Sizemore is a two time gold glove award winner, three time all-star, the ultimate five tool player, and his power numbers haven't peaked yet. Braun is an all-star of his own right. He is a small guy, but has big power, and just like Sizemore, won the Silver Slugger last season. The first of what will soon be many...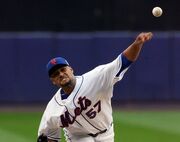 Starting Pitcher
Starting pitcher came down to three main guys: C.C. Sabathia, Johan Santana, and Rich Harden. The reason Harden is eliminated is because of health issues, but he showed last season that when he is healthy he is dominant, posting a 2.01 ERA in 25 starts. In his 12 starts in the National League with the Cubs he threw up a 1.77 ERA. Once again, his health issues are the only thing that eliminates him from this discussion. C.C. Sabathia showed how dominant he could be last season. Unfortunately, at the beginning of the season, he also showed how bad he can be given certain circumstances. That is why Johan Santana is my choice for the best starting pitcher in the league. Last season, Johan posted a 2.53 ERA. Since 2004 he has compiled the most amount of wins (tied with Roy Oswalt). He is actually the only pitcher in the top fourteen of that list with an era under 3.20. His ERA over that span in a mere 2.82. This three time all star and two time Cy Young award winner is the best pitcher in the game today. With my team's phenomenal defense behind him, Johan will dominate the game. Mr. Santana is the most feared pitcher in the game today...
Closer
Finally, the closer role goes to Brad Lidge. For a few years, Albert Pujols' post season shot against Lidge haunted him. Last season, he finally put it all together closing out 41 games in 41 opportunities. He posted a 1.95 ERA, struck out 92 batters in 69 1/3 innings, allowed only two home runs, and closed out the final game of last season's World Series for the Philadelphia Phillies. I would hand the ball to Brad Lidge any day... and know the game is over...
Batting Order (respective career average)

1 - I. Suzuki (one of the best leadoff men of all time) .377
2 - J. Mauer (contact hitter/on base guy) .399
3 - J. Hamilton (offensively better when he plays right) .370
4 - A. Pujols (line drive hitter; doesn't give away at-bats) .425
5 - A. Rodriguez (best when hitting fifth; RBI spot) .389
6 - R. Braun/G. Sizemore (platoon) .350/.370
7 - H. Ramirez (he's got to go somewhere) .379
8 - D. Pedroia (won't allow the pitcher to lead-off next inning) .369
9 - J. Santana
There is a wide range of players who I could have chosen for this team, but these guys will win games. They will play amazing defense, not give up at bats, and play solid fundamental baseball. Six of my starting eight position players are gold glovers (none for Hamilton, Hanley, Braun). All nine of my everyday players (platoon included) have been silver sluggers. There are a combined seven MVP awards (Pujols-2, Pedroia-1, Ichiro-1, Rodriguez-3). With the exception of Ryan Braun, none of the starting position players has a lower career OBP than .369. There are 41 all-star selections between the ten players, two Cy Young's, and zero reasons to doubt this is the best TEAM today's game could produce...
Let the debating begin...